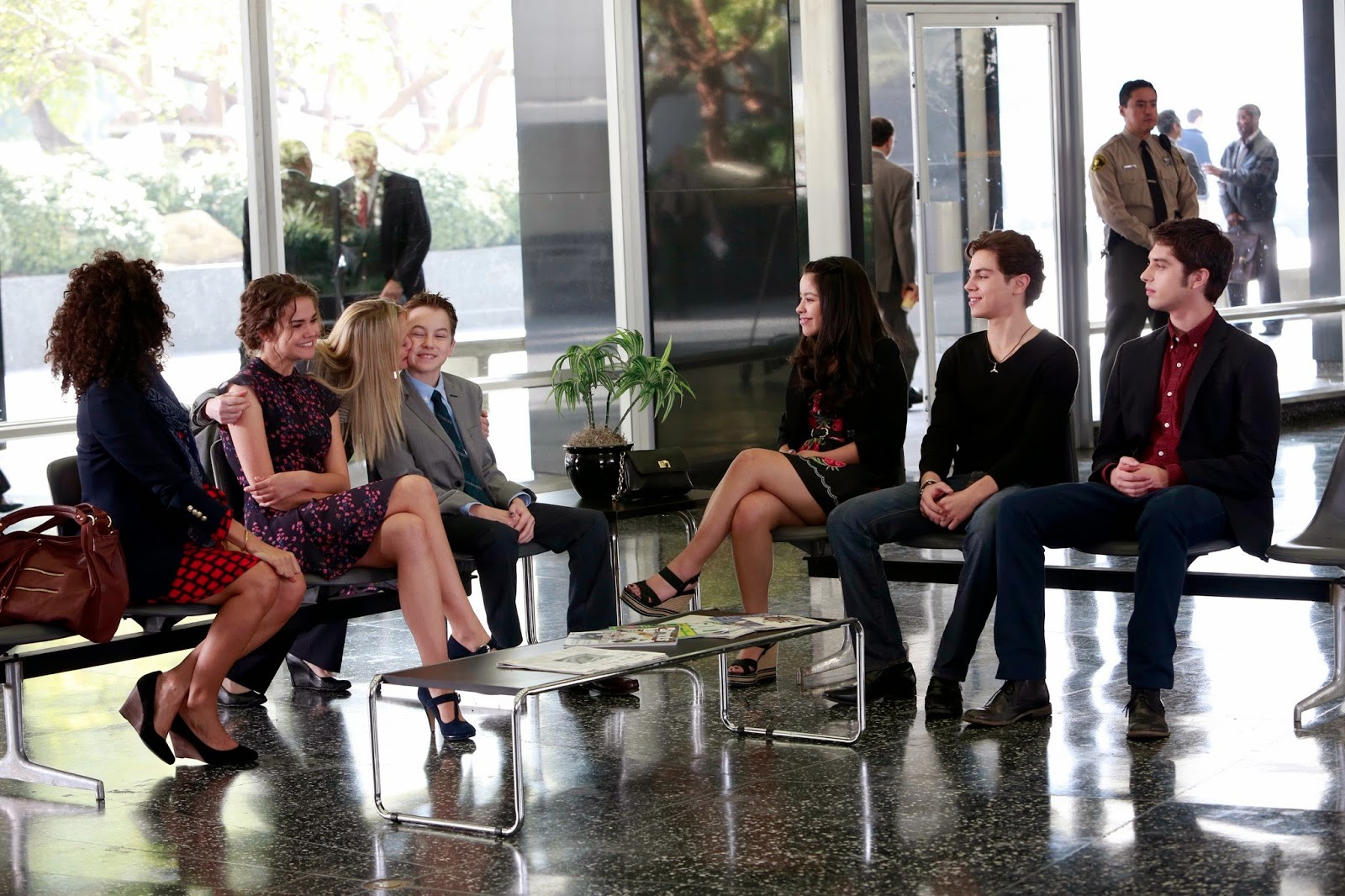 The Fosters —Season 1 Finale "Adoption Day"
Lexie Gerson —March 24, 2014
The Fosters season 1 finale, "Adoption Day," aired last night on ABC Family.
Last night's episode begins with Brandon (David Lambert) in the back seat of the cop car with his parents, Stef (Terry Polo) and Mike (Danny Nucci). Brandon admits to bribing Ana (Alexandra Barreto). His parents tell him that he cannot tell anyone what he has done.
Mike and Stef get out of the car and discuss their options. Stef tells Mike that he should stay away from Ana, "she will handle it." Stef then proceeds to tell Mike that Brandon has to move back into her house.
Mike returns to his apartment and kicks Dani (Marla Sokoloff) out. Mike blames Dani for Brandon's behavior.
Stef heads home and tells Lena (Sherri Saum) about the fake IDs. She also tells her that Brandon will be moving back home. However, Stef does not tell Lena about the bribe and Lena confesses that she is pretty sure the principal is going to expel Brandon.
Marianna (Cierra Ramirez) heads over to Zac's house where his mother, Amanda (Romy Rosement), answers the door.
Amanda remembers Marianna's name and acts as if nothing ever happened. Zac (Julian De La Celle) steps outside and talks to Marianna. Zac confesses to her that his mother has early on-set of Alzheimer's disease.
Stef pays Ana a visit and tells her to meet her at the diner tomorrow. Stef tells her she is going to pay her the $10,000 as long as she leaves her family alone.
Jesus (Jake T. Austin) opens up to Marianna and tells her what happened at the dance. Marianna encourages Jesus to get back on his medicine because she wants her brother back.
Brandon starts packing up his things. Although he apologizes to his father, Mike tells Brandon that he has never been more disappointed in him.
Lena meets with Timothy (Jay Ali). Timothy reveals that he is not going to sign the sperm donor contract. He can't stand the idea of having a child and not being able to see or talk to him/her. This news causes Lena to panic. She rushes to get a pregnancy test since she is already inseminated but she has to wait 24 hours. Lena then heads home and fills Stef in on what happened with Timothy. Stef confesses to Lena that she does not want her to have a baby.
Callie (Maia Mitchell) visits Brandon at Mike's house. She tells Brandon she wants to be a part of this family more than she has ever wanted anything. But Callie needs to know that being adopted won't hurt him. Brandon reassures Callie and tells her that he is okay with the adoption, becoming his brother.
Lena tells Stef that she got her period so she nothing to worry about. Stef is apologetic to Lena for what she previously said. Stef admits that she is nervous about bringing another child into their home because their lives are not steady at the moment. Stef proceeds to tell Lena about Ana.
Dani arrives at Mike's to pick up her stuff. Upset about Callie, Brandon is drunk on the couch. Dani puts him to bed and proceeds to seduce him.
Brandon wakes up in the morning and Dani is gone. He checks his phone, which has a voicemail from Mike who is drunk, crying and apologetic. Brandon calls Dani and leaves her a voicemail asking her if she has seen his father. With no information on the whereabouts of his father, Brandon heads to his orchestra audition.
Jesus tracks down Emma (Amanda Leighton) at school and tells her that he is back to taking his medication. He then apologizes for his behavior at the dance. Emma tells him that she is no longer dating Kyle and agrees to give him another chance.
Jude (Jamie McShane) has a date with a girl from school named Maddie (Yara Shahidi). Jude's friend Conner (Gavin MacIntosh) intended on asking Maddie out, which it made Jude jealous. Jude sits down with Lena and asks her how she knew when she was gay. Jude is scared and shares that he wanted Conner to like him 'that way.' Lena reassures Jude that there is nothing wrong with him. She then tells him that they will love him regardless of whether he is gay or straight.
Marianna heads over to Zac's house where she discovers a huge bruise on his face. Apparently, Amanda lost her memory again and didn't know whom Zac so she attacked him. Marianna convinces Zac to call his Dad and ask him for help with his Mom.
Stef heads to the diner to meet Ana but she never shows up. Stef then asks someone at the shelter if they know where Ana usually stays. Stef is told that the last time Ana was seen was the day before where she was in an argument with a man. Ana has not been seen since.
Dani finds a bloody Mike in the bathroom where he is passed out drunk. She washed the blood off his hands and asks him if he was in a fight but he is unconscious and doesn't reply.
Adoption day has arrived. Stef arrives at the courthouse where Lena is sitting with Callie and Jude, Brandon, Marianna, and Jesus, waiting to see the judge. Lena takes Stef aside and tells her that Brandon wasn't suspended. She then proceeds to tell Stef that she is pregnant, she did not get her period, she was spotting. Stef bursts into tears and tells Lena that she is not upset, she is happy they are having a baby.
Wyatt (Alex Saxon) arrives with Callie's old counselor, Rita (Rosie O'Donnell) and all of her friends from the group home. Jude's friend Connor also shows up, despite their fight over Maddie.
The judge comes out and takes Stef and Lena aside. We then find out that when the judge pulled Callie's original birth certificate her father was listed as a man named "Robert Quinn," not Donald. Callie cannot be adopted until they track down Quinn and get him to sign over his rights. Callie tells Jude the news and Stef and Lena proceed with Jude's adoption even though they cannot adopt Callie.
Callie storms out of the courthouse in tears, Rita follows her convinces her not to give up. Callie and Rita head back inside and support Jude while he is adopted. Jude becomes an official Foster and the family head home to celebrate. Callie reassures Lena that she is okay even though she didn't get adopted.
Outside Wyatt talks to Callie about not getting adopted. He asks her if this "changes anything" about her relationship with Brandon. Callie tells him that it doesn't and then kisses Wyatt.
The season finale ends with Brandon returning to his father's house in order to pick up the last of his stuff. As Brandon gets out of the car, he is jumped by Vico (Reiley McClendon) and beaten unconscious.