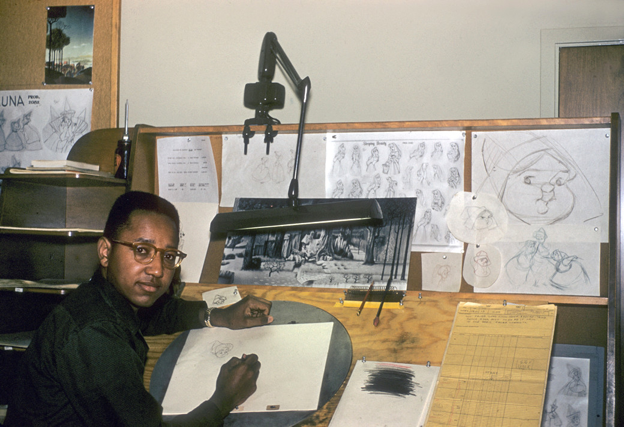 NEW YORK, NY – July 15, 2016 – Digital entertainment curator FilmBuff announced today that it has licensed the rights to distribute FLOYD NORMAN: AN ANIMATED LIFE on Digital HD and On Demand platforms on August 26, 2016 – the same day it opens in select theaters and is available on Blu-ray with special features.
From filmmakers Michael Fiore and Erik Sharkey, the feel good documentary is an intimate journey through the celebrated life and career of the 'Forrest Gump' of the animation industry: Disney legend Floyd Norman. Hired as the first African-American at Disney in 1956, Floyd worked on such classics as SLEEPING BEAUTY and 101 DALMATIANS before being handpicked by Walt Disney to join the story team on THE JUNGLE BOOK. After Walt Disney's death in 1966, Norman left Disney to found Vignette Films, where he developed the original FAT ALBERT TV special and produced segments for SESAME STREET. He would later work at Hanna-Barbera on many classic cartoons, including SCOOBY DOO. After Hanna-Barbera, Floyd's talents took him to Pixar to work on TOY STORY 2 and MONSTERS INC. On Mr. Norman's 65th birthday in 2000, Disney HR forced Floyd to retire. Refusing to leave his "home," Floyd has "hijacked" a cubicle at Disney Publishing, unpaid, for the past 16 years, picking up freelance work when he can. At 81 he continues to have an impact as both an artist and a mentor. Mr. Norman plans to "die at the drawing board."
"FilmBuff has cornered the market on distributing entertaining documentaries with compelling protagonists and messages," said filmmaker Michael Fiore, whose company, Michael Fiore Films, financed and produced the documentary. "They are the perfect partner to share Floyd Norman's one-of-a-kind story with the largest audience."
The film had its world premiere at the Santa Barbara International Film Festival in February and was an official selection of the 2016 Bentonville Film Festival where it took home the Audience Award. It will also screen at the upcoming San Diego Comic-Con International Independent Film Festival on July 22nd.
"FLOYD NORMAN: AN ANIMATED LIFE is intimate and whimsical – a fascinating glimpse into an institution we all know and love through the lens of such an inspiring character," said FilmBuff's Sam Scupp. "We're proud to help tell Floyd's story."
FLOYD NORMAN: AN ANIMATED LIFE will be available on all major On Demand platforms, including iTunes, Amazon, Google Play, Vudu, Xbox, and the Playstation Store.
For more information, please visit: www.FloydNormanMovie.com
About FILMBUFF
FilmBuff is an award-winning full-service global sales and distribution company, with a focus on delivering high quality, compelling film and video to targeted audiences. Founded in 2007, FilmBuff consistently introduces audiences to the best in independent film, including Oscar-nominated EXIT THROUGH THE GIFT SHOP, Sundance Audience Award winner, SENNA, Sundance Grand Jury Prize winner, THE HOUSE I LIVE IN, Jared Leto's ARTIFACT, Adam Carolla's ROAD HARD, THE INTERNET'S OWN BOY, BURT'S BUZZ, THE INVITATION, SPRING, and many others. Offering a comprehensive array of services and solutions for today's evolving media landscape, FilmBuff partners with creative filmmakers, publishers and brand marketers to reach, engage and inspire viewers around the world. Connect with FilmBuff at www.FilmBuff.com and @FilmBuff.
About MICHAEL FIORE FILMS
Michael Fiore Films is an award-winning, full-service, New York City-based production company. Started in 2010 by Producer/Director Michael Fiore (Exec Producer, Sony Screen Gems' KEEP WATCHING), the company finances, develops, and creates high-concept, story-driven, filmed content for the Film, TV, and Ad worlds. Michael Fiore Films' versatility is seen in both the scope of content produced and their visionary collaborators that include Silver Pictures/Joel Silver (Producer, THE MATRIX), Jonathan Liebesman (Director, TEENAGE NINJA MUTANT TURTLES), and Tom DiCillo. (Director, LIVING IN OBLIVION), to name a few. Connect with Michael Fiore Films at www.MichaelFioreFilms.com and @MichaelFioreFilms.