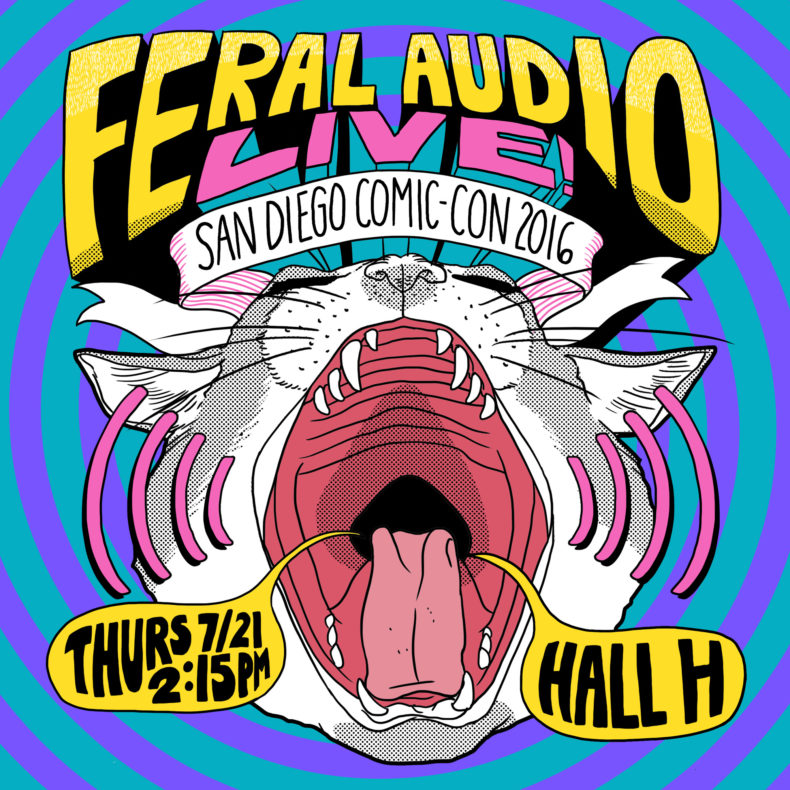 Dan Harmon and Starburns Industries' Online Sensation Spotlights Diverse Array of Podcasts & Podcasters at Comic-Con 2016, including
Harmontown, My Favorite Murder, The Duncan Trussell Family Hour,
Put Your Hands Together, and many more!
Feral Audio, the fiercely independent podcast network incubated by Starburns Industries, makes its Comic-Con International presence felt next week with a commanding Hall H panel and a stellar line-up of popular podcasters at its booth.
On Thursday, July 21 at 2:15pm, Comic-Con's celebrated Hall H will welcome Feral Audio Live! with Dan Harmon and a Legion of Podcasters – an event of unparalleled precedent as this will be the first-ever live podcast recording in Hall H. Podcast pioneer Dan Harmon (Harmontown, Community) will bring to the stage some of the best known podcasts and podcasters from the Feral Audio network, including Cameron Esposito and Rhea Butcher (Put Your Hands Together, Take My Wife), Duncan Trussell (The Duncan Trussell Family Hour), Johnny Pemberton (Twisting the Wind, Neighbors 2), Steve Agee (Uhhh…, Adventure Time), Georgia Hardstark (My Favorite Murder, Slumber Party), Alie Ward (Slumber Party, Cooking Channel), Doughboys Mike Mitchell (The Birthday Boys) and Nick Wiger (Comedy Bang! Bang!), Jeff B. Davis (Harmontown, Whose Line Is It Anyway?), the smooth men of Beyond Yacht Rock, and more, including a special appearance live via phone by Chelsea Peretti (Call Chelsea Peretti, Brooklyn Nine-Nine). Feral Audio's General Manager/Creative Director Shawn Kittelsen will moderate the proceedings.
In addition to the spotlight panel in Comic-Con's 6,500-seat Hall H, Feral Audio will present more intimate opportunities to meet it's vaunted lineup of podcasters with appearances in the Starburns Industries/Feral Audio booth. The booth — #3917 – is located on the convention floor between Doors D and E. Booth line-up is listed below.
Feral Audio was founded by producer Dustin Marshall and incubated by Starburns Industries, the producers who brought you distinctive, inimitable entertainment ranging from Academy Award-nominated Anomalisa and HBO's subversive Animals to the raucous Rick and Morty and the brand-spanking-new sensations, Harmonquest (SeeSo) and Party Legends (VICELAND). With more than 30 shows and now readily available on iTunes and everywhere podcasts are streamed, Feral Audio is entertaining audiences to the tune of more than 3 million listeners per month.
STARBURNS/FERAL BOOTH SCHEDULE – BOOTH #3917
THURSDAY, JULY 21ST
10-11AM: Willy Roberts of Feral Audio's Real Life Sci Fi with Wade and Willy
11AM-12PM: Georgia Hardstark and Alie Ward of Feral Audio's Slumber Party with Alie and Georgia
12:30-1:30PM: Cameron Esposito and Rhea Butcher of Feral Audio's Put Your Hands Together
3PM: SUPER TIGHT and VICELAND Present: Party Legends Live!
FRIDAY, JULY 22ND
10-11AM: Steve Agee of Feral Audio's Steve Agee Uhhh…
11AM-12PM: Dan Harmon, Spencer Crittenden and Jeff B. Davis of Harmontown and HarmonQuest
12-2PM: Phil Matarese & Mike Luciano, Co-Creators/Executive Producers of HBO's "Animals"
2-3PM: Nick Wiger & Mike Mitchell of Feral Audio's Doughboys
3-4PM: Duncan Trussell of Feral Audio's The Duncan Trussell Family Hour
4-5PM: Joseph Scrimshaw of Feral Audio's Obsessed with Joseph Scrimshaw
5-6PM: Johnny Pemberton of Feral Audio's Twisting the Wind with Johnny Pemberton
6-6:45PM: Mike McCafferty of Feral Audio's I Just Want to Talk About Star Trek
SATURDAY, JULY 23RD
10-11AM: Zane Grant & Sydney Steinberg of Feral Audio's Mystic Party
11AM-12PM: J.D. Ryznar, Hollywood Steve Huey, Hunter Stair, and David B. Lyons of Feral Audio's Beyond Yacht Rock
12-1PM: Brody Stevens of Feral Audio's The Steven Brody Stevens Festival of Friendship
2-3PM: Duke Johnson: Director, "Anomalisa" — Anomalisa Book Signing
3:30-4:30PM: Courtney Pauroso & Corey Podell of Feral Audio's We Should Have A Podcast
4:30-5:30PM: Justin Michael & Jacob Reed of Feral Audio's Before You Were Funny
5:30-6:30PM: Fred Sablan of Feral Audio's Hour of Goon