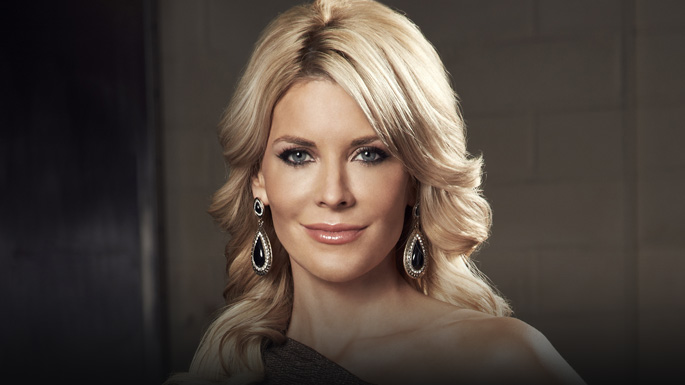 'Face Off' host McKenzie Westmore joins Variety Radio Online's host Jess to answer a few 'Face Off' fan questions!
Beautiful Actress Daughter of Makeup Legend Michael Westmore Hosts Next Wave of Special FX Artists as They Create New Aliens, Monsters and Creatures!
Aliens, monsters, and cyborgs – oh my! But McKenzie Westmore is no frightened Dorothy, having grown up in the famous Westmore family, pioneers of past and present-day movie makeup and effects. Given her lineage, the gorgeous Westmore is the perfect host for SyFy Channel's reality makeup and effects competition "Face/Off," which just premiered its 6th season on January 14th.
"Face Off" features artists that are tasked with using their considerable talent to create original movie-worthy characters such as aliens, human-animal hybrids, horror villains, cyborgs and others. The weekly elimination contest features the dynamic Westmore as host and narrator with her father – legendary Academy and Emmy Award-winning makeup artist Michael Westmore – mentoring the artists.
Westmore brings a rich history and passion for the art of special effects make-up to her role as the host of "Face Off." Beginning with her great-grandfather George, the Westmore family set the bar for film and television make-up, essentially pioneering the field. Her father Michael is the legendary make-up artist behind the TV series "Star Trek" who has won a total of nine Emmys. He also won an Oscar for his work on the film MASK. The family was granted a star on the Hollywood Walk of Fame in 2008 for their contributions to over 2,000 films and television shows.
As well, Westmore's mother, Marion, was a model for costume designer Edith Head. It was while Robert DeNiro was at her home getting his makeup done by her father for the Oscar-winning film RAGING BULL that DeNiro developed a rapport with the young McKenzie and asked her to play his on-screen daughter, giving the three-year-old her first of many acting credits.
Westmore starred on the hit NBC soap "Passions" for ten seasons, and was recognized by the Daytime Emmy Awards voters as well as the Soap Opera Digest Awards for her work as fan favorite 'Sheridan Crane.' She also recurred heavily on ABC's daytime staple "All My Children" after "Passions," and her other television credits include "Miss Match," "Surviving Suburbia," "Friends," "Star Trek Voyager," "Weird Science" and "Star Trek: The Next Generation." Her film credits include STAR TREK: INSURRECTION, VILE, and DOSE OF REALITY. Additionally, she can be seen in the HBO webseries "Apocalypse Wow!"
A trained opera singer, Westmore has appeared in "Dido & Aneas," "The Sound of Music" and "Little Shop of Horrors" on stage. She has had extensive theatre training that includes the Lee Strasberg Institute and Uta Hagen Master Class.
A health, beauty, fitness and nutrition enthusiast with a background in personal training and nutrition, Westmore is currently developing a line of top-shelf cosmetics. She worked and studied at David Alan Nutrition in the areas of vitamin therapy and holistic medicine and is a certified American Sports and Fitness Association personal trainer. Westmore is also a trained equestrian. She currently lives in Los Angeles with her seven-year-old son, Maddox.
Twitter: @TheVRO
Facebook: Variety Radio Online
Tumblr: Variety Radio Online