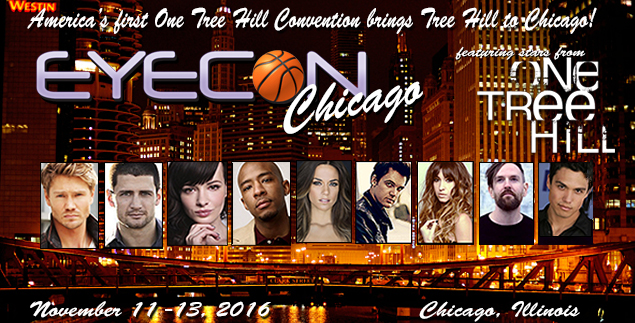 We're giving away 2 General Weekend passes to 1 lucky winner! Variety Radio Online has partnered up with our EYECON family to bring you this One Tree Hill giveaway!
Like many, we too grew up watching and are thrilled to gather with fellow fans to relive the show and characters we miss so much.
It's not often that a television show strikes such a chord with viewers that it lasts for an astonishing nine years. But One Tree Hill did just that.
Whether you found yourself relating to Lucas Scott: the dreamer, Nathan Scott: the athlete, Brooke Davis: the princess, Peyton Sawyer: the artist, or Haley James: the tutor girl; One Tree Hill felt like home, like family.
EYECON is family and we are extremely happy to be part of it, and we want you to apart of it too!
How To Enter
1: Follow us VarietyRadioOnline and EYECON3000 on Instagram. Post your favorite One Tree Hill quote, using the hashtags #OTHChicago, #EYECON #VarietyRadioOnline and #OTH make sure you TAG us in the photo also.
2: Follow us @TheVRO and @EYECON3000 on Twitter. Tweet your favorite One Tree Hill Photo, using the hashtags #OTHChicago #VarietyRadioOnline, #EYECON and #OTH
3: Like us on Facebook Variety Radio Online and EyeCon "One Tree Hill" Convention. Post on our walls what Tree Hill means to you, using the hashtags #OTHChicago #VarietyRadioOnline, #EYECON and #OTH
The giveaway started Today July 7th 2016 and will end August 7th, 2016.
The winner will receive (2) General Weekend Passes
EYECON: General Members will receive the following:
*Admission for the day(s) purchased
*Access to all celebrity Q&A Sessions
*Access to the Dealer's room and all panels and games
Please note that seating for General Admission is first come first served and in the chance of a sell-out, this section may fill and become standing room only.
For More Info Go To EYECONFLA.com 

Heroes & Villains Fanfest will be back in Chicago on April 7 & 8, 2018!  Every year they bring some stars every year to Chicago for 1,000's of fans to meet their idols! But guess what ITS NOT JUST HEROES ITS ALSO WALKER STALKERS ALSO.  So far you can meet Green Arrow (Stephen Amell), Negan/John Winchester (Jeffery Dean […]