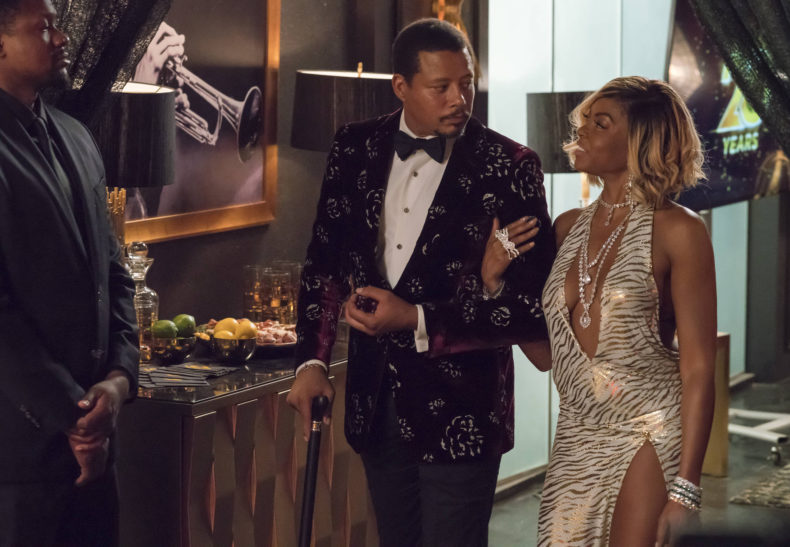 Empire Season 4 – "Noble Memory" Episode 1 Review
Empire came back strong in it's first episode out of the gate in season 4. The action starts out at Leviticus where the Lyons are holding a 20th anniversary celebration for Empire. As Lucious (Terrence Howard) and Cookie (Taraji P. Henson) are making their way through the backstage area, Lucious gets set off by camera flashes and people's voices. And by set off, I don't mean he is acting in typical Lucious fashion of flipping out on people. He ends up like a deer in headlights and is absolutely terrified and screams, "get away from me, get me out of here." That is the first clue that all is not right with Lucious after the explosion in Las Vegas that ended season 3. In all of the interviews that series lead Jussie Smollett (Jamal) did, he made mention multiple times to not miss the first 8 minutes of the episode. Seeing Lucious act like a scared child after all of his gruff and bravado the past 3 seasons, was a nice change of pace. It must also be said that Terrence Howard did an outstanding job in the episode.
After the exchange backstage, the actions steps back 24 hours to show Andre (Trai Byers) and Thirsty (Andre Royo) are discussing the fact that the Las Vegas PD will be coming to question him again about the explosion. It was Andre, Shine (Xhibit) and Giuliana (Nia Long) who orchestrated the hit, although Andre tried to call it off at the last minute. He grows increasingly nervous about this and confronts Shine.
Cut to Hakeem's (Bryshere Gray) where is is with baby Bella. He gets a visit from Mrs. DuBois (Phylicia Rashad) and she threatens that if Hakeem doesn't keep bringing Bella to the house for visits, she will go to Cookie. She shows him a photo album of photos from all of his Tuesday visits. It is also mentioned that Anika (Grace Byers, who isn't seen this week) is still in jail.
Another pawn in Mrs. DuBois' plan to bring down the Lyons is her nephew Warren (Terrell Carter). When he tries to explain things are moving slower than they would like with Jamal, Mrs. DuBois intensely tells him, that she wants to obliterate Cookie's children, like she did to her son, Angelo (Taye Diggs). "I will pick the meat from their bones as she watches helplessly," she spits.
The next scene is when the big surprise of the night comes. Lucious arrives home with his nurse, Claudia (Demi Moore) and what an entrance it is. He steps out of the car and walks toward the family. It is revealed that he has lost part of his leg in the explosion. The creepy nurse tells the family they should call him Dwight (his birth name) but Cookie presses that the world knows him as Lucious.
The Lyons then have a family dinner trying to jog his memory, but it only serves to rattle him further once the family starts arguing. They look through old photo albums and he notices Cookie is largely absent. She mentions that they were apart for seventeen years. Once the family starts bickering back and forth, Lucious flips out again and makes a beeline for the dock. They get to him before he falls in, and also apologize for pushing him.
The action then picks up where the premiere starts, at the 20th anniversary celebration. As Hakeem and Jamal perform on stage, Cookie and Claudia try to calm Lucious backstage. He makes his return to the stage and makes two declarations, one, he shows his prosthetic leg to the crowd and two, he gives Cookie credit for writing the song, "Love Me." Hakeem and Jamal then perform the song while Cookie and Lucious look on, happy.
At the very end of the show, Andre gets a phone call from Shine, who is sitting in a car with the guy who caused the explosion and a bag full of payoff money. After the guy counts the hush money, Shine shoots him right in the head.
Once everyone leaves the club, Cookie turns to Lucious and says that the evening was perfect. Lucious then turns to her and says, "That wasn't me, I was faking it, just like we practiced last night." Cookie then makes it known that the old Lucious is in there somewhere. Tarai P. Henson also deserves from kudos for the episode. She can deliver one liners and looks like nobody's business and this episode didn't disappoint. My favorite line she delivers is to Claudia upon seeing the closeness she shares with Lucious, "Okay, you've got 30 minutes to pack your bags and kick rocks, bitch."