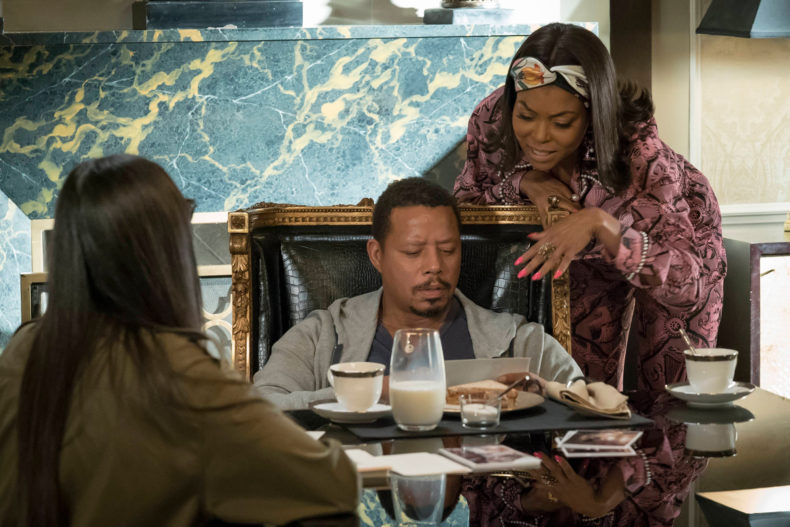 Empire Season 2 Episode 2 – "Full Circle"
Tags: Terrence Howard, Taraji P. Henson, Jussie Smollett, Trai Byers, Bryshyre Gray, Grace Byers, Demi More, Gabourey Sidibe, Rumer Willis, Terrell Carter, Forest Whitaker, Serayah, TaRhonda Jones.
The episode opens with Claudia readying Lucious for a bath. He insists he wants to wash himself and begins to remove his fake leg. As he lays there, his head is pushed under the water by his mother Leah. He then flashes back to when she tried to drown him when he was a child. She is screaming about how evil he is. Claudia comes back before she can kill him and that prompts Cookie to move back in.
Jamal is working on his new song for a movie and also talking about his new album of love songs, with Warren.
Andre is doing Empire business and has found a buyer for Empire X Stream. He heads to a bar where he meets this beautiful woman. They immediately start talking dirty and end up (attempting) to sleep together. Unfortunately, Andre can't finish the job. The woman says she would have been the best he ever had.
The action cuts to Anika's bail hearing for the murder of Tariq. The judge is not willing to give her bail and she tells Hakeem, who is in the courtroom, "Tell Cookie I remember January 7, 2015!" This prompts Cookie and Thirsty to pay her a visit in jail. The date referred to the day that Cookie's cousin Bunky was killed by Lucious. Cookie reminds Anika that they paid her $25 million to get out of town and she didn't take it. Thirsty does end up getting Anika out of prison with a fake recording of Tariq threatening her.
After the commercial break we see Claudia and Lucious talking about where he is originally from (Philadelphia). In an effort to jog his memory Claudia takes him to a diner he used to eat at regularly. The owner recognizes Lucious, who doesn't recognize him. He reminds him he used to come in with a composer named Eddie, who is played by Forest Whitaker. Lucious sneaks away when the diner owner tells him Eddie is probably at his niece's wedding. Lucious shows up and Eddie is happy to see him. They start talking about the old days and when Lucious has another flashback.
Then we get back to Jamal, where the song he wrote is not exactly what the producer wants. Becky wants Jamal to make the changes, but Jamal wants to stick with his version and actually reminds Becky that she is only the interim head of A&R.
Eddie comes to Lucious's house and plays a song for he and Cookie on the piano. When Lucious takes his leave, Eddie and Cookie have a talk and he tells Cookie that Lucious doesn't remember him. Cookie says, "He doesn't remember anything." She then tells him exactly why Lucious doesn't remember, which is his traumatic brain injury.
Cookie then finds Leah rummaging for a gun. She says, "We need to put an end to the witch poisoning Dwight with her spells," referring to Claudia. She then cops to killing Tariq and that she sent Anika to prison on purpose for the crime. Cut to Leah walking in on Lucious, Claudia and Cookie with doctors and orderlies in the living room. The three have decided to have Leah involuntarily committed.
We then cut back to Empire where Becky, Tory and the movie producer are listening to Jamal's song, only it is Tory singing. Becky replaced his vocals when he wouldn't comply with what the movie producer wanted. Although the producer loves it, Jamal is pissed. Becky who is Jamal's best friend was shady. He blurts out, "Pull this shit again and you won't have a job at my label,"
The NYPD is questioning Andre about Giuliana again. He assures them he has no idea where she is hiding. He is thrown for a loop when the new liaison on the case, Pamela, turns out to be the woman he went home with from the bar. He thinks she purposely tried to have sex with him to get info for the case. She says that this was her first day on the case and that they didn't have sex, because he….couldn't finish.
Over at Leviticus, Becky is explaining to Cookie that Hakeem is doing great work, but Jamal isn't having issues and that she replaced his track with Tory's. Just when you think Cookie is going to rip Becky for being shady with Jamal, she actually tells her assistant, Porsha, to give Becky a raise and take the "interim" off her title. Cookie decides that Empire is going to produce 20 new albums to celebrate the 20th anniversary of Empire. Andre flips out because he is the one who has to find money for this. Cookie rips into him and tells him he would never be that rude if Lucious was CEO and tells him he better find the money.
Jamal is talking with Warren about what Becky did and Warren tells him he will always be by Jamal's side and they sing a song together.
Anika shows up at Hakeem's to find Tianna holding baby Bella and rocking her to sleep and is none too pleased.
Claudia is packing to leave, but relents when Lucious tells her that she is the reason he feels sage and that if he leaves he won't feel safe and says "I know if you leave I won't be sage again. I'll be stuck in a world filled with demons and they're gonna turn me into a monster I never wanted to be in the first place." She really hears Lucious and decides she not to leave.