For those who haven't seen Empire before, There are 4 Seasons and 6 episodes that have already been given. If you havent seen it go on Hulu and check it out. .
The show is set in New York. Empire is a hip hop music and entertainment company,  and the drama between the members of the founders' family try to fight for control of it.
Lucious Lyon, the CEO of Empire Entertainment, successful rapper and singer. Grandfather, and father of three sons, Andre, Jamal, and Hakeem. Lucious has 3 years to live because he was diagnosed with ALS
Cookie Lyon, the mother of the 3 boys, grandmother of baby Bella, Lucious Ex wife, Cookie had been involved in drug dealing gone bad, forcing her to serve 17 years in prison, preventing her from being in her sons' lives. After Lucious becomes distant from Cookie while she is incarcerated, the two eventually get a divorce. Even though she took the hit for him!! She wants her half of Empire.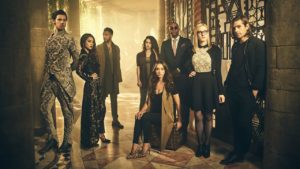 Hakeem Lyon, youngest of the three brothers, and the father of baby Bella Lyon. He is a rap  artist, who is signed to his father's label, Empire Entertainment and is also signed to his and his mother's label, Lyon Dynasty.
Jamal Lyon, middle brother, a father and a amazing R&B singer and songwriter, who struggles to gain his father's approval because of his sexuality. Jamal had shown signs of being effeminate when he was a child, and was thrown in the trash by his father Luscious, who did not want a son like that. His mother, Cookie, stood up for him, but after her incarceration, he grew up without her for 17 years, during which his father often abused him in an attempt to toughen him up to "make him into a man".
Andre Lyon, the oldest, who suffers from Bi-polar and depression. Was married and was expecting a child but his wife died and lost the baby. Andre, the college educated executive in the company, is pitted against his two younger brothers, Hakeem and Jamal, for control of the family business after their father's developing illness. He is portrayed as the son with the most business acumen and unlike his younger siblings, does not want to follow in the Lyon family's musical footsteps which creates tensions with Lucious who likes to push him aside. He is afflicted with and is on a spiritual journey to find his identity. He is the one Lyon "son" who chooses business over singing.
There is music, celebrities that show up, battles, fights, love, and more. I can tell you right now I absolutely love Jamal's voice and so will you!!