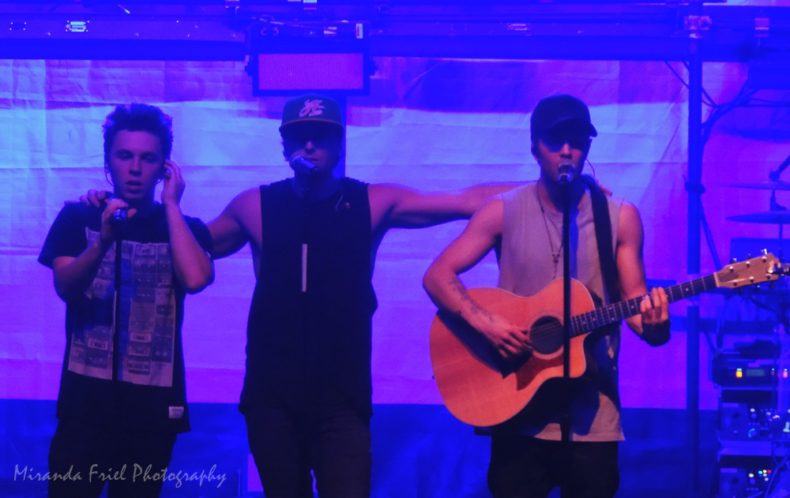 "Let's take a trip to Sunset Boulevard…" – Sunset Blvd.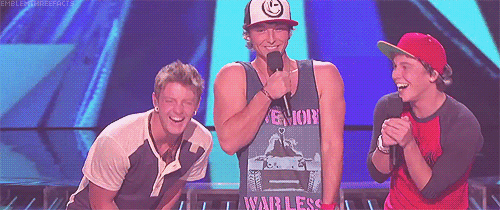 Most people probably remember the band Emblem3 from season 2 of X Factor (U.S.). Drew Chadwick, Wesley Stromberg, and Keaton Stromberg have been friends and working on music together since they were kids growing up in Washington and eventually moving to Huntington Beach, Ca. They even auditioned with one of their own original songs, Sunset Blvd. Their talent, charm, and of course cuteness landed them in 4th place on the singing competition. That didn't slow them down though, Simon Cowell soon snagged them up and signed the boys to his record label Syco Music and Columbia Records. They soon had a hit first single with "Chloe (You're the One I Want) and released their debut album Nothing to Lose. They've headlined their own tours and even opened for Selena Gomez.
Unsurprisingly, there's always some bumps in the road when it comes to working in the music industry, and these guys were no exception to them. On June 20, 2014, Wes and Keaton announced that Drew was leaving the group and also that they were no longer signed to Simon Cowell's labels. This didn't deter the two brothers, though, they insisted that they were still Emblem3, and soon released the Forever Together EP independently. Along with that came a small acoustic tour. However, about a year after Drew left the band, Wes and Keaton announced that they were going to be working on separate projects as well, leaving Emblem3 on an indefinite hiatus.
On October 24, 2015, the band (Wes, Keaton, AND Drew) released a YouTube cover of Adele's "Hello", signifying that the band was back together. Then on November 3, 2015, Emblem3 fans rejoiced when they made a private e-mail announcement that they were working on a new album and tour for 2016.
"Baby we're back!" – Now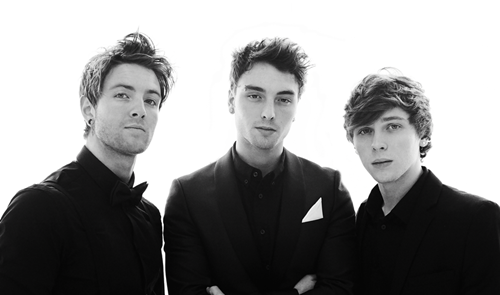 February 1, 2016 brought a new song entitled "Now" in which the band sings/raps about being back, what the industry did to them, and a shout out to their fans who have stuck around. At a time when a lot of artists are turning away from free music streaming outlets, Drew, Wesley, and Keaton are embracing it. The band released a self-titled app, on February 14, 2016, in which fans can stream their new and old music for free, chat with the guys and fellow fans, and be the first to see exclusive content. Not only that, but they're doing all of this independently; writing, producing, and releasing all of their own music without the help of a record label. Along with this announcement, the Waking Up Tour announcement soon followed, which leads me to the following review of the Atlanta show.
June 2, 2016 – Center Stage Theater
Atlanta was the 16th of the 21 stops on the Waking Up Tour, and while normally I might spoil myself with what to expect, I restrained from doing so for this one, and I'm glad I did. It's been a while since my friend, Cristine, and I have jammed that hard at a show. Then again, it's been a while since we've been to a concert that wasn't country.
Anyways, the overall experience was fantastic with the exception of a few minor details that bothered me a little, but I'm letting those slide.
First things first, since Cristine and I had VIP meet & greet (the first time we have ever splurged on one), we had to check in by 3:30. Once that was done we were taken to watch sound check with everyone else who had either VIP meet & greet or a crew pass (the highest VIP pass). We stood second row right in front of the stage as the guys chatted back and forth with fans and sang a few songs acoustically.
Next up was the meet and greet! It's hard for me to explain exactly what happened during mine, so I'll just share the video.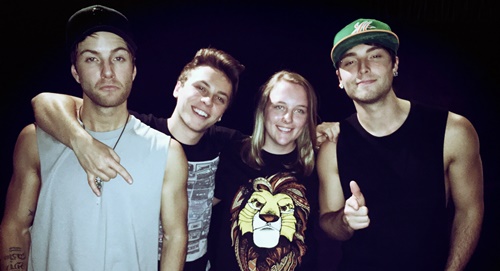 Side Note: I was wearing a Lion King shirt, so that's why Drew was singing "Hakuna Matata." (:
Cristine went after me, and her experience was similar to mine except Drew sang "I Believe I Can Fly," which was totally random considering she was wearing a different Lion King shirt, but she didn't care because that's one of her favorite songs. Drew is also her favorite, so I'm sure she would have been happy if he sang the phone book to her. (;
After our we finished our meet & greets and grabbed our signed posters, we had to head back outside and wait in line while the Crew Pass members got their time. This was one of the things that really bothered me, but oh well, we still got to go in before general admission ticket holders did.
Concert time!
Once we got back inside, all of the seats and standing area were general admission, so we could pick wherever we wanted. We went with seats right in the center behind the sound booth for a few reasons:
We've been to a few shows of theirs where it's GA, and the fans get a bit too crazy with a bunch of unnecessary pushing, and we just weren't doing that again after what we experienced last time.
You can always hear better the further away from the speakers you are.
You don't have to worry about someone getting in your view.
While we are used to being right up against the stage for concerts, this turned out to be a pretty perfect spot for us. I just wish I was able to take my DSLR camera so I could get better pictures (the other thing that really bothered me).
Anyways, we went to the merch booth just before the first opening act, Dyllan Murray, came on. Let me tell you, I only splurge on a select few artists' merch, but this time I splurged a lot: 2 shirts, a hoodie, & a pack of 3 bracelets (and I was tempted to get the rest of it too!). It was all worth every penny because everything is so freakin comfy.
So we get back to our seats and watch the rest of Dyllan's set, then Megan Nicole, and The Ready Set. They did a great job at pumping the crowd up for Emblem3.
Finally, it was time for Emblem3!
They opened the show with some crazy lights and their new song "Now." The opening lyrics, "Make way for the kings when E3 steps back in the scene", and then the first line of the chorus, "baby we're back", is extremely fitting for the first song of their first tour since being back together. On top of that, it's a very upbeat song that gets the crowed excited. From there, they managed to fit in another 23 songs (making the total 24) that ranged from old, old songs, new songs, brand new songs, and covers.
Set List
Now
Girl Next Door
Nothing to Lose
Dammit (Blink 182 cover)
Chloe
Waking Up
Showtime (brand new)
City Lights
3000 Miles
Jaiden
-Stop to pull a fan up on stage and sing Happy Birthday to her-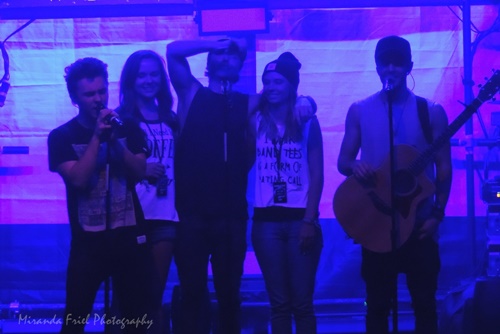 Often (The Weeknd cover)
I Love LA
One Day
Spaghetti
Just for One Day
Too Pretty for Ya (brand new)
End of the Summer
Sunset Blvd (Encore)
Side note: I couldn't help but laugh and wonder what all of the parents in the building thought as they heard some of the more provocative lyrics and witnessed Wes' dance moves to said lyrics. Especially this one dad that towered over the girls, behind his daughter I'm sure, in the standing area during the whole show haha!
Overall, these guys really know how to put on a show. Their chemistry as best friends shine through their actions on and off stage. It's not forced or choreographed. It's just realness between three guys who have grown up together, been through ups and downs, share common interests, and find happiness in making music and making their fans happy. They make sure that their fans walk away with genuine and one of a kind experiences. They want to connect with them. They want them to feel the excitement and happiness that they feel on that stage. That's why the guys leave it all out on the stage for them. They pour all of their energy into their shows and give it all to the fans. That's what a concert is supposed to be about.
I can't wait to see what the future holds for these guys because they have so much talent and their new stuff is fire.
Be sure to request their latest single "End of the Summer" at your local radio stations!
Get Social:
Twitter: Emblem3, Drew Chadwick, Wesley Stromberg, Keaton Stromberg
Facebook: Emblem3
Instagram: Emblem3, Drew Chadwick, Wesley Stromberg, Keaton Stromberg
Snapchat: drewchadwickk, masterkeats,wessnappinchats
YouTube: Emblem3
You can also purchase their music, including the new Waking Up EP, through iTunes.

I think we can all agree that live music – or music in general – and special events are universal forces that connect us, helps us escape reality for a while, brings us joy and beautiful memories that won't be forgotten. People of all ages, shapes, sizes, religions, race, and backgrounds gather together at concerts […]

It's been nearly five years since Lauren Alaina had a hometown concert, but on April 20th Chattanooga, TN (an easy 10 minutes from her hometown Rossville, GA) welcomed her back with open arms for US101's Concert for a Cause. Let me tell you, the sold-out show at the Chattanooga Theatre Centre was an emotional one […]