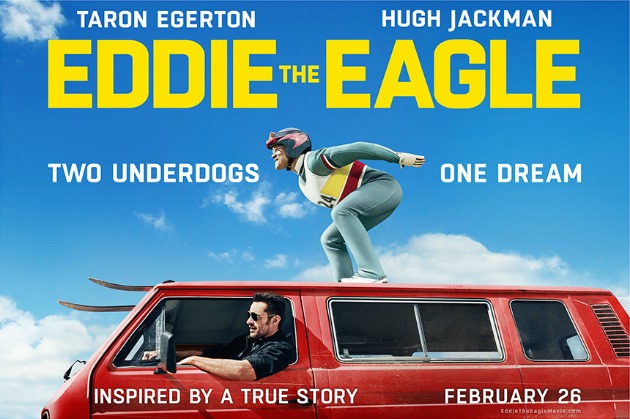 As a fan of both Taron Egerton's movies as well as Hugh Jackman's, when I initially heard about "Eddie the Eagle", I expressed interest in seeing the film. So, when I found out that I was able to attend an advanced screening of the movie, I of course jumped at the chance to see it. This movie is based on the true story of Eddie Edwards, the underdog who aspired to be an Olympian despite the challenges he faces.
Taron Egerton plays Eddie Edwards, an unlikely but courageous British ski-jumper who never stopped believing in himself even as an entire nation was counting him out. With the help of a rebellious and charismatic coach (played by Hugh Jackman), Eddie takes on the establishment and wins the hearts of sports fans around the world by making an improbable and historic showing at the 1988 Calgary Winter Olympics. Egerton's performance as the quirky and socially awkward Eddie is in great contrast with his role as Eggsy in the "Kingsman: The Secret Service" film series. Though the appearance of the two characters is obviously the same, the way they carry themselves is drastically different, proving that Egerton is capable of playing a variety of roles.
Hugh Jackman, who you may now from the X-Men series and various other films, plays Eddie's reluctant coach, an ex-Olympian that lost his way. By teaching Eddie, he finds his purpose again and works to help not only someone else, but himself as well. Jackman and Egerton work well together, creating an easy chemistry to feed from to portray their characters' friendship.
Without a doubt, this is a feel-good film to kick off 2016, sending the message that you should stick to your dreams, strive for excellence and work hard, despite the people that tell you that you can't achieve anything. This is not the traditional underdog story, considering Eddie's circumstances. Instead, it sends the message to work until you have done your best, showing that it isn't always about the awards, it is in fact about the satisfaction you earn within yourself.
Eddie the Eagle is now in theaters. Watch the trailer for the film here:
– Brancey (@VROBrancey)

LOGAN Action-Adventure Release: March 3, 2017 Directed by: James Mangold Screenplay by: Michael Green and Scott Frank & James Mangold; Story by: David James Kelly and James Mangold Produced by: Hutch Parker, p.g.a., Simon Kinberg, p.g.a., Lauren Shuler Donner Cast: Hugh Jackman, Patrick Stewart, Richard E. Grant, Boyd Holbrook, Stephen Merchant, Introducing Dafne Keen Hugh […]