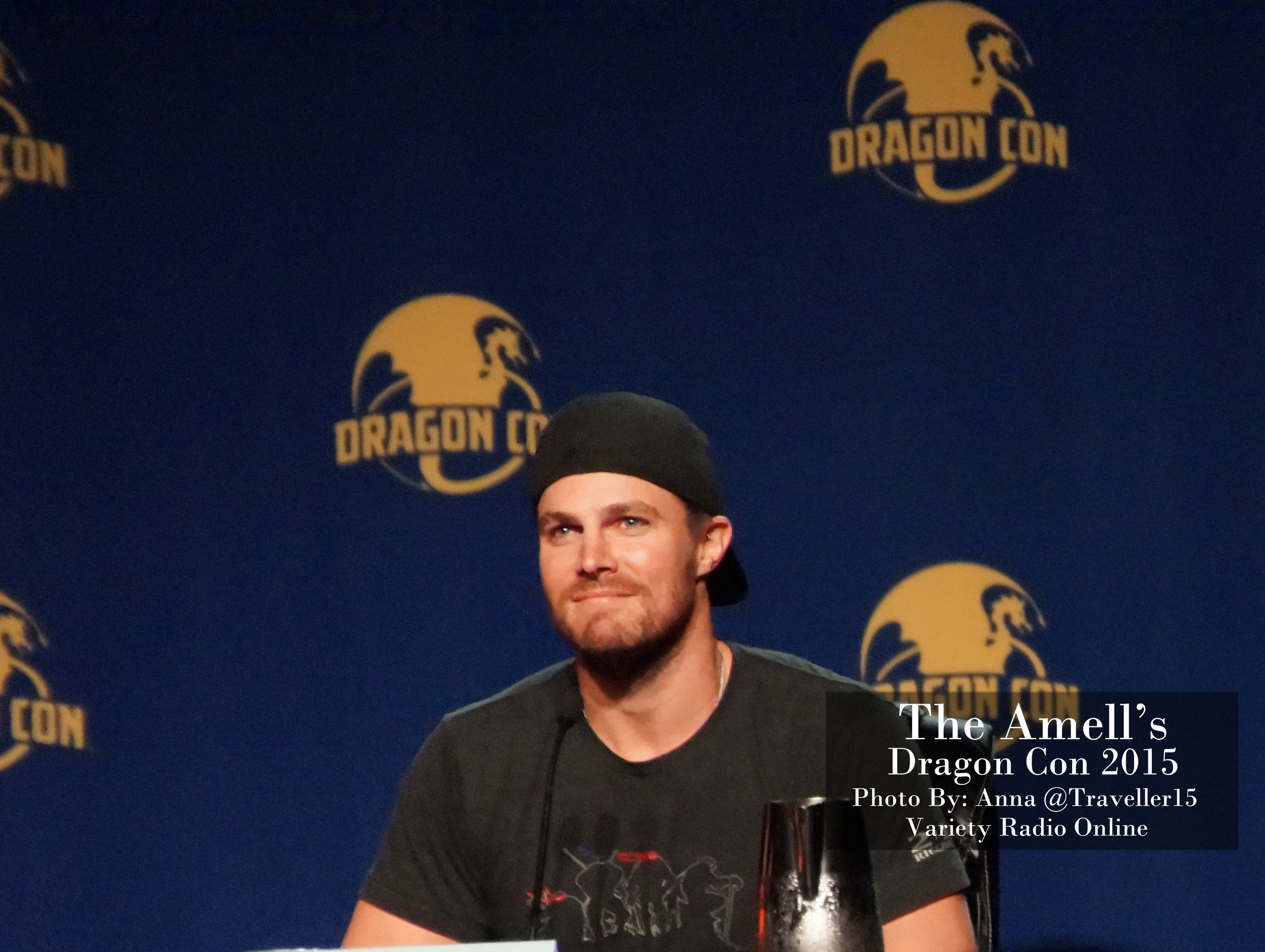 Dragon Con 2015 Panel for Stephen Amell
By: Anna (@traveller15)
I attended Stephen Amell's panel where were given the opportunity to watch the trailer for Arrow season 4. Stephen discussed his process of being the Arrow.
Stephen's time on the WWE Super Slam against Stardust was one of the best times of his entire life but he didn't want to go into detail about it and discuss anything further on the subject.
Stephen is excited about Matt Ryan being on the show as Constantine. There is something about working with British actors, they both got to pick each other's brains about process as Matt was prepping for a Broadway show. Constantine will be sketched into the Arrow verse forever in a special way.
In regards to Emily's character she was initially only to be on the show once and not to be Oliver's love interest. When Arrow went to Pilot the story had already been laid out and the show started airing before Emily first appeared. Stephen said you don't really know how a character will perform until people watch it but once he saw they built her a set he knew she would be around awhile. He was asked if he knew Felicity and Oliver would get together and he said "absolutely not, never".  Look where they are now!
Stephen talked about his charity work.Stephen says the new Arrow cave is really cool which makes it feel like a new show. He said the old Arrow cave was meant for him in the beginning as a one person place which is outgrown because of the number of people in it. The new cave has a garage and gym.
Stephen enjoyed his time working in Atlanta, Georgia on the show The Vampire Diaries. He loves his hometown Toronto but loves living in Los Angeles with the weather and smog.
Robbie Amell gate crashed the panel. Stephen stirs Robbie if we all know his older cousin where Robbie sees there is seven years between them. Robbie's least favourite question is who is  'older' and Robbie loves to say Stephen by a decade.
Robbie was in Vancouver filming two shows that week on XFiles and The Flash. So Robbie will be back as Firestorm for season 2.
Stephen tells the story when Robbie phoned him up to ask him about the genre show The Flash and whether he should go on it. Robbie says there is one show he hasn't been on? "Arrow" which he is waiting on.
He discusses Ra's Al Ghul that there could be a backstory on the character played by Matt Nable, Malcolm Merlyn who is now the new Ra's and the relationship with Damien Darhk. So there will be flashbacks.
Stephen tells a story of a prank John Barrowman played on him where he moved the blocking tape for a scene from the Arrow's being green to pink and would lay on the floor at the last scene and say "hi" and disappear.
Felicity will be doing some action scenes.
Stephen's favorite scenes to shoot: Season 1 with Colin McDonnell where Tommy found out he was the Arrow; Season 2 farewell scene with Susannah Thompson and Season 3 the fight scene with Ra's al Ghul on Grose Mountain.
Robbie's favorite scene was in the pilot of Arrow. Stephen tells of his experience on CSI Miami.
Stephen is asked what is the best comments Felicity says and of course it would be "I really enjoy having you inside of me" when he took her out in the field in season 1.
The Arrow will spend some time in Coast City this season. Stephen is asked about his social media and Facebook and how he finds the time to manage it.
Stories were told about the cast members who couldn't say a particular word in their scene. Stephen recently bit his tongue and had a lisp and couldn't say his lines very well.
There were lots of antidotes between Stephen and Robbie especially with his lisp.