By: Michelle

The original Dallas ran for 14 seasons. 21years later TNT is taking another drill at this amazing stories line to see if they can find a new oil spill of fans.  Taking old and new fans alike back to the world of Southfork Ranch where there is the rich, powerful, sexy and dysfunctional family of the Ewing's. You love them, you hate them, and you cheer for them. Let's see what TNT can do this season with this wonderful T.V. icon show from the 80's.
It starts with the Original Theme song and shots similar to the opening of the original Dallas great feelings of nostalgia. TNT does a great job merging the original Dallas into the 21st century.  New Theme
It is almost like the Ewing's did not skip a beat.  J.R. (Larry Hagman) and Bobby (Patrick Duffy) brothers who were always feuding over oil,
cattle, and power have passed that talent of feuding to their sons. John Ross Ewing III (Josh Henderson) son to JR and Sue Ellen Ewing (Linda Gray) and Christopher Ewing (Jesse Metcalfe) adopted son of Bobby and Pam Ewing.
With a gush of oil we start with John Ross finding oil on the Southfork knowing he is not supposed to be drilling on the land. Bobby finds out he has cancer and is already keeping it a secret.  J.R. is in an assisted living community for seniors and in a depressed state, so it seems.  Bobby goes to visit J.R. he has no emotional or physical response to Bobby, no expression even though Bobby gives J.R. a heartfelt line of
"I always loved you"
Christopher has been away in Asia developing alternative energies and comes back with a new fiancée Rebecca Sutter (Julie Gonzalo).  They are getting ready for the big wedding on Southfork Ranch.
Bobby tells everyone he is selling Southfork.  John Ross with current girlfriend and childhood friend Elena Ramos (Jordana Brewster) shares with Bobby and Christopher they found oil on Southfork and Bobby gets upset and kicks John Ross off the ranch.
John Ross goes to see J.R. he updates him on what is going on at Southfork, that he has filed an injunction to stop the sell.  J.R. comes to life with that spark we all love from J.R.  He shows the fire of power immediately. He is ready to kick ass and take names.    Outstanding performance by Larry  Hagman.
Meanwhile back at the Ranch time for a Wedding Ewing style for Christopher and Rebecca.
So here is what can happen on a Wedding day.
Marta Del Sol (Leonor Varela) shows up to make a deal with Bobby in buying the Ranch.
Surprise guest of more original Dallas Cast are at the Wedding.  Bobby and J.R.'s half-brother Ray Krebbs (Steve Kanaly) and niece Lucy Ewing (Charlene Tilton).
J.R. gets the information on Christopher's company thinking he can blackmail him and confronts him on it.
Christopher speaks to Elena he tells her he did not write the email that broke up there engagement.
Christopher confronts John Ross that he knows what he did to him…. (meaning the email to Elena)
Oh and Christopher and Rebecca finally get married but you can tell in Elena's face she is devastated.
John Ross goes to J.R. about the sale of Southfork and finds J.R. having wine with Marta.  J.R. informs John Ross that Marta's company Del Sol Conservancy will buy Southfork and then he will take ownership in 30 days.  J.R. says "Blood may be thicker than water but oil is thicker than both"
John Ross meets up the mysterious person from the Red car. (make? Ferrari I think) on the football field of the Dallas Cowboys.  Surprise to see it is Marta. She gets around!!
John Ross and Marta have lunch with J.R.  He again asks to speak to her father. She puts him off.  After lunch J.R. walks to the window and see John Ross kissing Marta.  You can see the spark of "Aha cotcha" moment in J.R.'s eyes.
Final twist of the opener
Marta gets a sex tape on John Ross by drugging him and then giving him money to help with his blackmail issue.
Rebecca reveals the whole wedding is a scam as she is talking to her brother Tommy (Callard Harris). They are working together to dup the Ewings.
J.R. goes to San Felipe, Mexico to meet with Carlos Del Sol owner of Del Sol Conservancy
Carols is some what confused about this deal and introduces his daughter Marta to J.R.
Surprise– this person who has been betraying to be Marta back in Dallas is not the real Marta Del Sol. Who saw this coming??
Behind the scenes look : http://www.youtube.com/watch?v=FMP2s8JOxQ0&feature=player_embedded#t=113s
Now who will rise to Power???
http://rise-to-power.dallastnt.com/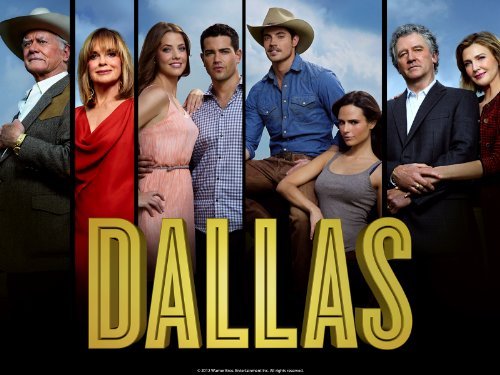 Only a week after the shocking third season finale of Dallas, another bombshell for the fans of the TNT drama — the network has opted not to renew the series for a fourth season. Dallas, a sequel to the hugely successful 1980s primetime soap, centered on the next generations of the Ewing clan, with original […]