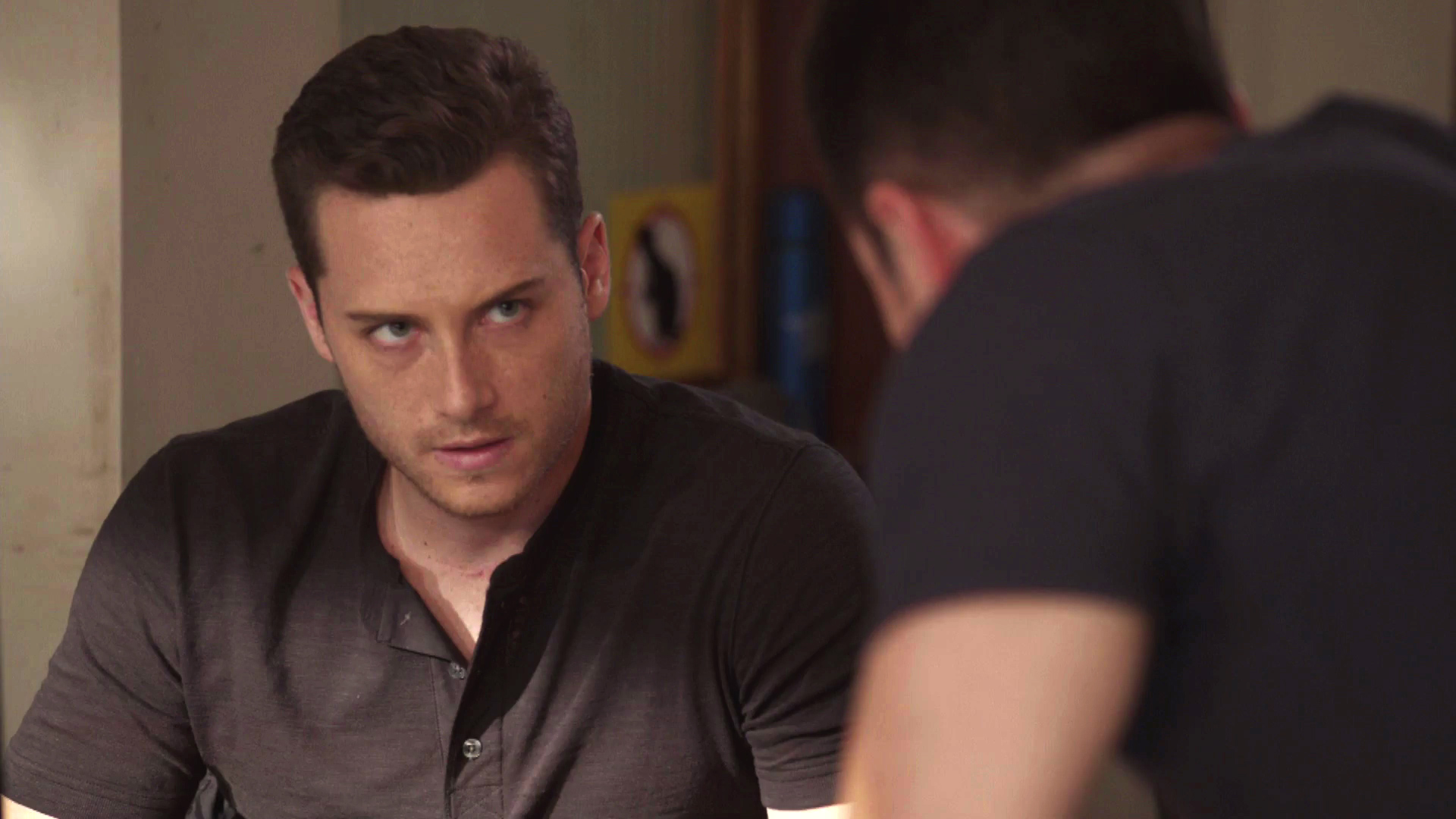 By: Kristin Trujillo (@kristin0409)
This episode picks up with Lindsay chasing down the person who shot at Halstead in the bar at the end of last week's episode. (Reminder: Oscar Benbennick placed a $100,000 bounty on Halstead's head for killing his brother, and someone tried to cash in).
As Lindsay is outside in a shootout with him, Halstead is busy inside trying to keep pressure on the gunshot wound that hit his bartender friend, Maddie. The shooter gets away in a truck and Lindsay and Halstead call the paramedics (Brett from Chicago Fire). Halstead feels guilty about Maddie being shot with a bullet meant for him, especially when Antonio tells him that she's in the ICU, but she's alive.
Atwater informs the unit that they found a match to the getaway vehicle and that it's been torched. They also hear that a white male checked into a clinic with two gunshot wounds. Voight tells Dawson and Lindsay to check it out and tells Halstead that until the bounty is off, he's under protective custody. He calls in Burgess and her new partner to keep an eye on Halstead, which angers him.
Nadia rushes into the station and runs into Sgt. Trudy, who is her usual sarcastic self. When Nadia tells her that she wants to be a cop one day, Trudy tells her it's not going to happen with her resume. Nadia places a card on the counter and wishes Trudy a happy birthday, making Trudy regret what she'd said.
As Antonio and Lindsay are leaving the precinct, Trudy tells her that she has a visitor. The visitor is her mother, Bunny, who informs her that she's getting married that day.
Over at the prison, Olinsky pays Benbennick a visit. Apparently Benbennick is in protective custody because he has a lot of enemies in gen pop. Olinsky hints that the warden is an ex-cop, and a friend of his, and offers Benbennick one chance to call off the hit on Halstead if he wants to live…an offer Benbennick refuses.
Ruzek asks Trudy for a contact to retrieve records from a prison land line without having to go through red tape. She pulls out a rolodex (a rolodex?! – Ruzek is just as shocked!), and gives him the contact information. As she hands it to him, she asks how Nadia is doing on the job and he tells her she's killing it.
At the clinic, Lindsay and Dawson speak to the man who checked in with the gunshot wounds. After Lindsay lays everything out for him, he claims to only have been the driver and that the shooter is a friend of his.
Atwater and Voight track down the shooter at his home and have to chase him down after he tries to flee. When Voight questions whether he opened fire on two cops the night before, the man spits at Voight's feet (not a good move, buddy!). Voight and Atwater throw him in the cage, where Voight explains is a sort of weigh station between Heaven and hell.
Missing a confrontation with Halstead by the skin of his teeth, the shooter is brought upstairs (aka Heaven) for questioning. He reveals to Voight that Benbennick had a hit list targeting certain people he wanted killed if he was going to prison.
Voight is called to a scene where they discover that the assistant state's attorney, who'd previously dealt with Benbennick, found his 16 year old daughter with two gunshot wounds to the head.
Atwater tells the unit that the police are doubling up on squad cars for everyone who was involved with Benbennick's trial. Olinsky tells them that Benbennick predicted that, which is why he's having their family members targeted instead. Ruzek brings in the contact that Trudy set up him with and Burgess is annoyed at their minor flirty comments to each other. Ruzek goes to get some coffee to avoid the awkwardness and Burgess follows. She suggests that they might need some time away from each other because things at work are getting complicated.
The contact brings a recording of a conversation with Benbennick and an unknown voice for the shooter to possibly identify, but no luck. He translates the conversation, but claims not to know who the voice belongs to. The unknown voice is upset that Benbennick offered the hit list to someone named JP before them. Olinsky recognizes the name JP, so he and Voight pay him a visit. JP tells them that he turned down the deal because he's out of the game and spends his days with his son. He claims that the conversation about how long the hit list is didn't go that far. Voight receives a phone call from Atwater informing him that the judge's mother from Benbennick's trial was found with two gunshot wounds to the head.
JP is brought in for questioning. He tells Voight and Olinsky that he'll tell them who the unknown voice is if they offer their word to clear his son's record, allowing him to get a job for TSA. Voight shakes his hand in agreement, and JP gives them a name…Shostack. They tell him to get in touch with Shostack and to tell him that he has Halstead. They offer to rig a photograph to make it look as if Halstead has been killed.
Halstead asks Nadia to call Chicago Med to check up on Maddie's status and finds out that she's heading in for surgery. He blames himself for what happened and tells Lindsay that he never should've been at the bar that night. Voight walks out and tells Ruzek and Atwater to rig a cell phone and tells Halstead to sit tight.
JP succeeds at getting through to Shostack's messaging service, as he receives a phone call on the rigged cell phone. He tells Shostack that he has Halstead and wants half of what was offered to him by Benbennick. Shostack agrees to give JP 1/3 of the money, but he won't be satisfied with the photo of Halstead…he wants to see him alive. Voight shakes his head as a no-go, but Halstead, who's in the interrogation room, says he'll do it.
After volunteering to sign a document stating that he went on his own free will and telling the rest of the unit, who clearly don't want him to do this, that enough people have been killed, Halstead leaves with the retired hitman (JP).
With Voight, Olinsky, Dawson, Lindsay, Atwater and Ruzek staying close, Halstead and JP head to meet with Shostack. Halstead pretends to have been knocked out on drugs and when a driver confirms that Halstead is with JP, they instruct him to drive to another location and drop his cell phone. He picks up another phone from the ground that was planted for him and as he's driving to the next location, he receives a text. The text includes a picture of his son tied up and beaten. Clearly upset about seeing his son in this condition, JP goes rogue and pulls his gun on Halstead. He instructs him to place plastic tie cuffs around his wrists and hijacks a woman's car to shake the unit's tail.
Halstead, being the bad ass that he is, manages to break the plastic cuffs, take JP's gun and call Voight to inform them of their location. They see Shostack approaching in a red car, so Halstead jumps in front of JP, places the gun behind his back (pointed at JP) and makes it look as if JP still has Halstead hostage. Shostack must sense that something is off because he turns the car around and tries to flee. We all knew Voight wouldn't let that happen though! He side slams Shostack's car, flipping it as it crashes into another car. They catch Shostack and are shocked to see JP's son tied up in the trunk (of a car that just crashed and flipped!).
JP is arrested while Voight promises to keep his word regarding his son. Voight gives a speech to the unit about how people don't know how often the police (and their unit in particular) put themselves in harms way in order to protect their cities and it's citizens. He tells Halstead that no one will ever know what he did (today) for them and for the city, but that their little family knows. Some of the guys agree to head to Molly's for drinks, and without even a glance, Burgess leaves Ruzek alone after their spat earlier. She goes to fill out some paperwork and Ruzek walks in behind her, telling her that he wants her. Without looking back at him, she tells him to meet her at her place in an hour and that he's been a bad boy. Ruzek clearly enjoys where this conversation is going (and looks adorable in the process).
Trudy goes upstairs and brings sandwiches for Nadia and herself. She read the birthday card that Nadia gave her and asks why Nadia wrote that she wants to emulate her. Trudy hints that Nadia should continue doing her job and that things have a way of being expunged off of a record, but that she won't ever mention that again.
Olinsky goes back to visit Benbennick and tells him that the brother of his late mistress, who he had killed, is in gen pop at the same prison. Benbennick, looking smug, tells Olinsky that he's not in gen pop. Little does he know that Olinsky arranged for him to be transferred as of five minutes prior to their conversation. Now in a panic, Benbennick is taking away and led to the dreaded gen pop to face his fate.
Lindsay takes the high road and attends her mother's wedding. Her new father-in-law offers for Lindsay to come over for their weekend barbeques, but before Lindsay gets a chance to respond, her mother drags him away to thank someone for a wedding gift. Lindsay goes back to the office and thanks Voight for taking her in when she needed someone to take care of her. She tells him that HE is her family. In return, he tells her that she's the best thing that ever happened to him.
Halstead goes over to the hospital to check on Maddie and finds Brett waiting for news as well. He admits that he's seen people being shot, but he's never seen someone take a bullet that was meant for him. They receive news that Maddie has a long road, but that the doctors are hopeful. Brett invites Halstead to Molly's for drinks, and he agrees but stays behind to gather his thoughts alone. He sits on the floor and begins to cry, making him that much more adorable!
All I have to say is that I'm glad this hit is off of Halstead (hopefully) because it was beginning to give me anxiety! All is well for now, but who knows what we're in store for next week!
Stay tuned next Wednesday, October 15 at 10/9c on NBC for more Chicago PD!
Twitter: @TheVRO
Facebook: Variety Radio Online
Tumblr: Variety Radio Online
//