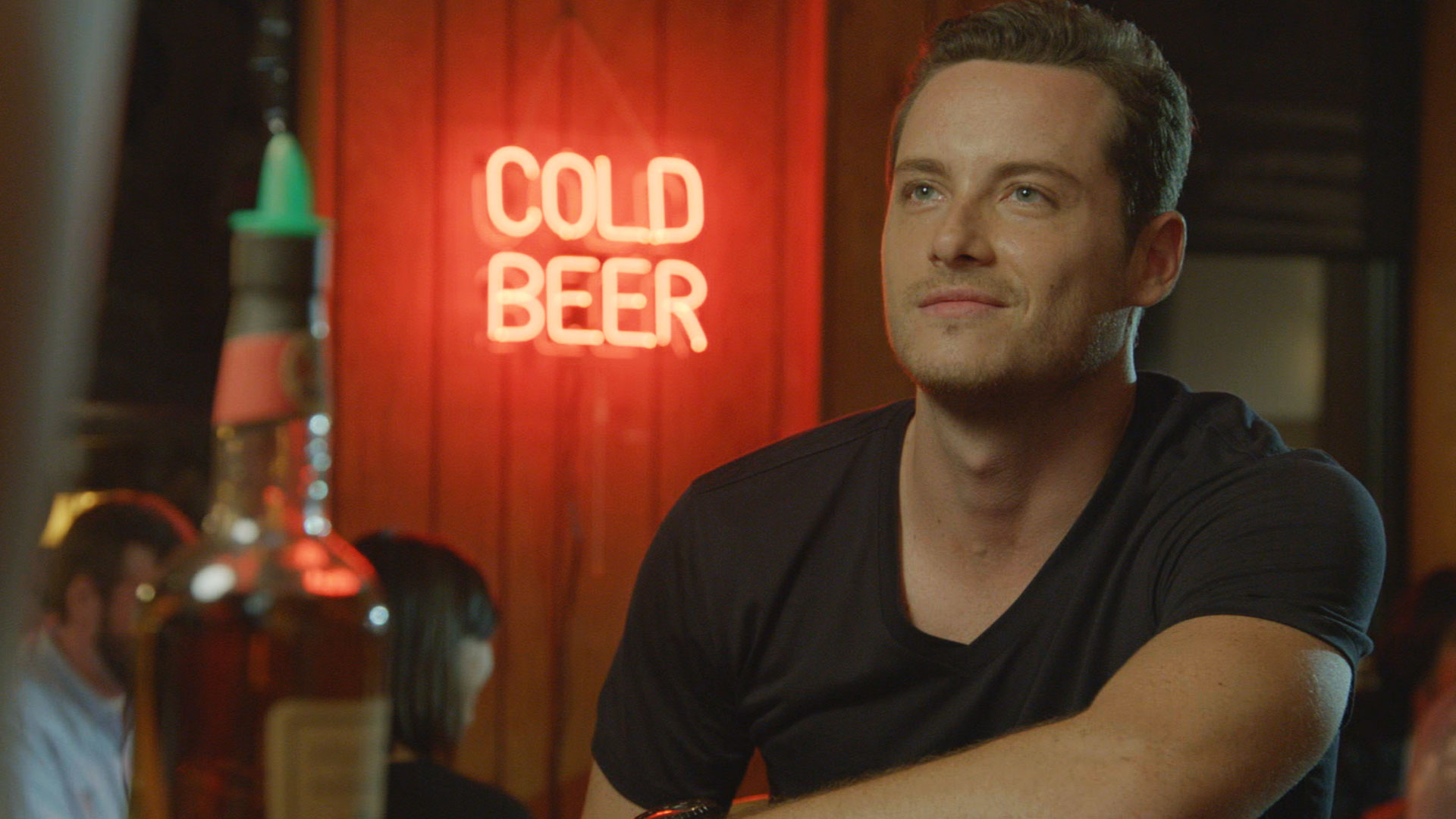 By: Kristin Trujillo (@kristin0409)
Despite a $100,000 bounty on his head, Jay Halstead doesn't seem all that concerned. Olinsky tells the unit that he and Voight once had a million dollar bounty on their heads, and to avoid it they switched up their routines; never going home the same way, always switching things around.
Voight comes in and gives the low-down on a victim named Billy Fagen, who was gunned down and had a dollar bill pinned on his chest. Erin makes a sarcastic comment, prompting Voight to call her into his office. We find out that Voight and his wife (now deceased) took Erin in when she was fifteen years old and she's told him the truth about everything she's ever done, which is why she's upset that he didn't tell her about his deal with IA. As they're discussing this, Antonio comes in and asks if Voight knows someone named Nick Marcello because his body was just found. Nick was also murdered with a shotgun and had a dollar bill pinned to his chest. Voight tells Antonio that he and Nick grew up together. Voight seems really upset about this apparent string of murders.
Antonio asks Nick's wife if she knows of any of Nick's business associates who would've wanted him killed. She denies him being in "that" business and also denies knowing Billy Fagen. She tips Voight off to someone named Norelli, who ends up being a dead end with a air-tight alibi, despite being a douchebag.
A tip from one of Ruzek's informants reveals that Billy Fagen and Nick were part of a loan shark operation called Maxwell Investments. Their latest client recently signed over his dry cleaning business, so Voight instructs the unit to talk to the owner of that business. Erin apologizes to Voight for the loss of his friend.
Voight goes to visit an old friend named Don at a social club. The two discuss the murders and Don mentions that he heard Voight picked up Norelli. Voight tells him that Norelli didn't commit the murders and asks Don to point him in the right direction. Don tells him that the word has gotten out about Voight working with IA and tells Voight not to come into the social club with police business.
At the hospital, Antonio and Halstead are attempting to speak with the owner of the dry cleaner business, who is currently sitting by his wife's bedside. He informs them that she swallowed a bottle of Xanax after he lost the business and asks if they can handle their talk at another time. Instead he tells Antonio and Halstead that the business was losing money, so he borrowed from Maxwell Investments. The deal didn't work out and he failed to get out of the red, so they took both of his stores. Halstead tells him that taking a shotgun to both men would solve the problem, but the man denies doing that. The man's two children and Halstead takes them out into the hall. He asks them where their father has been all day and they say that he's been with them. He suggests that they go home and rest, but the son says that he's where he needs to be. Halstead reports their conversation to Antonio and they deduce that kids take the brunt for the stupid things that parents do. They receive a call reporting another murder.
As they arrive on the scene, Erin and Olinsky find a man with a fatal shotgun wound and a dollar bill pinned to his chest. They hear pounding coming from inside of the car next to him and find a young woman covered in blood inside of the trunk. They take the girl back to the station and Erin attempts to get her statement. She sends her over to Ruzek to get a sketch of the man. Ruzek clearly doesn't know how to use their new software, so he brings her over to someone else who can help.
After looking at old photos of himself, Nick and Don, Voight goes to see Nick's wife again. He asks her what she knows about Maxwell Investments, and all she claims to know is that it was a business that Nick was involved with. He asks if Billy Fagen ever came around, and she says yes. She tells him that she can't talk about Don and hints that he should leave.
In an attempt to switch up his routine, Halstead goes to a bar he used to visit and reconnects with his bartender friend. As he's drinking, he receives a phone call from the landlord of his building and discovers that his apartment has been broken into. It's also the only apartment that's been broken into. He finally realizes the severity of this bounty on his head and asks Erin if he can crash with her until it blows over.
Erin meets with her mother at a diner and can't help but bring up the past, despite the fact that her mother tells her that she's been clean for the past seven months. We discover that a nine year old Erin once had to drag her mother to a bathtub full of ice as she tried to recover from an OD while avoiding child services taking her away. When her mother woke up, she simply told Erin to get her cigarettes. She clearly resents her mother and even more so now that she realizes that the only reason her mother has contacted her (after eight years) is because her new fiancé wondered why her daughter wasn't around. He doesn't know about her past and begs Erin not to speak about it. She greets the fiancé, congratulates them and walks out of the diner.
The young girl finishes with her description of the shooter, and when Ruzek presents it to the rest of the unit, Halstead informs them that it's the boy from the hospital. They find out that the boy is a military school student and the school is missing a shotgun and bullets. They go to the family's home, but the boy isn't there. The father tells the unit that his life was threatened in front of his children by Nick, Billy Fagen and the other man who was murdered. Don was also involved, so Voight heads over to speak to him. As they approach his home they hear gunshots. They rush inside and find Don sitting on the ground with a gunshot wound and a gun in his hand…pointed at Voight. With both of their guns pointed at each other, Don is the first to lower his weapon.
Halstead goes outside to search for the boy and hears a gun behind him. The boy has the gun fixed on Halstead until he tosses his gun into a bush. (Sidenote: Did anyone else have a mini heart attack after seeing a gun drawn on Halstead with that bounty in place??) When Halstead is unarmed, the boy runs. Halstead, Erin and Atwater are in pursuit and experience a close call with a train before they lose him when he carjacks a woman.
They receive a call that the boy is at the hospital where his mother is a patient, and has a loaded shotgun in hand. With a police stand-off in effect, Halstead tells everyone to lower their weapons and goes in to speak to him. He tells him that he knows how he feels because he was in the military himself. They're trained to protect and that's what he was doing…protecting his father. He convinces the boy that because he's only 17, he won't be tried as an adult and the boy hands over his weapon. Halstead places him in cuffs and they take him in to the station. He tells the unit that he put the dollar bills on their chest because if they want his family's money, they can have it. The boy's sister is upset when she discovers that Halstead lied to her brother and that he will, in fact, be tried as an adult.
Halstead is back at the bar with his bartender friend and Erin walks in to join him after the awkward meeting with her mother. She notices someone shady walk into the bar and aims a gun at Halstead. She alerts him in time, but his bartender friend has been shot.
Tune in next Wednesday, October 8 at 10/9c on NBC to find out what happens next!
Twitter: @TheVRO
Facebook: Variety Radio Online
Tumblr: Variety Radio Online
//