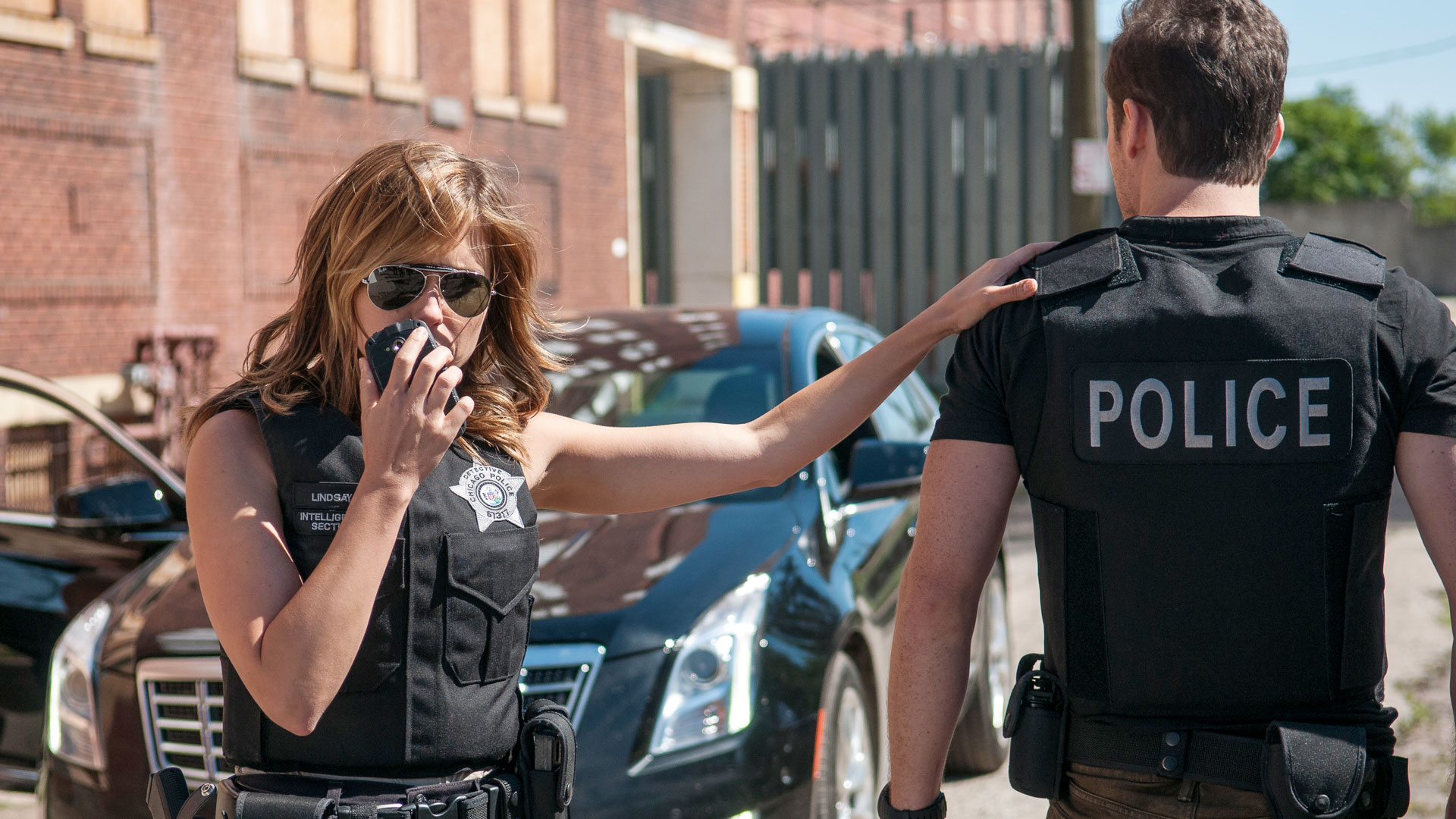 By: Kristin Trujillo (@kristin0409)
The Season 2 premiere picks up in the aftermath of finding Jin dead in the Season 1 finale. Voight has been called in for questioning, and denies having any information regarding the murder.
Antonio gets a tip from one of his informants about a heist that will take place the following day. The unit gears up and plan to put Ruzek in as an inside man. Antonio tells him that the safe word is 'popcorn'…I mean, I'm pretty sure there are a million other words that would've been better suited as a safe word than popcorn! Ruzek is in the transport van with other guys who are in on the heist, as Voight and the rest of the unit follow behind in two separate vehicles. Suddenly a pick-up truck slams into Voight's car. Shots are fired, we hear Ruzek frantically yelling out "Popcorn!" and luckily none of the unit is injured.
Sgt. Trudy introduces Burgess to her new partner, Sean Roman, who seems to be a bit annoyed that he's been partnered with a female officer. He sees a picture on Sgt. Trudy's desk of the man who was shot by the unit during the heist, and claims to know who he is. She tells him to take a seat for a minute and calls Halstead over to hand him a package that had been sent six weeks prior.
Lindsay goes through their suspect list with the unit and they hear what Sean knows about the deceased suspect and his cousin, Chris Gamble. Voight instructs him and Burgess to head out to look for the cousin to try and get information from about what they were working on. Burgess introduces Sean to Ruzek, and Ruzek introduces him to Alvin but apparently he's met Alvin before. When Alvin asks where he knows him from, Sean simply walks away. Uh-oh…is there bad blood there?
Halstead motions for Lindsay to meet him near the lockers and shows her the contents of the package he was given from Sgt. Trudy. Inside was a note that read, "I know I can trust you. – Jin," along with a flash drive. She tells him to show it to Voight, but Halstead tells her that he won't show it to him until he knows what's on it.
An attorney from the state attorney's office comes to see Voight and Olinsky about an old criminal they helped take into custody that has recently been released. (Note: I'm not sure of the correct spelling of his name, but it sounds like Benbennick). The man's attorney is claiming that there was police corruption involved in his case. Olinsky is not very happy about this news, and it only gets worse when they find out that the transport van was carrying a crucial piece of DNA evidence that is now gone. Olinsky goes out to give the report on what/who they're going to be looking for. Antonio leaves as Atwater receives a call that one of the men working for the supposed company involved in the heist has gone home for the day. Voight instructs Halstead and Lindsay to check him out.
Antonio meets with his informant who tipped him off about the heist. Her boyfriend, who beats her, knows who the suspects are but she doesn't want to give Antonio his name so she can avoid another beating (or worse). He convinces her that her name won't come up.
Olinsky goes to a restaurant and, after throwing one of his men off of a chair, sits down to talk with Benbennick about the heist and threatens to take him down.
Halstead and Lindsay drive over to the fake employee's home, and Lindsay takes the opportunity to ask Halstead what was on the flash drive that Jin sent him. He asks her if she knew that Jin was working with IA and whether there's a shot that Voight is also, but she brushes it off. They find the man dead inside of his home and figure that he's working with the Benbennick.
Halstead goes into Voight's office and gives him the flash drive from Jin, which prompts Voight to visit Stillwell (the man from IA who was threatening Jin). He hands him a partial transcript from a conversation Stillwell had with Jin, proving that he was being threatened to cooperate. Stillwell manages to turn it around on Voight, telling him that if he goes down for Jin's murder, he'll let everyone know about the relationship that they've had, which will cause Voight's men to lose respect for him and ultimately lose his job. The other option is that they both walk away from each other and let Jin's murder go unsolved.
Halstead asks Voight what he thought about the information that was on the flash drive, but gets shut down. Voight simply tells him that he's taking care of it. Halstead asks for the drive back, but Voight tells him no.
Olinsky visits a crime scene at an auto body shop and finds the man he and Ruzek questioned earlier about installing a part to assist in ramming a car (possibly the one that slammed into Voight and Antonio during the heist). This convinces Olinsky even more that Benbennick is involved. He calls Voight and Voight apologizes and tells him that this only means that they're on the right track.
At the office, Voight is told that Mrs. Jin is downstairs and would like to speak with him. She gives a heartfelt speech about how Jin always wanted to be a police officer and that it was hard for him in the academy. She takes comfort in knowing that he was able to fulfill his dream by working with Voight. She then hugs him and leaves. This seems to have stirred something in Voight
Voight turns in the evidence from the flash drive that proves Stillwell was involved with Jin's murder.
Burgess and Sean find Chris Gamble and bring him in for questioning. Burgess does manage to find out that Sean fell in love with his previous female partner, which is why he's apprehensive to have another. Chris confesses to Lindsay and Halstead that he wasn't aware that cops would be there during the heist. He also confesses that he was offered money to steal the shirt and return it to Benbennick.
Stillwell is arrested for Jin's murder as Voight looks on in the distance. Voight goes back to the office and confesses to the unit. He tells them that in order for him to get his job back, he made a deal with IA to pose as a dirty cop. He assures them that he never reported about another cop. Lindsay seems hurt to find out about this because she defended him every time Halstead questioned Voight's motives. Voight is called down to a meeting and as he goes to leave the office, Halstead stops him and shakes his hand.
The unit wires Chris Gamble and send him to the swap with Benbennick. Chris's friend takes the money from Benbennick and tosses him the package with the bloody shirt inside. Once Benbennick has the shirt, he instructs his men to kill Chris and his friend. The unit moves in. Benbennick and his brother, Jacob, try to escape, but Halstead shoots Jacob in the chest.
Voight meets with the police chief and gives him all of the information that Jin put on the flash drive.
Antonio's informant walks into the station and Sgt. Trudy takes her into a room where Antonio is waiting. He tells her they recovered $200,000 in a bust that she tipped them off to so, as a registered informant, she's entitled to ten percent. After signing a form, he hands her $20,000 and tells her to go to Kansas City, which is where her sister lives. She'd told him that once she had enough money, she was heading there to get away from her abusive boyfriend. I'm pretty sure that's enough now!
We finally find out that the person who has been calling Lindsay at work, named Bunny, is actually her mother. Lindsay doesn't seem too thrilled about that fact either.
Part of the unit is out drinking at Molly's with Sylvie, (hello Chicago Fire crossovers!) when Olinsky walks in. He pulls Halstead aside and informs him that Benbennick has placed a $10,000 bounty on his head for killing his brother.
After beating suspension, Voight walks into a garage looking area and moves a shelf to reveal a safe built into the wall. He opens the safe, places Jin's flash drive inside of it and removes a wad of cash (and there's A LOT of cash in there). He drives over and hands the cash to Jin's father and tells him to pay off his gambling debts because his wife needs him.
Could it be?! Have our impressions of Voight been wrong this whole time? What will happen to Halstead now that he has this huge bounty on his head? Will we see a crossover soon with Lindsay and Severide? I mean, he needs some comforting after what happened on Chicago Fire Tuesday night!
Tune in next Wednesday, October 1 at 10/9c to see if we get some answers!
Twitter: @TheVRO
Facebook: Variety Radio Online
Tumblr: Variety Radio Online
//