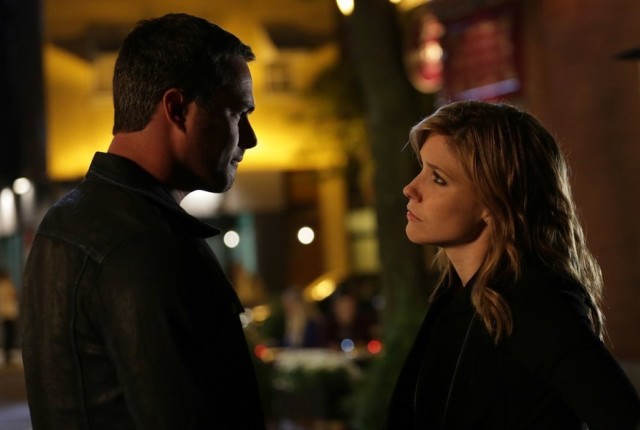 By: Kristin Trujillo (@kristin0409)
Let's start off by rejoicing in the fact that Kelly Severide is no longer isolating himself in the mountains! This week's episode begins with him arriving at Casey and Dawson's apartment (Reminder: Following Shay's death, he couldn't face staying at their place alone, so Casey offered Severide their guest bedroom for as long as he needs).
Dawson takes a case of beer over to her designated firehouse (yes, the one with the sexist jerks) in an attempt to win them over and, as expected, they're not thrilled about her impending reassignment. Lieutenant Welch tells her that they're not jumping for joy because their last female candidate wasn't happy about being hazed, and caused a scene. Dawson tries to reassure them that she's worked at a firehouse for a long time, and tells them to bring it on.
Back at Firehouse 51, Chief Boden is talking to his wife about the risks of her being pregnant when Severide returns for his first shift back. They receive a call for a boating accident and as Severide jumps into the truck, he sees Brett, the new paramedic who's been working with Dawson (and just so happens to resemble Shay). He's momentarily distracted, but pulls himself together. They arrive to find an SUV that was unloading a boat and is now in an unfortunate position. The rig is stuck on top of one victim and a woman's daughter is stuck inside of the SUV, which is currently hanging over a small ledge. Severide jumps right into typical Severide mode and gets everyone ready to take action. Cruz cuts through the metal rig and they lift it off of the one victim. Severide and Newhouse lower themselves down over the ledge to rescue the girl who's stuck inside the car. Newhouse reaches into the SUV and shuts down the engine as Severide tries to calm the girl down and instruct her to jump out of the window and into his arms. Needless to say, Severide gets a nice 'Welcome back' from Chief Boden.
Dawson and Casey are discussing how strange it will be without her being at Firehouse 51. She asks for reassurance that she's ready for the switch and Casey gives it to her. He tells her that Welch will probably have her running stair drills as soon as she gets there and asks if she wants to train with him before she gets to the new firehouse; she agrees.
Severide meets up with Erin Lindsay (Chicago PD) and tells her that he's been off the grid for a while, but he wanted to let her know that he's back in town. They agree to get together for drinks soon.
Mills quest to locate his father's family continues as he arrives at the home of someone Newhouse tracked down for him. He has a change of heart while he's walking towards the door and turns back to his truck, but it's too late. A man answers the door and Mills tells him that he's looking for someone named Leonard Mills, who he believes is his paternal grandfather. The man seems skeptical and asks if Mills has proof that Henry Mills was his father. He informs the man that he just wants to speak with Leonard and asks that he pass on his information when he sees him.
Casey and Dawson are at the training academy where he's training her on stair drills. He tells her to run up the stairs, grab something and run back down. She does as instructed and finds a gorgeous diamond ring waiting for her at the top of the stairs. She turns around to find Casey standing in the doorway and before he even gets to fully propose, she gives him a huge YES! As they celebrate their new engagement with lots of sexy time, Severide is sulking alone at a bar.
The following morning, Casey tells Dawson that Severide never came home the night before. He mentions that he might've stayed over at Erin's house. Dawson seems relieved that he doesn't have to deal with his grief alone, and she begins to cry. She tells him that the first thing she wanted to do after getting engaged was call Shay. Casey tells her that when she starts to feel like that, she needs to talk to him about it and he reveals that Shay helped him pick out her ring.
Casey spills the beans to Severide about him and Dawson being engaged. Severide seems genuinely excited for them and agrees to keep it quiet until Dawson is transferred because apparently married couples can't work together in the same house.
Dawson tells Brett about her engagement and goes through the can't-tell-until-I'm-transferred bit. The girls receive a call to Brett's neighborhood…which is definitely not a good one. They find a man on the ground clearly knocked out on some sort of drugs. As they're helping him, other men are trying to pick his pockets and tell the girls not to touch them. Casey and the rest of Firehouse 51 come to the rescue and the guys scramble. After waking the man up, he runs away in search of another high and no one follows.
Brett shows Dawson her place and as she's being given the tour, she notices a large stack of cash sitting on the radiator. Brett unconvincingly tells Dawson that she hasn't set up a bank account yet.
Chief Boden calls Casey and Dawson into his office. He informs Dawson that she has a meeting that afternoon with Chief Tybert at the Fire Academy, which they believe is about her transfer being pushed forward. As she heads over for her meeting, she passes Welch in the hallway and he completely ignores her. She's told that Welch's firehouse has found another candidate, so Dawson's transfer is a no-go. She's clearly devastated and now has to wait until another slot opens up at another firehouse.
Naomi, Newhouse's young daughter is spending some time at the station and asks Severide why her father isn't in any of the pictures on the walls of the firehouse. As he points one out to her, he sees him and Shay in the photo as well and you can read the pain on his face.
Mills calls his mother and tells her that he's been looking for his father's family. She tells him that as soon as his father's family found out that he was marrying a black woman they began trying to prevent it. They called her names and did things to her to try to push them apart, but they abandoned the family, and negativity, instead. Mills apologizes to her.
Naomi tells Newhouse that she's skipping her class trip so that she can stay home and take care of him. She says that he might forget to be careful on the job if she's not around to remind him.
Dawson goes over to see Welch and tells him that he made the biggest mistake of his career. She says that she's a great firefighter and that she'll make sure that whatever house she's assigned to becomes the best firehouse.
Severide is at Molly's joking around with Herman and Otis. Brett walks in and he tells her to sit with him. He looks at her and asks Herman and Otis if they notice the same thing, insinuating that she reminds him of Shay. They cut him off and ask him to go home because he's had too much to drink. They want to make sure he gets home safe.
At the station, Herman mentions the incident with Severide to Casey and Casey promises to look into it. He's assumed that Severide was staying with Erin, but he was wrong.
Casey goes to confront Severide, but they receive a call and head out. They arrive at the scene, but can't find anyone. The guys spread out and Cap finds two people inside of a hole in the ground. They tell Mills that they're going to send him in upside down so he can wrap their hands and lift them out. The victims are knocked out and Dawson believes that they could've hit a gas pocket. Mills goes down and as the second victim is lifted out, Mills passes out even though he has a gas mask on. The guys frantically try to pull him out of the hole, but they realize that his line is hooked on something. Casey grabs a metal pole and is able to unsnag him, allowing the other guys to pull him up. Dawson and Brett check his breathing and vitals and everything seems fine. Boden tells Cap to check out the equipment when they get back.
Cap tells Mills that he didn't find anything wrong with the equipment and as Mills walks away, he sees the man he spoke to when attempting to locate Leonard Mills. The man tells him that Leonard agreed to meet with him, but Mills tells him to tell Leonard and anyone else with the Mills last name in Joliet to go to hell.
After Herman challenges Mouch and Cruz to come up with a new way to make money for Molly's second location, Mouch fails and Cruz comes to the rescue (with minor help from Newhouse's daughter, Naomi). Cruz comes up with the idea to create food trucks for Molly's to bring in additional revenue and Herman loves the idea.
Boden and his wife are discussing her placement of high risk for her pregnancy, but he's distracted when he sees the ultrasound of their baby.
Severide catches Erin after he ditched her at the restaurant. She tells him that she'll be there for him as a friend to help him go through what he's going through, but that she won't be the girl who sits alone at a restaurant waiting for him. Then we see those baby blues tear up as he tells her that she was his best friend. Erin hugs him and the episode ends.
Make sure to tune in next Tuesday, October 7 at 10/9c on NBC to catch an all-new episode of Chicago Fire. Judging by the preview (which includes colliding firetrucks and tons of injuries of our Firehouse 51 guys) it's sure to be a doozy!
Twitter: @TheVRO
Facebook: Variety Radio Online
Tumblr: Variety Radio Online
//