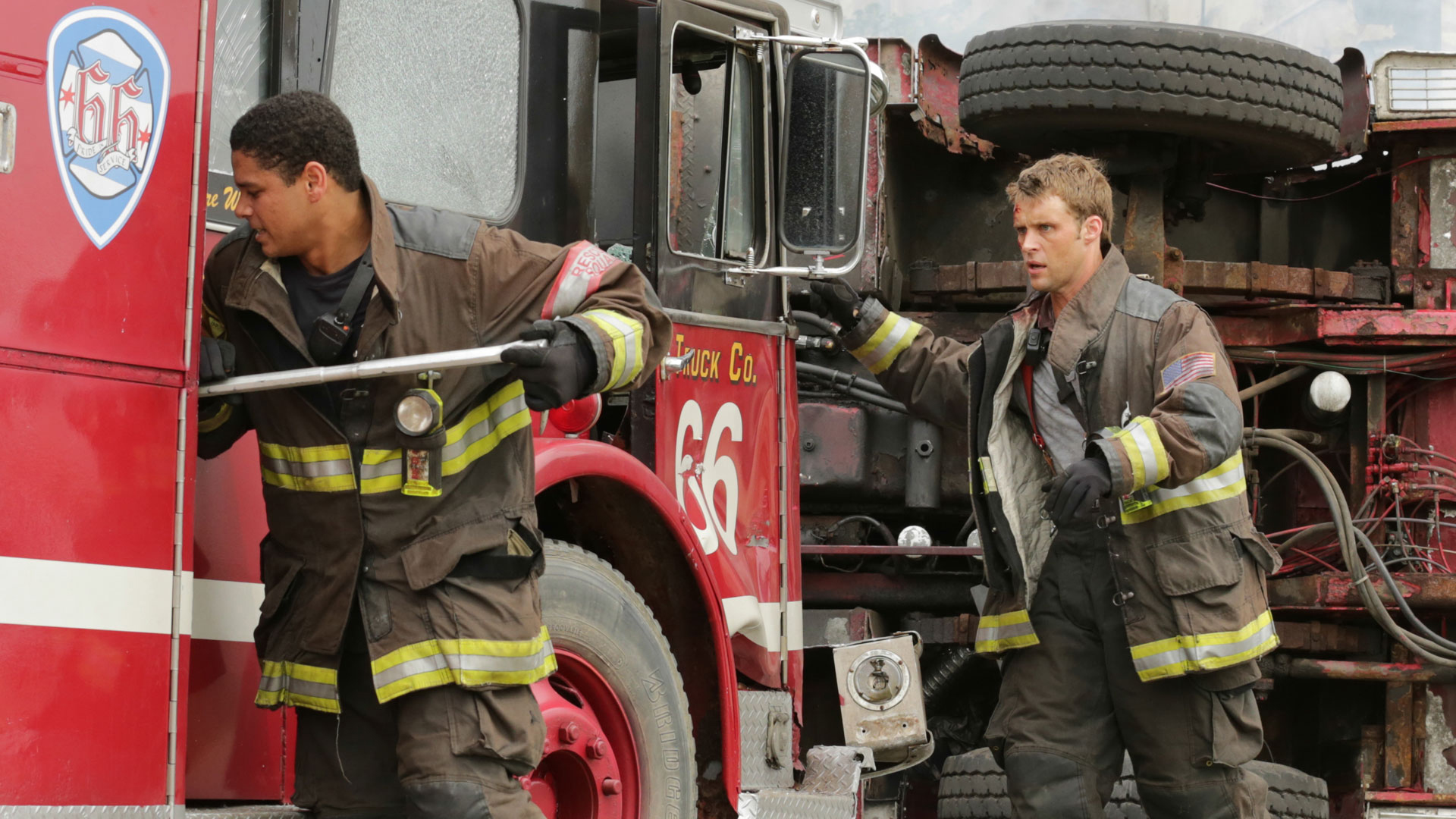 By: Kristin Trujillo (@kristin0409)
With the events that have taken place in the first two episodes of Chicago Fire this season, it's safe to say that the writers are trying to give us major anxiety!
This week's episode begins with Casey being called into Boden's office and learning that there's a slot open in their house for Dawson to begin her career as a firefighter. Boden is willing to turn a blind eye on their relationship as long as they're not married.
Within the first five minutes of the show, Firehouse 51 receives a call. On the way, Cruz and the guys notice that Welch's crew is racing them to the scene one street over. Casey tells Cruz not to worry about them and that if Welch wants the fire, he can have it. As Cruz eases up, Welch's truck slams into the side of Truck 81, knocking it onto its side.
Truck 81 is on its side with Cruz shaking, still in the driver seat. Everyone else seems to have minor cuts and bruises, except for Mouch, who has a gash above his eye. Severide and his squad call in the accident and help get the guys out of the overturned truck. Cruz is severely shaken up as the other guys try and help Welch's crew out of their truck. Their driver is pinned inside and unconscious. Dawson and Brett are on their way to the original fire when they hear about the accident, so Dawson calls in requesting to head to the accident instead.
Welch, and his usual douchebag self, jumps out of their truck and points the blame at Cruz, who is being subjected to a breathalyzer. The two houses work together to try and get Molina, the driver, out of the truck and onto a backboard. This is about the only time the two houses work together though, and they're right back at each other's throats about who was at fault. Cruz is questioned about what color the light was, and although he's not certain if it was green or yellow, he claims it couldn't have been red. Mills climbs on top of one of the trucks to try and help out, but he falls from the top onto the concrete.
Over at Chicago Med, Cruz is undergoing blood and urine exams as the others wait to hear about Molina's status. Casey insists to the chiefs that he trusts Cruz's driving 100%, that the light could not have been red and that he had to have come to a controlled stop. Severide suggests that Mills visit a doctor before their next shift about the dizziness he's been experiencing after hurting his leg in the building collapse. Boden relieves the crew of their shift and tells them to go home and get some rest.
Boden runs into Mills in the restroom at the station, and questions him about looking into his father's family. Boden tells him that his father wanted to patch things up with his family and regretted that his children didn't know where they came from.
Casey tells Dawson about the deal that Boden suggested that would put her on Truck 81 with him, but she doesn't know that this will keep them from being able to get married. Their talk is interrupted when Dawson receives a call. As the guys are leaving the station, Boden calls Casey and Cruz over to talk with Chief Tybert. On an iPad, they show Casey and Cruz traffic cam footage that was pulled from an intersection they'd passed four blocks before the accident. While Casey claims that it was a controlled stop, Chief Tybert isn't so convinced. He accuses Cruz of blowing the light and informs him that if Molina dies, he'll be facing manslaughter charges.
Dawson arrives home and finishes the conversation with Casey regarding her joining Truck 81. She realizes that they'll have to put their wedding on hold until she's done with her year of being a candidate and can transfer to another company. Casey promises to discipline her with much enthusiasm if she steps out of line and not to treat her as his fiancé while they're on the job. They leave to meet everyone at the hospital.
Otis tells Herman that he'd set up a meeting for Cruz with a criminal lawyer, but they said Cruz never showed up to the meeting. Cruz turns around and tells them that he doesn't need a lawyer because he didn't do anything wrong. They hear that Molina is out of surgery, but they're waiting to see if the swelling in his brain goes down. Cruz goes over to apologize to Welch and his guys, but Welch lashes out at him. Herman plays the mediator (of course!), reminding the guys that they're all there for the same reason, and offers to have a fundraiser at Molly's for both houses to collect funds for Molina's family. Casey calmly tells Cruz to go home, and as he leaves he runs into Severide. Severide tells him that he can't go through another line of duty funeral.
Mills takes Severide's advice and seeks medical advice regarding his dizziness. The doctor tells him that he can't clear him for squad duty because he has a type of vertigo that presents itself when he's not upright. Mills is confused as to what he'll be able to do if he can't be a firefighter.
The guys return for the next shift and find that they have a beat up old truck as a replacement. Mouch shows up with a patch over his eye, leaving himself open for pirate jokes from the guys. Casey tells Cruz that his driving privileges have been suspended pending the investigation and that Otis will take over the driving for now. Otis reassures Cruz that Molina will be fine and that someone will step forward as a witness to vouch for him.
Severide goes to Boden to ask about Mills, who hasn't shown up for shift. He admits that Mills left him a few messages off shift, but he hadn't checked them yet. Boden asks why he goes into a black hole once they're off shift, but Severide brushes it off. Boden tells him that Mills failed his medical exam and is off the squad, which prompts Severide to finally return his calls.
Sgt. Trudy arrives at firehouse 51 to check on Mouch and suggests they call Atwater to help with planning the fundraiser for Molina. Newhouse calls Cruz and Mouch outside and has an old food truck (complete with bullet holes) propped up on a tow truck. He tells the guys that they can have it if they agree to give him 20% of Molly's 2, making him a partner.
After going back and forth with himself about meeting his father's family, Mills decides to pay his grandfather a visit. Leonard Mills has stage 4 cancer and is living in an assisted living type home. He recognizes Mills and tells him he looks just like his mother. Mills gets defensive, but his grandfather struggles to stand up out of his wheelchair saying "Peter" and says "I sure am glad to know you." He hugs Mills and begins to cry.
Mills talks to Newhouse about what happened with his grandfather and that he's not sure what to do now that he can't be a firefighter. Newhouse gives him great advice and says, "Just because the shoes don't fit, doesn't mean you have to go through life barefoot."
Over at Molly's, Dawson reveals to Mouch, Otis and Cruz that she's the new candidate on Truck 81. They're all excited for her, which is a welcomed change from how Welch and his house treated her. Herman comes over the speaker and reports that Molina is awake and talking to the doctors. Cruz is relieved beyond belief. Everyone heads to the hospital to give Molina's family the money they raised. Chiefs Boden and Tybert tell Casey and Cruz that Molina came clean by admitting that he received the nod from Welch telling him to continue through, causing the accident.
Casey and Boden tell Tybert that they'd like to have Dawson on Truck 81. Mills overhears and asks Boden if there will be an opening for a paramedic, allowing him to remain with Firehouse 51.
They hand Molina's wife the money they raised for him and he holds his hand out to shake Cruz's. He says that they reap what they sow as Casey glances at Welch.
Tune in next Tuesday, October 14 at 10/9c on NBC to see Severide continuing to battle with losing Shay and facing a battle for his own life!
Twitter: @TheVRO
Facebook: Variety Radio Online
Tumblr: Variety Radio Online
//