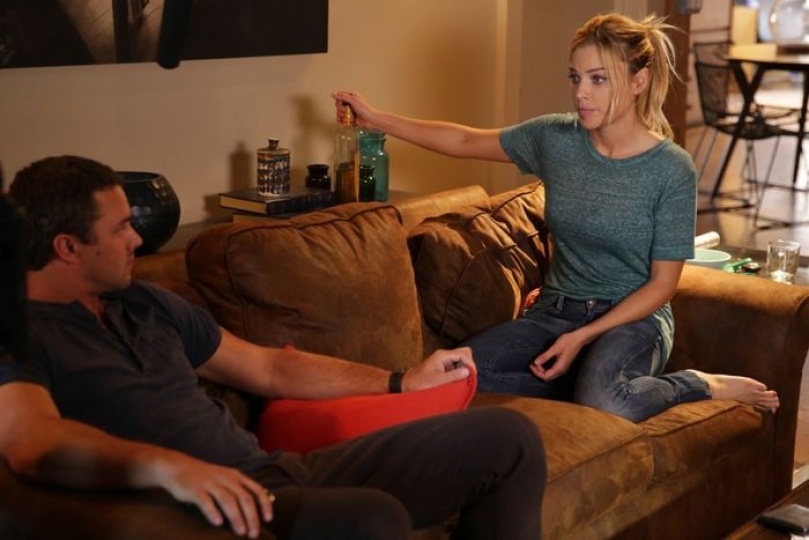 By: Kristin Trujillo (@kristin0409)
The Season 3 premiere of Chicago Fire picked up where the cliff-hanger from last season left off. Chief Boden and the rest of Firehouse 51 received a call during Boden's wedding and, as usual, reported for duty. Everyone went into the building, except Boden who is outside on their radio. After a certain point, he loses radio contact with everyone inside and was knocked to the ground after an explosion inside the building. He frantically called out for someone to respond, but the season ended with silence.
This week's episode continues with the radio silence, but we see Severide begin to move inside the building. He responds to Boden and gets up to check on everyone else. It seems as though everyone is ok, but they find Mills with an injured leg. The guys work to get him out of the building and realize that no one has heard from Dawson or Shay. Severide and Casey break away to search for them and find Dawson leaning over Shay…trying desperately to revive her. Severide tries to help as Casey tries to calm Dawson down, but they're unsuccessful. Shay is gone. Wait…Shay is gone???? What in the world would make the writers kill Shay's character off in the season premiere? Worse than that is that they don't even have some sort of funeral for her! Instead, we're given brief flashbacks of how she met Dawson and Severide at the firehouse and how quickly everyone took to her.
Flash forward to six weeks after the explosion, we see everyone at the firehouse as usual. Apparently no one has heard from Severide, which is immediately troubling. Dawson reports for her shift a bit late and apologizes to Chief Boden. She says she had an appointment that ran late. She greets Mills and awkwardly walks into the station. We see her staring at Shay's picture on the wall of lost firefighters and it's obvious that her and Severide are taking Shay's death worse than everyone else.
Dawson seems irritated when a new paramedic, Sylvie, arrives for the shift. Boden calls Dawson into his office and thanks her for her years at the station. He informs her that he's submitting her paperwork to be transferred to another house to begin her career as a firefighter.
After looking at Severide's locker, Casey goes out and asks the other guys if they've heard from him, but no such luck. They all head out to fuel up the trucks. While at the gas station, another fire truck pulls up and unfortunately it's the house where Dawson is going to be transferred to (Reminder: this house is ridden with sexist jerks who never fail to piss Casey off). They all receive a call and the two trucks race to get to the scene first. Our guys arrive first, of course, and a mother tells them that her son is inside. Casey finds an overweight boy on the ground in the basement having difficulty breathing. The stairs collapse, but they manage to get them out, with help from the house of jerks. Dawson shows Sylvie how to intubate a burn victim. Once the victim is loaded into the ambulance, Sylvie asks if she can drive, but Dawson tells her that job is earned. We see another flashback of her and Shay on a call.
Casey walks over to the house of jerks and tosses the main one a bottle of water. He thanks him for the help inside of the house, but the jerk throws the bottle back at Casey and tells him that he was stupid to go into the house by himself. He makes a comment to someone else about whether they're sleeping with Casey too (referencing Dawson), which sets Casey off. Boden breaks it up and tells both trucks to leave the scene.
Back at the station, Boden tells Casey to keep his temper in check because now, more than ever, they need leaders in the house. Casey tells him that he'll go out and find Severide.
Another flashback shows what happened inside of the building the day of the explosion. Dawson and Shay are helping a victim on the first floor. Dawson asks if they should intubate them, but Shay looks uneasy about it. They agree to try something else first, even though Shay will have to handle this without Dawson once she begins her career as a firefighter. As soon as the girls switch places, the explosion occurs.
In the sleeping quarters, Sylvie interrupts Dawson's flashback and asks her about Chief Boden. She tells her that she knows she was close with Shay, but reminds her that she's not there to fill her shoes. Dawson walks into Casey's office and asks him to propose to her again (Reminder: Casey proposed to Dawson at Boden's wedding, but they received the call before she had a chance to answer). He tells her that he knows she will say yes, but that he wants to do it the right way.
Casey takes his truck and we see him pulling up to a small house in the woods. We are then blessed with the vision of a tank-top wearing Severide chopping wood. Hello muscles (sorry guys)!! Casey asks if he's coming back to 51, but he says that the house is cursed and has nothing but heartbreak. He's not sure if he's ready to go back. Casey goes back to his truck, but returns to Severide with a book of Boden's that lists all of the lives they've saved on every call. He leaves the book with Severide and drives away.
Severide flashes back to when he and Shay first became roommates. He warns her about a girl who just left the apartment being bad news. They create a video contract with rules for living together. You can immediately tell how close they were right off the bat.
Dawson walks into Casey's office and asks if they can reschedule their lunch with his sister because her brother, Antonio, invited her out to lunch. It doesn't really seem as though she's telling the truth though.
The house receives a call and they arrive to find an SUV on its side. The problem is that the SUV is on top of a fire hydrant that is spewing water all over the place, including the inside of the car. A passenger is passed out inside and is on the verge of drowning. They manage to move the car off of the hydrant and Dawson attempts to intubate the woman. She realizes that the tools needed to do so are not in her kit. Sylvie asks for one of the tubes and some scissors. She cuts the tube and sticks it in the woman's throat, impressing Dawson and prompting her to toss Sylvie the keys to the ambulance.
Casey walks Dawson out after shift so that she can meet Antonio for their lunch. As she leaves, he sees Severide leaning on his motorcycle.
We find out that Dawson has been going to counseling sessions for the past five weeks, but hasn't said a single word in any of her sessions. Somehow the counselor manages to pull it out of her this time and Dawson breaks down in tears. She tells him that her and Shay switched places that day, and that it was supposed to be her and not Shay. She feels responsible for Shay's death and hasn't been able to process it.
Casey goes with Severide to the apartment he shared with Shay to help go through her belongings. Severide tells him that he can't stay there without her, so Casey offers for him to stay with him and Dawson until he's ready. Severide finds an adorable photo of him and Shay and the copy of their video contract. He puts the video on and watches it by himself. At the end of the video, him and Shay promise to always be there for each other no matter what. We then see Severide shedding tears for the best friend he lost.
Tune in on Tuesday, September 29th at 10/9c to see what happens next!
Twitter: @TheVRO
Facebook: Variety Radio Online
Tumblr: Variety Radio Online
//