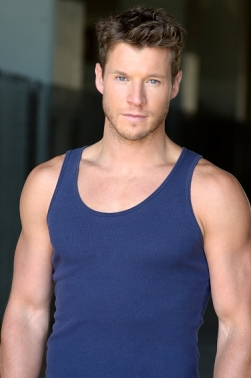 Chad Micheal Collins answers our Listeners Top Ten.
Chad starred Sony's "Sniper: Reloaded," a re-launch of the original "Sniper" films starring Tom Berenger. Co-starring Billy Zane, who reprised his role from the 1993 original
Chad landed the lead role in the Sony feature film "Company of Heroes," a WWII film based on the PC game of the same name. The film co-stars Tom Sizemore, Vinnie Jones, Jurgen Prochnow and Neal McDonough.
Other credits include "2 Broke Girls," "Ringer," "NCIS," CSI: Miami," "Enlightened," "90210," "Once Upon a Time"
Listeners Top Ten
1. Character you've played that you relate to the most?
Probably the soldier characters I've played in SNIPER: RELOADED and COMPANY OF HEROES. Although I've never served in the military, I've always been a straight arrow with a strong sense of justice like 'Brandon Beckett' and 'Nate'.
2. What would be your dream role?
My dream role would be to play 'Dervel' in an adaptation of Bernard Cornwell's phenomenal historical fiction trilogy "The Warlord Chronicles." Swords, shield walls, Arthur, Merlin, Excalibur, all in a historically accurate setting. Kind of this nerd's dream, right here.
3. Who was your first celebrity crush?
That's a toss up between 'Hope' from "Days of Our Lives" and Cindy Crawford. I think 'Hope' came first though. Thanks mom, for playing 'Days' on a loop during the summers!
4. Current television show you can't miss?
Right now I'm watching less, but currently it's "Sons of Anarchy." This summer, even though all the talk was about "Breaking Bad" (which I loved!), I most looked forward to watching "Ray Donovan" each week. Liev Schreiber and Jon Voight were both tops.
5. Movie you can watch hundred times?
BRAVEHEART. Freeeeeeeeeeeeeeee-dom!
6. Song you play on repeat?
For some weird reason, I finally picked up a Billy Squire's "Greatest Hits" album. Why it took so long, I have no idea. I find myself going back to "In the Dark" quite a bit lately. Horribly addicting; awesomely 80s.
7. What's your favorite author/book?
For straight up books, that'd be Mr Bernard Cornwell again. I did love "The Fellowship of the Rings" growing up, a big influence, and of course the "Game of Thrones" books. For comic books, Garth Ennis' "Preacher" is still my all-time favorite series.
8. Do you have a hobby?
I have several. I still play a lot of basketball, both casually and in organized indoor leagues (my number has always been 32). I like to box casually and train athletically in that style. I love watching boxing and UFC fights, as well as the NFL. I also play a bit of World of Warcraft when time allows, which isn't often these days.
9. If you could have dinner with anyone (dead or alive) who would it be?
I'd pay good money for a private dinner with Esther and Jerry (deceased) Hicks. Reading their books changed my life, and I'm a huge fan.
10. One thing people would be surprised to learn about you?
Well, I get the most raised eyebrows when I tell people I'm into Warcraft, but let's see. Here's one: I had a tongue stud for about seven years.
Bonus Question: In a Zombie Apocalypse, who would you want by your side?
The Punisher. Now there's a survivor.