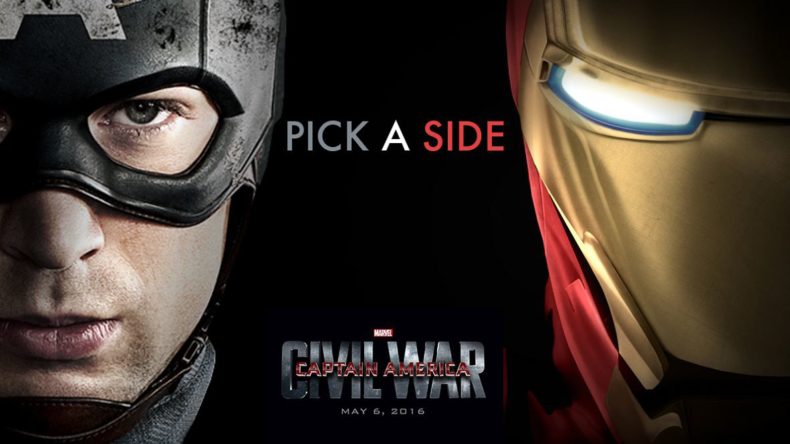 Earlier this week @CaptainAmerica on Twitter asked who you stand with, #TeamCap or #TeamIronMan. It was all fun and games until that…and it all started with our fearless leader Amy McCracken.
Amy was the first to choose her team; it wasn't a surprise when she clicked #TeamCap. The surprise was the tweet she got 30 minutes later, from @CaptainAmerica with this little message from Sebastian Stan.
As the staff began choosing who they stand with, the tweets start rolling in from @CaptainAmerica and that's when the V.R.O house became divided. It looks like we have another civil war on our hands, ladies and gents!
Joining Amy on #TeamCap:
Jessica Caruso-Reynolds: "I'm for Team Cap because Stark's thought process is a little too "Big Brother" for my tastes."
Emily Konopka: "Team Cap because Captain America stands up to bullies, and always looks out for the little guy."
Ella Charisse Worley: "I am a fan of both, but lately I am more of a Captain America fan, because Tony has become too much of an authoritarian. Avenger's Age of Ultron was really a turning point for me and my support of Iron Man."
Nikki Renieris: "I'm Team Cap because I love Bucky. Honestly though, I think Tony has a lot of balls giving Cap shit about, well, anything after he created that entire Ultron mess. Sure, Bucky killed a lot of people, but he was brainwashed. How many people died because of Ultron, something that could have been avoided if Tony didn't have an ego the size of earth? Exactly."
Reebeca Marshall: "I'm team Cap because he always tries to find the best in people no matter what they have done. He's not really selfish either when it comes to saving people or cities, it's always a team effort with him and I love that. (Plus we wike it a lot ain't that right Amy)"
Our youngest staff member, Briana Trujillo, says she's "Team Cap because Chris Evans is cute."
Briana, we can't agree with you more.
The most thought out response by our staff was from Brancey Montgomery, who is "Team Cap because his loyalty towards Bucky and ability to still see the good in him is what being a hero is all about. You have to be able to see through the mistakes people make rather than blindly follow what someone tells you to think about them. If we're not supposed to blame Tony for Ultron, then why should we blame Bucky for what happened while he was being manipulated? Also, forcing people with powers to sign up in a registry isn't going to do anything but put them on a hit list for villains and spiteful people to go through. They should have the right to keep their identities as confidential as they want them to be, just like civilians do."
Never fear, Team Iron Man…A few of our staff members have declared loyalty to you, though the majority have no REAL answers why:
Raechel Papuga: "Team Iron Man. Sorry not sorry."
Michelle Bundrum Mooreland: "Just wanted to go against the norm."
Mike ' The Movie Guy' Pierce: "Hell yeah. It's all #TeamIronMan."
Jamie Lee Casseday: "Team Iron Man!! Because… Well… It's Iron Man. There's no competition."
Regina Darlin: "Team Iron Man because I feel sad for Tony. Steve was his friend, and now he turned away. Tony has had rejection his whole life and became hardened because of it, and when he finally opened up and let some friends in, this was what happened."
Our indecisive staff member of the week goes to Kristin Trujillo, who said "I'm kind of Switzerland! I love both for different reasons. I just want the Avengers all on the same team, damn it! I don't want to choose!! However Cap gets the lean cause it's his movie and we all know he's either going to win or they're going to kiss and make up by the end lol."
Kristin, we all know  you are #TeamCap thanks to Paul Rudd.
Based on those results, it seems that the Variety Radio Online staff is almost split down the middle!
Who's team will you join? Team Cap or Team Iron Man? Make your choice in the comments. Just keep this in mind… "Once you go Cap, you never go back," to quote Sebastian Stan.
Captain America: Civil War hits theater on May 6th. Until then, check out our Captain America: Civil War Playlist, with interviews and panels from the cast.
In the newest Marvel release, Steve Rogers aka Captain America (Chris Evans) is at odds with Tony Stark aka Iron Man (Robert Downey, Jr.) over the recent events involving the Avengers. Captain America is hell bent on protecting his old friend Bucky Barnes (Sebastian Stan) and others from the Superhuman Registration Act, which would force anyone with superhuman abilities, via science or magic, to register as living weapons of mass destruction. Iron Man believes the Act should be put into play, thus starting this civil war with Captain America and forcing the others to choose sides.
[ezcol_1third]
@AmyVRO Are you sure you made the right choice? Find out in theaters. pic.twitter.com/2jHn0bJtFa

— Captain America (@CaptainAmerica) April 11, 2016
[/ezcol_1third] [ezcol_1third]
@Sweet_Charade Are you sure you made the right choice? Find out in theaters. pic.twitter.com/iVqg96MoiN

— Captain America (@CaptainAmerica) April 11, 2016
[/ezcol_1third] [ezcol_1third_end]
@Kristin0409 Are you sure you made the right choice? Find out in theaters. pic.twitter.com/4eoE0jq5pD

— Captain America (@CaptainAmerica) April 11, 2016
[/ezcol_1third_end]
[ezcol_1third]
@TheVRO Are you sure you made the right choice? Find out in theaters. pic.twitter.com/AY41Kk6xBJ

— Captain America (@CaptainAmerica) April 11, 2016
[/ezcol_1third] [ezcol_1third]
@VROBrancey Are you sure you made the right choice? Find out in theaters. pic.twitter.com/KkFDLYN87j

— Captain America (@CaptainAmerica) April 11, 2016

[/ezcol_1third] [ezcol_1third_end]
@emkonopka Are you sure you made the right choice? Find out in theaters. pic.twitter.com/1DZZRZQQaZ

— Captain America (@CaptainAmerica) April 11, 2016

[/ezcol_1third_end]
[ezcol_1third]
@GroundedSouls Are you sure you made the right choice? Find out in theaters. pic.twitter.com/3BLRPaPsgN

— Captain America (@CaptainAmerica) April 11, 2016
[/ezcol_1third] [ezcol_1third]
@RaechelEP Are you sure you made the right choice? Find out in theaters. pic.twitter.com/r0GnLoeuNz

— Captain America (@CaptainAmerica) April 11, 2016
[/ezcol_1third] [ezcol_1third_end]
@TheGeekyDiva Are you sure you made the right choice? Find out in theaters. pic.twitter.com/rL3Gq8by7h

— Captain America (@CaptainAmerica) April 11, 2016
[/ezcol_1third_end]