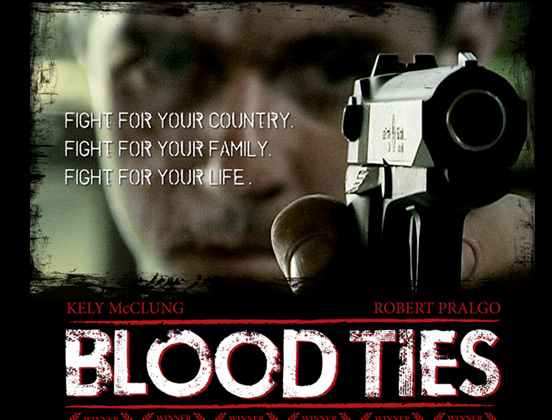 Multi-talented Kely McClung wears many hats. No stranger to a film set, Kely has been a writer, director, producer, and actor. Another hat, he now wears is friend to The VRO. Vampire Diaries and co-star in Blood Ties, Robert Pralgo introduced Kely to The VRO almost a year ago. We knew then, he would become a great friend of ours and lucky for us, we were right.
Here's an one on one interview with Kely McClung about his movie "Blood Ties"
Plot Outline: Ex Governmental Operative Jack Davis is being manipulated in a life and death struggle by warring factions within the covert arms of the Homeland Security Agency in a fight for congressional funding. When his brother is kidnapped while working for a foreign embassy, Jack pulls out all stops in a race to save his brother that takes him from the desolate mountains of Virginia to Miami, Washington DC, and then into the exotic lands of Thailand and Cambodia.
1. "Blood Ties" looks really polished – Is it true that "Blood Ties" is your first Movie?
Thanks! Well – it's my first movie as the director and producer. Rob (Robert Pralgo – "Vampire Diaries." "Blind Side") and I have gotten to work on a lot of movies, but it's totally different making your own. Rob pretty much gave me total creative control, and so I guess if you hate it you can just blame me.
2. It seems impossible to make a movie in 3 different countries with no money or resources… was the budget on "Blood Ties" really only 20,000?
Yeah… and I guess if you take away the cost of the cameras and the computer, or spread out their cost on all the projects they've been used on, it would be even less. There are lot of people who gave their time and talent to help make this happen… sometimes they might have just felt sorry for us – most people figured we were completely nuts to even try to make a movie like this. I know Rob did! Pretty sure there are a lot of surprised people out there – some that we just made it back in one piece, some that we finished it, some for it's success, and of course others that we actually got distribution and that they can buy it!

3. "Blood Ties" has a huge Thai cast. What was it like directing in another language?
Fun! I speak just enough Thai to ask "where's the bathroom?" Or "how much is this hotel?" Almost all Thai people speak English… there were times of course it was a bit hard. But it was mostly just fun to work with so many different people. I think our total cast – counting all the stunt guys – is way over a hundred.
4. Are the people in Thailand as friendly as they say? Do they really eat bugs?
I think more so… and I got to work with both lots of non-film people and professionals… I was constantly surprised as how generous people were and helpful. Pretty sure even in Thai – most of them figured I was nuts too!
Yeah, some do. These roaches, and ants, and scorpions, and things. I had some giant ants… kind of a lemony peppery crunchy thing going on… but I never could face the rest… They eat a lot of strange things – or strange to us I guess… just look at the market scene in the movie. And ask Rob about the great pizza we ate one night!
5. "Blood Ties" has a LOT of action! Did anybody get hurt?
A few pulled muscles and things – but I think I'm the only one who got hurt making it. Erik (Erik Markus Schuetz – "Ong Bak," "Mercury Man") landed a really solid Thai kick (Erik was a Thai Boxing Champion) in my side and cracked three ribs, then I sprained my ankle pretty bad in a foot chase in the jungle. And then my good friend Adriana Mezzadri – an amazing singer out of Brazil, came up and laid down her voice on some of the score I composed. She was checking out of her hotel and got tripped up in the parking lot… she shattered both ankles with multiple cork screw fractures.. she's such a beloved personality down there, I hope Brazil has forgiven me! I'd really like to visit someday!
6. You guys won a lot of film festivals – have those wins help you reach your audience?
Yeah – definitely! "Blood Ties" took me a long time to make – we had almost no money to make it – and I did all the post production and music and sound and graphics and titles… you know… all the things it takes to make a movie. I think the biggest thing the festivals did for us was to encourage us to keep going. I made four (4) trips to Thailand to get it all done, and then developed my own process and techniques to make it look much more like film. The whole movie is shot on MiniDV! It's an incredibly tedious and time consuming process, and of course I also taught myself how to to do all the effects – like all the guns ("Blood Ties" won "Best Of Festival" and "Best Visual Effects" at Indie Fest USA). For the After FX gurus out there – I have one 58 second scene with over twelve hundred (1200) layers! Our first win was "Action Film Of The Year" at the Action On Film International Film Festival in LA. That came out of nowhere and I am still genuinely humbled by it… it screened and competed with some of the guys I grew up watching and later working with when I lived out there – Don Wilson and Olivier Gruner and you know? Some of those guys. We were lucky enough to win some more – "Best Director" and "Best International Film" a couple of times at some other festivals, both here and overseas. So I think what it does as much as anything, is let us know we're on the right path and to keep going.
I know it's taken forever – I'm like the world's slowest filmmaker I guess, and when we made our distribution deal with Afterlight Pictures, they stepped in and helped me redo some of our mix; so we've actually continued to work on it all the way up until it's release to really make sure it's as good as it can be. So what the heck? Just about five or six years!
7. It must be extra tough being the writer/director and lead actor.
If that's all I had to do, it would be so easy! (Mr. McClung also produced, filmed, edited, choreographed, found locations here and in Thailand, even did hair and make up, did the fx, music, titles, and more!)
The good news is that I had a lot of talented people with me in front of the camera. The Thai stuntmen helped out as temp crew, and I had the most awesome 'one man crew' in Dan Slemons back in the U.S… we did have other people help out a little bit if and when they could, but Dan is really a full crew by himself.
So as the actor, it's great that I don't have to worry about pushing myself or if I'm going to be up for the travel, the heat, the cheap hotels, or all the action. I tried to fire myself a few times, but then I had to hire myself back… The scary thing is if I suck – or if the movie sucks – there's no one else to blame.
8. If you had a 'do over' – what would you want to take on?
Probably the "Part 1, 2, 3, 4, 5" scenes… the ISF room and conversation when they are trying to decide Jack's fate… In some ways it's a great scene, there are I think fourteen (14) people in it, and I think ten (10) of them have dialog. I was able to film all of it and keep the screen directions and eye lines and everybody with their own distinctive characters- all in one afternoon! But everyone in the scene are really strong actors, and they are delivering a lot of crucial information. Well, crucial to this other thread I had going and the idea that the government is pulling everyone's strings, but that Jack (Kely McClung's character Jack Davis) was stepping outside of that by taking everybody on with his skills and saving his brother. But all these actors are so strong, I should maybe have taken a bit more time to show them off and let them work. I pulled it off, mostly because all these actors are so great, and of course I wish I had done it better.
And I'm really proud of the music I created, but I know how much more a 'real' composer could have brought to the movie… Adriana (Adriana Mezzadri) is a world class talent – people all over the world know her music – and she made me look good. Well, sound good maybe… "Blood Ties" has some really great songs and bands in the film – Tim Acres and Gwen Hughes and Rockets to Ruin and Markeef the Barber – those guys are all great, but I wish I could have done better on the actual score.
9. So what else are you working on? What's next?
I finished another feature last year called "Kerberos." It's still finding its legs on the festival circuit but has already been winning awards ("Kerberos" was nominated for 5 awards at the AOF and won "Best Director." An early test screening won "Best Cinematography" and "Best Editing" at the Indie Fest USA Film Festival at Disney) It's a bit bigger movie, really great acting and we'll lock in distribution on it soon.
I got to help direct a few scenes for my friend Stan Harrington's vampire flick "Creed," and then he brought me back in to help out on scenes for his feature "Small Days" written and starring Tim McNeil.
I've got a short film I am starring in with writer /director Anthony McHie called "Passive Fist." A really cool action short, with some really, really strong supporting actors. My friend Stan (Stan Harrington) wrote a great script – "Perception" – kind of twisty psychological drama that he cast me to co-star in. I'm in wheelchair the whole movie. We start shooting in San Francisco next month.
And last, I'm in official pre-production on my pet project "Altered." It's a project and concept I've worked on for about 6 years, and now I feel I have the skill and resources to pull it off in way that does justice to it. I've been lining up actors and crew, and scouting in Chicago. It's a scary, brutal, allegorical thriller – think "Se7en" meets "Inception" I guess… I think it will put everyone involved on the map – including me I hope!
10. Anything else? What do you do in your spare time?
Haha – Well, I'm trying to help out and mentor a young editor I met through The V.R.O. last year who lives in Australia. She is just really, really talented. Right now she practices and learns by making these amazing mash ups and fan videos for "Vampire Diaries". She'll be going to film school in Australia next year and it's fun to think maybe I can help a little bit. I have a friend in LA who made a great documentary, Akiko Izumitani. I've been trying to help her on finding the right home for her documentary "Silent Shame." It's really powerful and I think brave film making… she's been winning little things like "Best Documentary" at the Beijing Film Festival… haha – a HUGE deal! It's really great!
It seems like all my friends are involved in film somehow, so everything wraps around that for me for right now. I did take a trip to England to see some friends – also involved in the industry – and to line up a 'real' composer for "Altered," this talented young guy in Hastings named Daniel James. And I was able to scoot over to Dublin and Belfast for few days. Freezing when I was there, but with a name like Kely McClung – it kind of felt mandatory!
Besides the acting jobs I am getting to speak at the "Self Employment of the Arts Conference" in Chicago this February. I find I love teaching and helping out, probably from when I only taught martial arts, but there are so many talented people out there, and I really like meeting and helping the little bit I can.
And last, for right now, I'm babysitting "Blood Ties!" Artsy film indie people will find some great stuff in it. The action fans, the martial arts fans, will really like it. I think filmmakers will like it – it really pushes all limits of what can be done for no money… Maybe Oprah or Howard Stern will find it and like it… well… maybe not Oprah I guess, but I bet Howard would love it!
10.5 Do you have a girlfriend?
🙂
Yep, I tried to pull a fast one on him.
Here's all of Kely's links
http://www.bloodtiesmovie.com/
http://www.youtube.com/user/TheMovieKerberos#p/a/u/0/kJO1oWisjZ0
http://www.facebook.com/pages/Blood-Ties-Movie/183163711701094
http://www.afterlightpictures.com/
http://twitter.com/#!/kelymcclung
http://www.imdb.com/title/tt1075636/
http://www.imdb.com/name/nm0565955/
http://www.imdb.com/name/nm1128418/
"Blood Ties" available on Feb 15th

On June 10th 2010 Kely McClung and Rob Pralgo took over the air waves on The V.R.O. to talk about their movie Kerberos. Kely McClung will talk about his role as Mike Finn. Kely is the Director & Writer of Kerberos as well. He is also the fight choregrapher, stunt coordinator, producer of Kerberos. Wait […]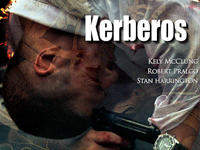 KERBEROS screens Saturday night, July 24th at the Action On Film International Film Festival in Old Town Pasadena – just a few miles outside of Hollywood and downtown LA. We're really excited for lots of reasons! – Though we had the privilege of a fantastic early test screening last year in Indie Fest USA at […]