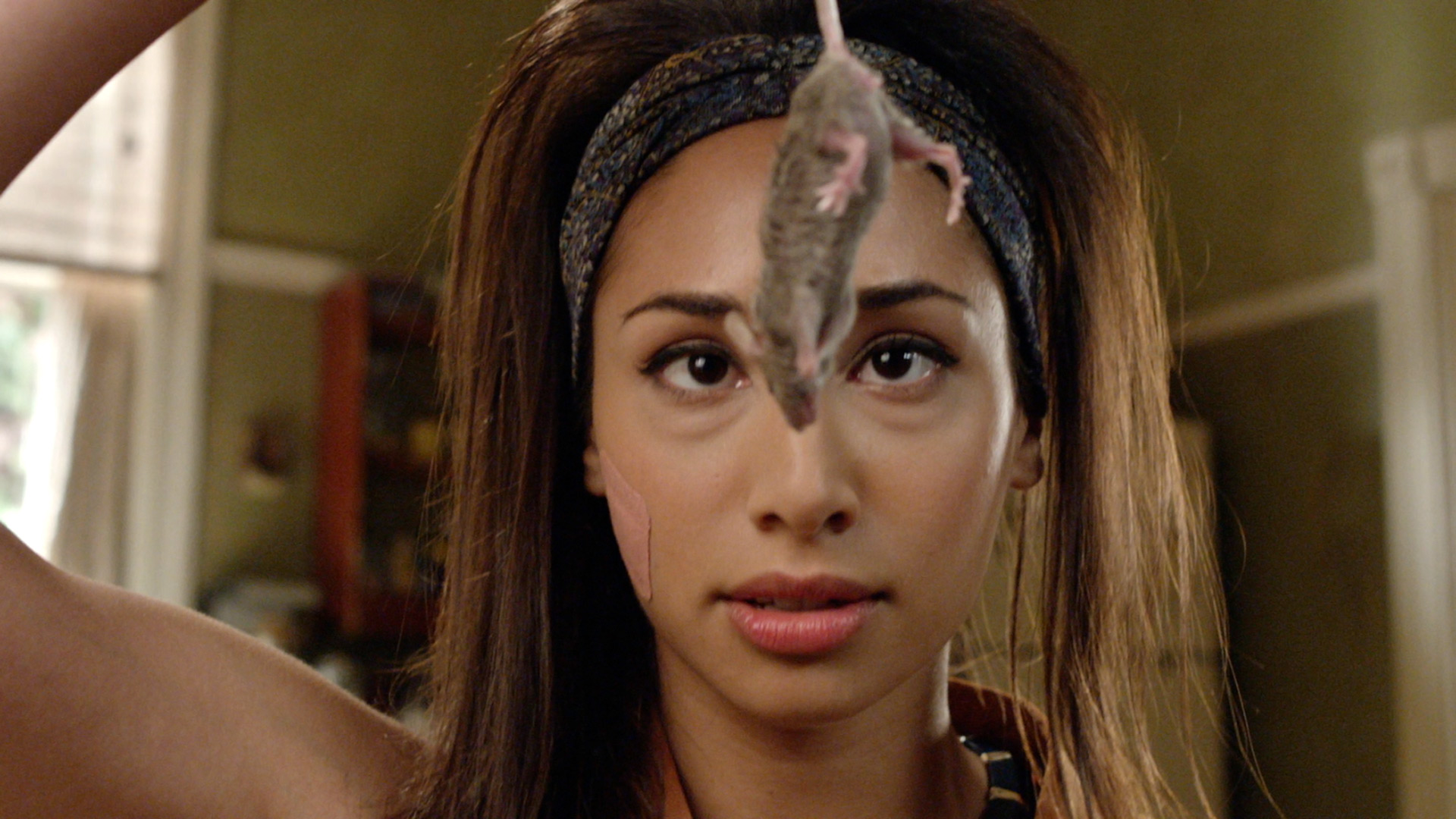 By: Dan
I've just had the pleasure of watching the latest episode of Being Human US, 'Of Mice And Wolfmen'.
While hallucinating under the virus, Aidan flashes back to leaving his wife Susannah and son Isaac for the war, just as his coughing wakes up Josh who has been keeping watch over him. Sally brings the two of them breakfast, having bought groceries after emptying the kitchen the night before. Aidan proclaims he will go to work, even as his health deteriorates, but before he leaves, Sally uses mortician's makeup to cover up his various lesions. Josh tries to contact Nora, but she is just waking from the previous night's transformation. As she heads back to her car she crosses paths with a nude old man in the woods, who introduces himself as Pete and nonchalantly reveals to her his lycanthropy and vegetarianism.
After Sally puts the finishing touches on Aidan, she tells him to use her room for his last days and he notes that something smells, making her self conscious to realize that her decomposition is starting to get noticeable. She feverishly brushes her teeth, only for the toothbrush to pierce her cheek and for a tooth to fall out. Nora and Pete head back to the road, Pete revealing he has come to Boston due to the large concentration of wolves in the city, but reveals he was never one for pack life, as wolves should only be together if they are bonded by blood or by love. After finding his RV, Nora kindly tells him they should meet again, and gives him her jacket that she used to cover him. Aidan goes to the hospital to see Kenny, who soon realizes that Aidan is dying from the virus. Aidan regretfully tells him that he will not be able to turn him, and refuses to do so as Kenny demands that it be done now before Aidan dies. Sally gets hungry again and goes to the kitchen, only to watch as a mouse gets caught in a mouse trap. She soon gives into her temptation and eats it.
Nora finally comes home to learn of the events the night before, and feels horrible that Josh went in alone and now is a wolf again. She goes to the hospital to see Aidan, offering to cover for him for the day so he can rest. Meanwhile, Josh sees Sally resetting the mousetrap, but she lies that a mouse was caught and goes to check the mirror, finding her cheek and scalp restored. While Josh tends to his wounds and gets upset that he has been cursed, again, Aidan has another flashback of his times in the house, before he remembers returning to his home after his turning in the war, only to recoil in fear from his wife, revealing that while he has returned to her, he is no longer alive. When he snaps out of it, he sees Blake outside who has come to take Kenny back as her siring, with the virus ravaging Aidan even more and making him ultimately weaker than she is.
Zoe meets up with Sally who reveals that Nick has bit her, but he has broken the skin and been looking at her strangely since. Josh tries to make things best for Aidan's final night when Nora brings over Kat to make peace. However, the virus takes hold of him stronger and he loses consciousness, continually flashing back to when Susannah took care of him and renewed their love for each other. After he comes to and passes out, again, Josh and Nora usher Kat out, passing off Aidan's sickness as the flu, even though they know they will never see each other, again. Sally speaks with Nick, revealing she has eaten a mouse, and he is relieved and tells her that eating fresh kills is the only way they can stave off the decomposition, while Sally is put off by Nick's gung-ho attitude about everything. Josh and Nora share a moment until Pete arrives, taking up Nora's invitation that night.
Josh is upset that Pete has come on such short notice, particularly after all of the trouble that Erin and Liam have put them through, leaving to check on Aidan, and as Nora apologizes to Pete, he offers to hear their story. Elsewhere in the city, Sally is looking at a pet store window, rationalizing that her hunger is only for mice, as she gradually gets more hungry while looking at the guinea pigs, the rabbits, the kittens, and the puppies, before a young boy walks out of the store and she becomes disgusted at her hunger for the child. As Aidan rests, Pete reveals that he has had vampire friends who have also died from the virus, bringing the two closer together. As Pete tells them more of his life, he reveals he had the same problems that Josh had after his change, and suddenly changed after he accepted Gordon, his wolf, as part of himself through meditation. He leads the other two in a meditation, and Josh while dismissive at first, soon envisions himself in the woods, knowing he is being watched.
Pete later makes him realize that what he saw was because his wolf is still afraid of him, because of how Josh has been trying to kill him the past several years. Aidan has another flashback, with Susannah saying they should become a family again, but Aidan believes his eternal youth makes him a monster. However, Susannah puts his fears aside, saying he should not be afraid of who he has become because everyone deserves a chance to live. Aidan wakes up from the dream, to find Josh and Sally at his side. He goes through a seizure, coughing up blod from his eyes and mouth, with Josh and Sally believing it is the end. The next morning, they are all surprised to find that he is healthy. While the others believe that he has fought the infection, their revelation that he had a seizure makes him realize that his cure was not his own doing, but because he had drank Josh's werewolf blood two years prior and Erin's blood in her assassination attempt.
He goes to see Kenny, who is amazed that he is still alive, and then approaches Blake, who is also surprised. He offers her the cure, but only after she promises that Kenny as well as Josh and Nora are off limits to the vampires. She agrees, and he reveals the werewolf blood cure, and that only enough should be taken so both live. She takes it in stride, as both are watched by a werewolf who wishes to slay them. Later, Sally confesses to Aidan that she has been rotting (even though she hates the word) and has eaten live flesh, but she proclaims she will go cold turkey from then on. Her proclamation that she should use the opportunity she has in this new life spurs Aidan's memories once more to Susannah, who implores him that should the opportunity arise that he falls in love centuries later that he takes it. He goes to the university to see Kat, who is surprised that he has bounced back from the flu so easily, but he embraces her and kisses her passionately before she can say another word.
Later that night, the werewolf stalking Blake corners her, but she has laid a trap with dozens of other vampires who all plan to drink from the werewolf to produce a vaccine for the virus. Elsewhere, Josh meditates once more, and finally sees his wolf in his mind's eye, marveling at his wolf's beauty, before he runs off. And at Zoe's house, she comes home to see Nick eating on a recently killed cat. She is scared, but he says he is only eating to make everything better. With his face bloody and eyes glazed over, he looks at Zoe apologetically before proclaiming that he is still hungry and lunges for her as she screams in terror.
It was a brilliant episode, that once again furthered the main storylines of the season. I can't wait to see how things progress in the next episode.
Thanks for reading.