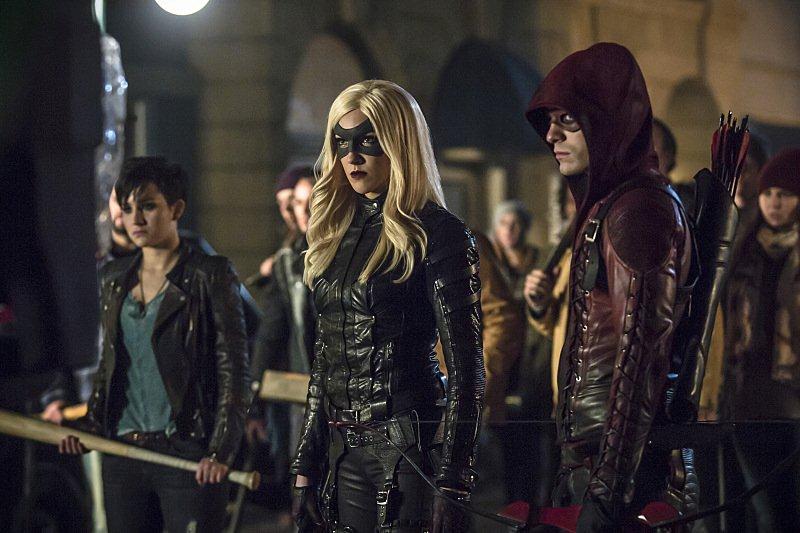 By Anna (@traveller15)
It's time for Oliver to come home and help bring down Brick and save his city. The Team is given an offer of assistance from Merlyn so he can score his own personal debt.
On the mountain Oliver is preparing to leave to go back home whether he is well enough or not. He says his farewells to Tatsu. Tatsu and Maseo do not wish to return the world they know.
Brick is taking over the Glades and his men are terrorising the city. Some of his men are looting and Arsenal goes to stop them but they gang up on him and believe he is the red streak they have been hearing about. Unfortunately, wrong city and hero! They hold Arsenal at gunpoint but Black Canary arrives saving the day. The people of the Glades are desperate and scared as the police have been told to stay out of the Glades. Sin is back in this episode and sees who she believes to be Sara but it is Laurel who does not know her.
Lance calls Felicity and wants to know if he can help. Lance meets Arsenal in the alley but tells him he knows who he is Roy under the mask. Lance gives him evidence on Brick. He also asks about the Arrow and Sara.
Malcolm and Thea are training with swords. Malcolm tells Thea if she hesitates and does not kill it will result in death. She only wants to learn to defend herself, but Malcolm says the League of Assassins will kill and she must be ready to defend herself.
This is also an episode that flashbacks 25 years or earlier where we will learn of the death of Malcolm Merlyn's wife, Rebecca, a caring father comforting a young son Tommy who has nightmares, and to his arrival on Nanda Parbat where his training begins to become the Dark Archer.
Roy is patching Laurel up while Dig and Felicity are looking for evidence that will stick against Brick. Felicity grasps at straws and looks into Brick's MO and finds that 20 years ago he killed Merlyn's wife. To our surprise Merlyn had planted a bug on the computers and is listening in and now learns the truth of who is wife's killer was.
Oliver heads home and is followed by Tatsu. She wants to make sure he survives getting home. Oliver would like her to help him defeat Ra's al Ghul as she is a mastery of swords. She says that a mastery of swords is not technique but Oliver must be him, think like him and fight the way he does. Oliver's only hope is Maseo to help him but he has gone back to the League.
Malcolm sharpens his sword as he now has a personal vendetta against the person who killed his wife. He now knows that the person he originally killed was the wrong man and was frightened and remorseful back then. Malcolm truly believed that justice had been served and the Undertaking was for her to change the Glades so it wouldn't happen to anyone else's family. Malcolm wants to set it all right and can only do this as he is a killer.
We see Malcolm at Rebecca's funeral with a young Tommy and Oliver.
At the Foundry, Felicity believes it is another reason for Malcolm and Brick to share bunk beds in hell. Brick is shutting the city down but are communicating by using walkie talkies. Brick is held up at the Glades Precinct. Felicity cuts the power to the police station while Arsenal and Black Canary head out. The two give a good fight against Brick's men. They get some help from the Darker Archer. He then says they need to talk.
Malcolm is back at the Foundry. Malcolm is impressed that the Team can still locate Brick even though he has gone underground. He wants to team up with them to deal with Brick. Felicity does not want to get involved with the devil. Roy and Thea discuss Malcolm and his vendetta to kill Brick. Thea says he is not just a killer but he did make her a priority during the siege to keep her safe. She believes that he only wants to help people.
Laurel wants to use Malcolm, to point him as a loaded gun against Brick. Felicity argues that she does not want to "get in bed" with Malcolm Merlyn. Felicity says Oliver would never agree to working with Malcolm and wants nothing to do with him. Roy believes Malcolm can help and should take a vote. Dig goes to talk to Malcolm in the alley to say they refuse his help.
Malcolm finds the guy that he believes killed Rebecca in a flashback and kills him. So Malcolm has made his first kill. Malcolm decides to run as it didn't cleanse his anger so he leaves for Nanda Parbat and leaves his son, Tommy, behind.
Tatsu and Oliver part their ways again. She tells him that Oliver must sacrifice something in order to defeat Ra's al Ghul. Whatever it will be it will be whatever he holds the most precious.
The Team believe they made the right decision not to use Malcolm's help but why not use the people of the city. Laurel goes to Ted Grant to ask for his help while Roy finds Sin to gather the people of the city. So there will be an all-out assault on Brick and his men. So it begins with just Arsenal and Black Canary telling Brick those immortal words "you have failed this city". What Brick doesn't know the people of the Glades have come out as well. Ted is beaten to a pulp by Brick. The Dark Archer arrives to take on Brick. All of a sudden a green arrow flies through the air. The Arrow has returned to defend his city. As Malcolm is about to kill Brick, Oliver says no more killing. Malcolm believes that if Brick was killed 25 years ago all the killing would not have been necessary, the League, the Undertaking and Tommy's death. Killing takes away a piece of your soul which you can never get back.
Arrow is back and says he will not fail his city and leave it again. Brick is taken into police custody. Lance has all the police out to capture Brick's men and restore justice back to the Glades. Lance bumps into Sin who says that the girl running around looking like Sara is not Sara. How will Lance react to this?
Malcolm goes to see Thea and tells her that he didn't kill for himself and for her. Oliver walks into the apartment to reunite with Thea. He lies of his whereabouts to her all these weeks. Oliver goes to Malcolm and asks for his help in training to defeat Ra's al Ghul so he can protect Thea. Malcolm says "only the student has hope of defeating the master".
Malcolm arrives on Nanda Parbat where he is greeted by a young Nyssa.
Oliver finally goes to the Foundry to see Dig, Roy and Felicity. Felicity greets Oliver with the biggest hug and Oliver thanks everyone for saving the Glades. Oliver tells them that he is going to work with Malcolm to stop Ra's al Ghul. Felicity is disappointed in Oliver that he would team up with a monster who caused all the problems in the first place. She defended him that he would never work with Malcolm and her happiness of seeing him again has turned to anger. She walks outside for air where Oliver tries to explain himself. Felicity was hoping that Oliver being close to death would have changed him in their relationship. She is upset that he told her he loved her and now he wants to work with the person who made his sister kill, who he loves, and made her kill a woman he used to love and Felicity doesn't want to be a woman that Oliver loves. I believe that Felicity thinks she might die as well if she loves him and so she walks away.
I wonder also for Oliver to defeat Ra's al Ghul he must sacrifice something that is precious to him, could that be losing Felicity.
Twitter: @TheVRO
Facebook: Variety Radio Online
Tumblr: Variety Radio Online