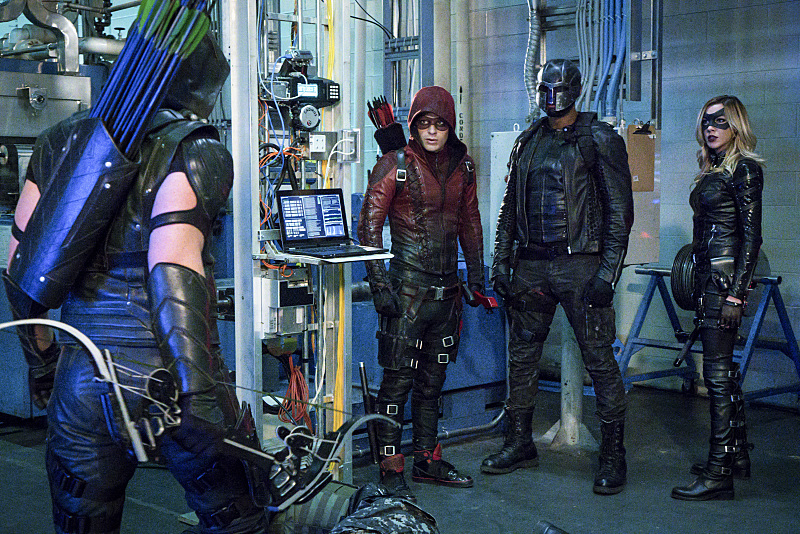 By Anna B (@traveller15)
Roy Harper is back in Star City due to being blackmailed by The Calculator. Nyssa is on a mission to destroy Merlyn.
On Nanda Parbat an assassin takes food to Nyssa who is still locked up. She doesn't want food but is told to take the pepper as it grows strong. Inside the pepper is a knife which enables Nyssa to free herself from her prison with the help of the assassin and the men who will stand by her side.
The Green Arrow Team is chasing a robber who is stealing from tech companies with Felicity as Overwatch overseeing the chase on her computers. They are amazed how well this robber gets away from them. They corner him on the rooftop and just when Speedy has the robber she blackouts nearly falling off the rooftop but Green Arrow grabs her in time. She is taken back but to Laurel's apartment to rest saying it is from exhaustion. The bloodlust is consuming Thea. Oliver blames himself for not recognizing that she has been dealing with the bloodlust as he was so consumed with the campaign, running to Central City and looking after Felicity after her accident.
Felicity heads to Palmer Technologies as the Board have moved up the presentation to save the company. She is doing a dry run presentation with Curtis on the power cell technology. A board member suggests that Felicity step down from giving the presentation as it doesn't look too good from a person in a wheelchair.
Oliver goes and visits Thea at home to see how she is doing. Merlyn is also visiting is sick daughter. If Thea doesn't take a life the bloodlust with take the life of the host. Sara was never like this as Constantine restored the balance and made her whole. Thea tells Oliver that Damian Darhk has some gone of magic that helps stop her bloodlust. Oliver wants to find Darhk to help Thea.
Meanwhile, the robber has committed another heist and Oliver chases after him. A great parkour chase scene. Oliver catches the robber and discovers it is Roy but Roy punches Oliver in the face managing to get away again.
Back at the lair Oliver tells the team Roy is back. Felicity says "first Sara, Ray and Andy come back and who can we look forward to returning next".
Oliver is being hounded by his campaign manager, Alex, to advise him that he has another candidate running against him, Ruve Adams. Darhk's wife. Green Arrow pays Ruve a visit seeking a meeting with Darhk regarding a proposition.
Felicity figures out the pieces of tech Roy stole can build a web nuke which can destroy an entire internet. The missing piece to the weapon is the power cell that Palmer Tech developed. Felicity tries to warn Curtis but too late Roy has come to steal the battery. Curtis puts up a good fight against Roy but is no match. The Green Arrow arrives and they notice that he is not acting himself. Felicity notices Roy's eyes are not normal as his eyes are blue and there is a transmitter in his left eye. Someone tells Roy to throw the battery out the window. So Green Arrow shoots Roy with a tranquilizer to make it look like he killed him. They rush him back to the lair. Roy had set up a new life with a new identity in Hub City and someone made him by emailing him that they would expose him as Roy Harper. Then the Arrow would be alive and it would incriminate Oliver again being the Arrow. The blackmailer calls himself the Calculator. Roy can't believe that Oliver shot him to which Oliver replies "really" with a smirk on his face.
Nyssa goes in search of the Lotus flower in Japan. To get the Lotus she has to fight Tatsu who is its protector. They fight for some time but come to an understanding to talk when Nyssa tells Tatsu it concerns Oliver.
Roy goes to visit Thea after learning of the bloodlust. Thea has a seizure.
Felicity traces the transmitter and hacks into the computer system. Oliver asks Felicity is it wise to hack into his system to which she responds "my pride that you understood what I was saying is slightly undercut by your lack of faith in me". The Calculator aka Noah Cuttler (Tom Amandes) is advanced in computer science and internet manipulation does not want to destroy the internet as it is where he works and is addicted to funny cat videos. He wants to destroy a city, Star City, and shuts Felicity out. By destroying a city, he would kill everyone in it. Felicity is stressed looking for the web nuke as well as worrying about the presentation. She remembers Ray developed a battering ram which could crash through cyber security and rushes off to Palmer Tech. She hates that everyone is calling this person the Calculator. While at Palmer Tech, Curtis gives Felicity a pep talk to be herself and not be the person who doubts herself in the wheelchair but be the person she is all fired up and present to the Board.
Oliver finds out about Thea's seizure and tells her that he has arranged a meeting with Darhk to try and find a cure for her. Merlyn knows that Oliver is going to Darhk for help. It's Thea's choice and life not to kill and to die. Can Oliver live with that choice?
Felicity locates the Calculator and the Green Arrow with Arsenal goes after him. The Calculator has mercenaries working for him placing the web nuke at Flint Hill electricity. Felicity hacks into the Calculator's computer system with a virus but he is clever and is hacking into her system. To stop the web nuke they need to set a bomb manually and Arsenal elects to stay back and do it. Diggle says "just because you are wearing red you are not the Flash" as he needs to outrun the blast. Roy blows up the web nuke and survives the blast by zip lining out of the building.
Roy is going back underground. Felicity wiped everything the Calculator had on Roy from his computer system.
Our flashback on Lian Yu has Oliver being tortured by Reiter to find out why he wanted the maps. An Arrow is put through Reiter, Shado is back. Apparently, it is a vision and she has come to tell him to forgive himself for what he has done. It is time to go back to his family and get off the island. If he won't go the way he is, the only way is through Oliver's own darkness which he needs to let go. Shado will teach him how. To escape Oliver's darkness, he tells Taiana that he killed her brother so he can receive her forgiveness.
Felicity gives her presentation to the Board at Palmer Technologies on battery technology with the power cell which is a 100% recyclable battery. Oliver is there for support and sitting next to him is the Calculator.
Roy says an emotional goodbye to Thea. He wants to stay but she wants him to go and have a life. They both say they love each other.
Oliver goes off to see how Thea is doing and as Felicity turns around from the elevator the Calculator is standing in front of her and she says "Oh my God, Dad". So the Calculator is Felicity's dad.
Oliver has come to an understanding to accept Thea's decision not to kill due to Merlyn helping him see that she much choose her life. Suddenly Thea has gone into a coma. Will she survive? Will Oliver survive without his sister? Nyssa shows up at the hospital and tells him that there is a way to save her with an elixir known as the Lotus which counteracts the effects of the Lazarus Pit. Nyssa will give Oliver the elixir on one condition that he kills Merlyn.
Variety Radio Online – – Bringing you all things Entertainment including News, Reviews and Interviews. Check out our website, like us on Facebook ,follow us on Twitter ,Tumblr and Instagram
//