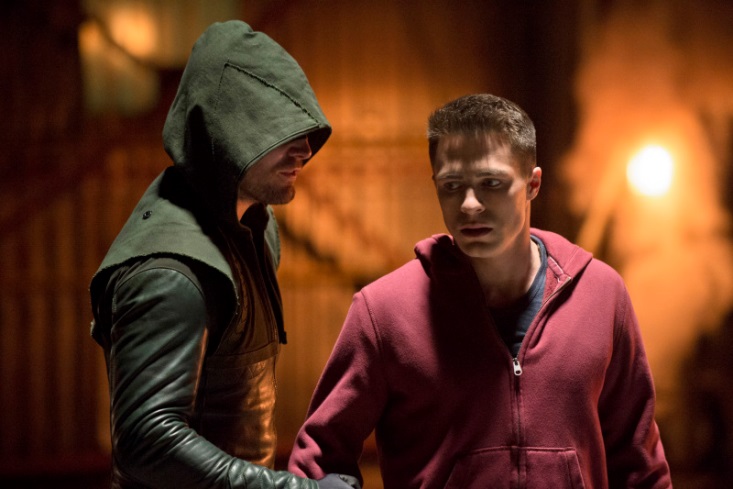 By: Anna – 29 January 2014
This episode is about Oliver wanting to help Roy, to teach him to control his new super-strengths and control his anger due to the effects of Mirakura so that he can become a better person. This will make him one step closer to maybe becoming one of the Team and learning Oliver's identity. Oliver feels he needs to help Roy due to the fact that he has failed others in the past like Slade and The Huntress.
Click Banner To Hear The Review

We also welcome back an old enemy Ben Turner (aka Bronze Tiger) (Michael Jai White).
We begin at Iron Heights prison where a prisoner is locked up in the same cell as Ben Turner. This prisoner has smuggled in Bronze Tiger's knife and claws under his skin so that he can escape to perform a heist.
Roy is training under the guidance of Arrow in a warehouse by slapping water in a bowl in which he is not finding very amusing. He says he can't wait to get attacked by a dogs bowl. This is to teach him strength which he has none. Arrow tells Roy about a friend he had who was injected with Mirakura and how it destroyed him. Roy wants to know about him and all that Arrow would tell him is that he had to put an arrow through his eye.
The first flashback on the island – Oliver and Sara are tracking Slade back to the cave. Oliver still feels guilty for Ivo killing Shado and wants Slade to know the truth.
At the mansion Thea is home worrying about Roy and Moira is going out to dinner with Walter (Colin Salmon).
Quentin Lance goes to see his daughter, Laurel, at her apartment which looks like she is living in squaller. Lance misses his relationship with her and wants to go out to dinner with Laurel so they can be a family again.
At the lair we have Oliver on the Salmon Ladder. Oh yes love it when he is on that. He is telling Diggle and Felicity that Roy is not doing so well. Diggle says there are 5 kinds of angry. Oliver tells the Team that he has seen this before in his friend Slade on the island to which Felicity responds "troubling use of past tense there". He tried to help him control it then and couldn't so he is not going to make the same mistake again with Roy. Felicity is now hacking into
Iron Heights prison internal communications with all the breakouts. Felicity cracks to Oliver "Is that judgement I'm hearing" and he responds "pride". A bolar has gone out to say Ben Turner aka Bronze Tiger has escaped.
Bronze Tiger meets with the man that broke him out of prison to enable him to steal the prototype earthquake machine from Malcolm Merlyn's mansion.
Back at the warehouse Roy is training to control strength by breaking the punching dummy. He is not doing so well with his anger. He wants to go out one night with Arrow to help fight the criminals.
Moira meets with Walter for dinner with Mark Francis (Nicholas Lea). They discuss politics and that they are not happy with Sebastian Blood running for Mayor. They want to hear Moira's position on the city to have her run for Mayor.
Lance and Laurel go for dinner where Lance sets her up to attend an AA meeting. Laurel doesn't want to admit that she as an alcohol problem and needs help and that no-one has been through what she has. She walks off.
Felicity and Diggle get an alert that the blue prints to Merlyn's house have been stolen by Bronze Tiger. Arrow asks Roy "Do you have one of your hoodies" and he replies "do you seriously have to ask". So Arrow and Roy go to Merlyn's house to find Bronze Tiger and his men. They have come to steal a prototype of the earthquake device. Arrow confronts Bronze Tiger and we have a great stunt fight. Roy goes after one of the men and puts him out but is not controlling his anger. While Arrow intervenes Bronze Tiger gets away. One thing Roy did lift was a watch off the guy so Felicity can trace the fingerprints.
At the lair Oliver has "angry face". He tells them that he took Roy Harper out on the field but he didn't listen to him, lost control and nearly killed someone. In the meantime, Turner got away. They learn that he stole a prototype earthquake machine. Oliver opens up to Diggle to tell him what happened on the island that Slade turned out evil because he loved Shado, Shado was killed and it was Oliver's fault. That he wanted to tell him how she was killed but he didn't and Slade found out another way. After spending 5 years on the island Oliver believes that he has learnt something which will help Roy.
Back on the island at the cave Oliver and Sara do not find Slade. They find calculations on the cave wall. Oliver figures out that the calculations are coordinates for the rocket launch to blow up the freighter.
At Verdant Roy goes to Thea and asks her to leave town with her mother and brother. To trust him. He grows angry when
Thea is confused as to why she is to leave and nearly hurts her. He takes off.
Laurel goes to visit her co-worker Joanna for a potential job interview, but a partner in her office has found out that the Bar is opening disciplinary proceedings against her on conduct of fitness to practice and they won't hire her with her being disbarred. She is not going to get any work as a lawyer while this is happening.
Walter goes to see Moira at the mansion and advises that 46% of people in Starling City believe that she was right to protect her family against Merlyn. Walter wants Moira to run for Mayor. Walter tells Thea about wanting her mother to run and she thinks it is a great idea. I'm sure Thea will be a campaign manager?
Roy goes to the warehouse to meet Arrow where he tells him that he asked his girlfriend to leave town. Arrow is not happy that Roy has brought Thea into the conflict. Roy wants to know how the Arrow keeps his secret and keeps the ones he loves safe. Roy gets angry with Arrow and as he can't control his anger pushes him over the room. Roy is determined to save Starling City on his own.
With Arrow nursing a sore neck, Felicity says that "you both scoff when I wanted to invest in an x-ray machine" as she takes a cold pack from Oliver. Dibble believes that Roy is broken and cannot be put back together. Oliver refuses to believe that. He won't let what happened to Slade happen to Roy. Thea calls Oliver wanting to know if he is close. Quite funny that Oliver looks up to the ceiling to say "he is pretty close" being only below the Club. Laurel has gone to the club on a drinking binge. Oliver goes to meet Laurel to try and get her to go home. Laurel is definitely out of control with the drinking. Meanwhile, Felicity has found out where the earthquake machine is on the docks.
On the island Oliver and Sara find Slade setting up the rocket launch to target the freighter. He is determined to kill Ivo no matter if the boat is the only way off the island for them all.
Moira goes to Verdant to talk to Thea about if she does run for Mayor. Thea wants her to run so she can start thinking about saving the city.
Bronze Tiger meets the arms dealer with the earthquake machine. Arrow ziplines onto the roof where the exchange is taking place. Unfortunately, Arrow is no match for Bronze Tiger and he injures his shoulder. Roy comes out of nowhere and fights with Bronze Tiger. In the meantime, the arms dealer sets the earthquake machine device off. In order for the device to be stopped Arrow needs Roy's help. To get him to stop beating Bronze Tiger to a pulp he shows his true identity to him as Oliver. He is in shock. He tells him to challenge his anger to think of Thea and that she needs him. Roy clears his head which enables him to punch a hole in the container where Arrow throws an explosive arrow in to blow up the earthquake machine. They stop the device. All Roy can say to Oliver "your". Roy says to Oliver you saved my life last year, you gave me purpose and he holds out his hand to shake. They shake hands and Oliver says "we are just getting started". So a new member is now added to the team.
At the lair Diggle says "the secret society gets a new member". Felicity is patching Oliver's shoulder up. Roy is at home processing. Felicity said she processed through a pint of mint chip. Diggle still thinks that Roy is a lose canon now because of Oliver's secret. Oliver told him because he needed Roy's strength and power. On the island Sara said that love was the most powerful emotion. Arrow couldn't get Roy to think about Thea but Oliver could.
On the island Oliver wants to tell Slade about Shado. He tells her that she loved him which enable him to stop form blowing up the freighter. Slade doesn't know what is happening to him. Oliver wants to take the freighter from Ivo so they can get off the island.
Walter arrives at the mansion where Moira tells him that she is going to run for Mayor. Moira changed her mind that she doesn't want the city to remember her for being a porn for Malcolm Merlyn. Walter knows there is also another reason she was hesitant because of who Thea's real father is.
We see the red shoes enter the prison which we now know are Amanda Waller from A.R.G.U.S who has come to offer Bronze
Tiger a deal to join a unit she is putting together – more a squad. This squad will no doubt be the Suicide Squad.
Oliver takes Roy down to the lair to show him and tells him that Thea is never to know. Roy questions how many people know his identity which there are too many but the only two that matter are John Diggle and Felicity Smoak. Roy asks "Does the group have a name like Team Arrow", Oliver replies "we don't call ourselves that" but Felicity says "I do, occasionally", Oliver "stop".
Laurel arrives homes drunk and collapses on the floor. In Laurel's drunken state she sees Sara towering over her. We can only hope that Sara being back in her life will change her getting up from rock bottom.
We had a lot of action in this episode. Old enemies revisited, Roy becoming apart of Team Arrow and the mention of Suicide squad being formed by Amanda Waller.
Twitter: @TheVRO
Facebook: Variety Radio Online
Tumblr: Variety Radio Online