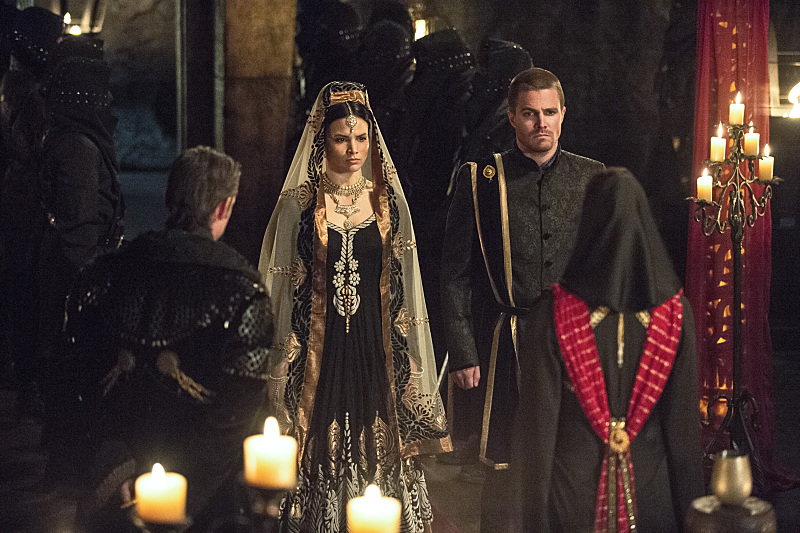 By Anna (@traveller15)
For Oliver/Al Sah-Him to take his final journey to ascension he must marry Nyssa and then destroy his city.
Flashback to Hong Kong where the city is in chaos after the alpha/omega virus has been released. Akio is sick from the virus.
Ra's tells Al Sah-Him until he has destroyed his home, Starling City, severed all ties from his old life can he begin anew. We learn that Maseo brought the alpha/omega virus to Ra's. Al Sah-Him is surprised and actually seems like Oliver's old self when he hears this news. He quickly returns to the facade he has been putting on as Ra's tells him once he is married he will ascend to Ra's al Ghul and then return to Starling City to destroy the city with death.
Back in Starling City Diggle is chasing a criminal and is met with the rest of his gang. The gang think they have Diggle outnumbered, but the Black Canary uses her sonic canary cry which helps them defeat them. Diggle loses control of himself while punching one of the gang members. They reconvene back at Diggle's place where Felicity tells him he is in denial and angry at Oliver. Diggle is finding it hard to come to terms that Oliver, his best friend, kidnapped his wife. Felicity is also in denial that she believes it is not the Oliver she knows he is someone else.
Thea plans a trip to visit Roy. Merlyn doesn't try and stop her and thinks it is a good idea.
On Nanda Parbat Ra's, Al Sah-Him and Nyssa have a pre-wedding dinner. Nyssa is opposed to marrying Al Sah-Him plus bear his children but her father says she has no say in the matter.
Al Sah-Him is having trouble coming to grips with the marriage proposal and excuses himself to take a walk without guards. Meanwhile, Nyssa steals a nice from the table. Al Sah-Him rendezvous with none other than Malcolm Merlyn. So I was right it was a ruse for Oliver to infiltrate the League from within so he can destroy Ra's. He planned everything with Merlyn and this is why he wanted his Team to trust him even though he could not tell them. The less who knew the plan the better. Oliver and Merlyn sit around a campfire planning their next steps. Merlyn does not have much creditability with his Team for them to trust him but he will try and persuade them to help. Maseo goes looking for
Al Sah-Him and this time Merlyn has left.
Akio is not surviving the virus. Maseo and Oliver go after Shrieve for a cure.
Thea goes looking for Roy who has changed his name to Jason and is working in an auto shop. They have an emotional reunion.
Felicity goes to see Ray at Palmer Technologies who is working on his ATOM suit. Even though Ray and Felicity broke up, Ray tells her that she will always be his friend and be there for her. Ray asks Felicity to sign some papers. She doesn't even read what she is signing and Ray says it is just some paperwork but is actually signing the company over to her.
Al Sah-Him and Maseo sit by a campfire where Al Sah-Him asks why Maseo took the alpha/omega virus. He stole it before Akio died and used it to trade his way into the League. Al Sah-Him says he can set him free once he is Ra's so he can return to Tatsu. Maseo says there is no escape from his prison.
Merlyn calls a meeting of the Team. Diggle is assured that he will be waving the white flag. Felicity calls Merlyn a sociopath and a liar. Merlyn has to convince the Team that Oliver's allegiance with the League is a charade. None of them believe Merlyn but he brings Tatsu as backup to try and convince them of the virus attack. Merlyn has arranged passaged for the Team back to Nanda Parbat.
Roy takes Thea back to his apartment. He has given up his night job of crime fighting and his life his now boring. Thea brought with him the Arsenal suit and to rekindle their relationship.
Ra's tells Nyssa of the time when he met her mother. He shows her a beautiful necklace which she is to wear at the wedding. Ra's swears to Nyssa she cannot deny him of his wishes to the marriage or she will suffer a pain of a thousand deaths.
Tatsu goes to speak to Felicity about Oliver and tells her that she must fight for him. Tatsu tells her story that her husband, Maseo, was consumed by the League's darkness and she thought he was lost to her. Tatsu does not want Felicity to make the same mistake and for her to fight for Oliver.
Maseo and Oliver go after Shrieve at a military base. Oliver takes down two guards.
The Team meet at the airport Merlyn and Tatsu/Katana and Felicity swears if Merlyn betrays them she will let the whole world know he is alive and where he can be found. They arrive on Nanda Parbat. The have a long walk. Felicity says "we should have looked into renting some horses". They came to dismantle the software of the plane to be used to take the alpha/omega virus to Starling City. They are intercepted by the League men. A fight takes place. Tatsu wears the Katana mask and uses the family sword "Masamune" where she meets Maseo/Sarub and she tells him it is not too late to come back to her but he says it is too late. Katana and Sarub fight to the death. Sarub is finally released from his prison. Felicity tries to defend herself using her tablet but it is destroyed. As insurance the ATOM comes along to try and stop the plane that has just taken off. The ATOM destroys the plane but is knocked back down to the ground. They are further surrounded by Ra's, Al Sah-Him and the League and are taken prisoners. The virus has not been destroyed as Ra's still has possession of it.
Oliver takes them to Ra's and tells the Team they need to trust him or they will die. Tatsu tells Ra's it was Maseo that was the traitor. The Team learn that Oliver is to wed Nyssa. Oliver looks at Felicity when he breaks the news. He can see the hurt in her eyes.
Roy and Thea have a romantic night. Thea tells Roy that Oliver has joined the League to save her life.
Felicity is heartbroken that Oliver is going to wed. Diggle is taken to Al Sah-Him. Diggle is so angry with Oliver with him kidnapping Lyla and leaving Sara on her own just so Oliver's plan into the League would be believable. Oliver has lost Diggle's friendship, trust and respect.
Oliver and Maseo find Shrieve for the cure. They take Shrieve with him to administer the cure to Akio. Unfortunately, Akio has died. There was never any cure.
Merlyn appears before Ra's where Ra's is preparing to kill him with Katana's sword. Merlyn saves himself by offering the name of the person who betrayed Ra's to Oliver's friends. He spills and says it was Oliver and that he was lying all this time. Did Merlyn do a switch and betray Oliver to save his own neck or is this still part of the plan? Oliver walks in and tells Ra's he is loyal to him and that Oliver Queen is dead and the Arrow is gone.
Thea awakens to find Roy gone. She goes to the auto shop where she is handed a bag containing the Arsenal suit. His note tells her to live her life without him as he does not want her to be on the run with him. He thanks her for the suit and says that red was always more her colour. Could this lead to Speedy wearing the suit in season 4?
Back on Nanda Parbat Merlyn is brought back to the cell with the others. Ra's releases the virus on them and the door to the cell is lowered so they will all die. Felicity yells at Oliver that you asked us to trust you and we trusted you. Everything looks so bad for them now, how can Oliver leave them to die?
The wedding takes place. Nyssa tries to use the knife she stole to stab Al Sah-Him but is unsuccessful. The union is sealed. As the Team face their fate, Diggle apologies to Felicity for everything. They all fall unconscious.
Twitter: @TheVRO
Facebook: Variety Radio Online
Tumblr: Variety Radio Online