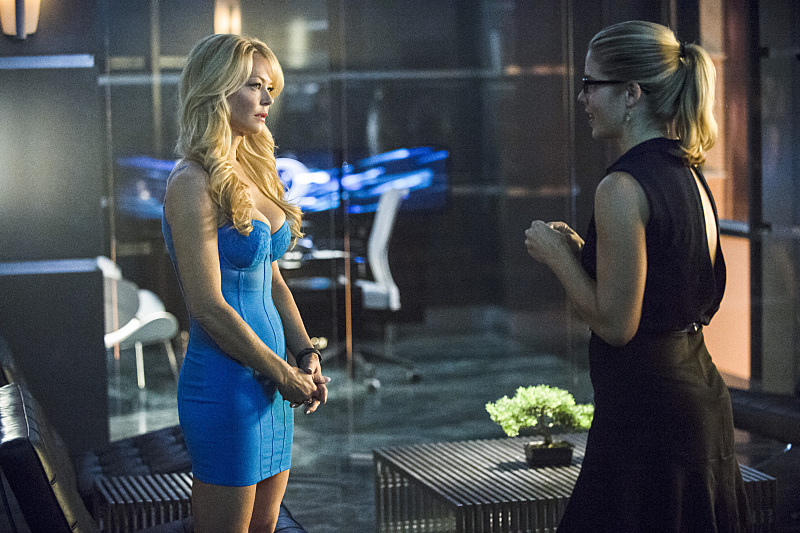 By Anna (@traveller15)
This is an episode we learn more of Felicity Smoak from her days in college as a gothic hacktivist and how those days will come back to haunt her when a computer hacker takes control over Starling City.
We being with training sessions by Laurel and Ted Grant (RJ Ramirez) at the gym, Oliver and Roy and Thea and Malcolm Merlyn.
We get our first look at Felicity's apartment where she is working out doing situps. Felicity has a surprise visitor when Ray Palmer arrives at her door to discuss QC using co-generation, renewable energy, for Starling City. Felicity then gets another surprise visitor, this time her mum, Donna Smoak (Charlotte Ross). Felicity is very unhappy to see her mum. Donna knows who Ray Palmer is as she wears one of his smart wearable watches. To score some points with Felicity, he gives Donna his prototype smart watch.
Flashback, Felicity coded a virus so her boyfriend Cooper Seldon (Nolan Funk) can hack into the student loan system. Cooper has other ideas to wipe out all the student loans. Felicity stops him in time so they don't get caught as a hacker and go to prison.
Oliver goes to visit Thea at her new apartment which she bought using money from Malcolm Merlyn's Estate. The investor money for the Club is the Estate money. Oliver is infuriated as it is "blood money". Thea is not going to let Oliver stand over her and walks out. Just then the lights of Starling City start going out. The hacker known as Brother Eye has taken control over the City.
Felicity takes Donna to Verdant as she needs to help with the power. Oliver walks in surprised to meet Felicity's mum. Then Diggle walks in with baby Sara. Felicity's mum has a baby moment. Oliver is not happy that Diggle has brought baby Sara. Of course, who is she going to tell but Oliver is not comfortable with her down in the Foundry. Felicity suggests her mum looks after Sara.
Back at college Cooper is not happy with Felicity for cutting him off the Education Department's website. The FBI arrive and arrest Cooper for hacking.
Another announcement is made by Brother Eye that it will target the national bank sending the people into a riot. Laurel is made acting DA and sends in the riot squad to contain the people. Lance is furious for not being consulted as it made the situation worse. He senses Laurel is not herself.
Felicity struggles to find an answer to stop the virus when she realizes that she wrote the super virus 5 years ago while in college. Felicity tells Oliver about the hactivist group with her boyfriend, Cooper Seldon, and room mate Myron Forest.
Felicity goes to visit Cooper in prison, No matter what, he is going to protect Felicity and take the blame and say he wrote the virus.
At Verdant, Thea finds the doorway down to the Foundry. Oliver's cover story is that the backup generator keeps it locked. The contractor says the sublevel is flooded with water. Oliver is concerned about Thea with the hacker over the city. Thea says that someone told her that family is pretty precious and love despite everything is what makes it precious. She says the Queen family is just Thea and Oliver but she will use the Merlyn money. Oliver and Thea are still keeping secrets from each other.
Felicity has found the whereabouts of Myron Forest. Arrow goes to pay him a visit to shut down the virus. He swear it is not him.
Felicity is getting frustrated and upset as she cannot locate the person using the virus. Oliver wants to know why it can't be Felicity's ex-boyfriend. She believes Cooper couldn't have done as he is dead. Felicity goes to Queen Consolidated for some time out. Ray Palmer finds her upset. He is not happy that his launch of the new Star City did not go well with the cyber terrorism. Felicity is having a hard time dealing with her mother. Donna finds her at QC and they argue. Felicity is sorry for not being like her, dressing like her with cleavage, being like a porn star and she feels she is a disappointment to her. Donna says she stayed for her daughter even when her father walked out.
The Arrow team are all at the Foundry. Oliver is concerned that Felicity's head is not in the game. She needs time with her mother instead of working on the virus. Oliver tells Felicity what Thea and he discussed about family and lover are precious. Felicity goes home to her apartment where her mum is packing to leave. We learn that Donna only came to visit as she won a first class round ticket to Starling City. Just then the front door is smashed in and the girls are kidnapped.
Cooper is alive. He set up a deal with the NSA to get out of prison. He wants to cripple the banks and have the Treasury redirect more money. He needs Felicity to hack into the Treasury. Felicity's mum was motivation for her to do it.
Oliver is concerned about Felicity as she is not answering her cell.
Felicity remembers that the smart watch on Donna has wifi so she is able to contact Arrow. Just when Cooper wants to shoot Felicity, Arrow to the rescue. Unfortunately, he has to deal with a motion activated machine guns. Roy and Diggle go stop the heist of the armored car. Felicity manages to rescue herself and her mum and be the hero.
Felicity goes to the Foundry to find Oliver to say he was right to keep pressing about Cooper. Oliver says he has had experience on that and has learnt not to judge people. Oliver is glad no matter how hard the experiences Felicity went through, he was glad she did as it helped shape the person she is today. We have to love our families no matter what.
Our last flashback see Felicity with blonde hair and starting a new beginning.
As Laurel cannot confide in her father about Sara, she goes to Ted Grant and opens up to him about Sara's death and being murdered. She is angry and he will teach her to deal with it.
Oliver goes to Thea's apartment with popcorn. Thea asks Oliver to move in with her. He will and as a condition when the Club is doing well she will donate the Estate's money to an earthquake relief fund. Oliver can live with that. They watch TV together with Merlyn watching from another building.
Donna goes to QC to say goodbye to Felicity. Felicity tells her mum that she did appreciate her being there for her growing up. She says she is not all like her father, she has got tougher over the years which she says she got from her mum. Ray walks in and Felicity tells him she is not feeling well and won't be in for the rest of the day. She is spending family time.
We end with Roy having a nightmare being on the rooftop with the Canary throwing arrows into her and killing her. What does this mean?
Twitter: @TheVRO
Facebook: Variety Radio Online
Tumblr: Variety Radio Online