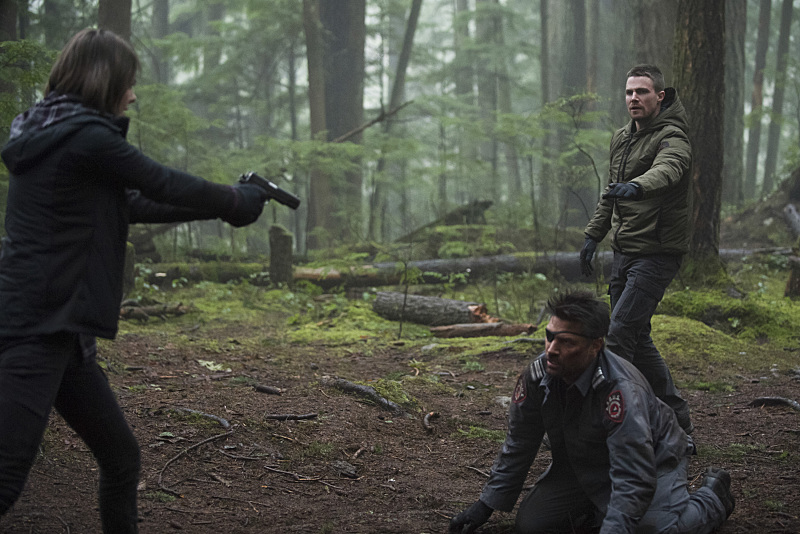 By Anna (@traveller15)
Oliver returns to Lian Yu with Thea to face an old enemy plus brush up on their survival skills. Plus flashbacks are of Oliver in Starling City to obtain the Omega bio weapon.
We have very little of current day life in Starling City this episode.
Back on the island of Lian Yu, Oliver and Thea are training. Oliver is surprised how well trained Thea is for only 9 months. Of course, Merlyn was a good teacher and that there is only death or survival. Over a campfire Oliver tells Thea of his life on the island and it taught him to be the person he has become today.
Our flashbacks are back in Starling City and Amanda Waller (Cynthia Addai-Robinson) is briefing Oliver and Maseo regarding China White's arrival to sell the Omega bio weapon. While in Starling City Oliver cannot contact his family and let anyone know he is alive or he will jeopardise his and Maseo's life. Laurel finds Lance at a bar drinking heavily still coming to terms with Sara's death on the Gambit. He tells Laurel that by her moving to San Francisco to work in a big law firm she is sacrificing her dream to help people. While staking out Queen Consolidated Oliver sees his sister.
Back on the island Oliver is dreaming of Sara. Thea wants to know why he didn't tell her about Sara's death and who killed her. To avoid answering her, Oliver takes a walk. He goes to visit an old enemy in purgatory, Slade Wilson (Manu Bennett) only to find that his cell is empty and is now roaming the island. So for Oliver to regain his killer instinct to be able to take down Ra's al Ghul, Merlyn freed Slade so he could learn to survive and kill. This is challenge both Oliver and Thea to see if they can work together.
Oliver spies on Thea as she visits his and her father's gravesite. Tommy (Colin Donnell) seems to have taken on the role of brother watching over Thea and warning her off a drug sale. It's great to see Colin back in the flashback episodes as Tommy.
Slade finds Oliver and Thea and knocks them out and takes them back to his prison cell. Slade still has his vendetta against Oliver because of the death of Shado. He also tells Thea that her brother is keeping things from her.
Oliver breaks into Queen Consolidated at night looking for the firm's computer for the information on their database. Oliver comes across a private file on Robert's computer and downloads the data. He is nearly caught by Felicity who babbles on saying a photo of Oliver is cute. Oliver goes to check out Tommy's party. Tommy isn't happy that Thea gatecrashes his party. She buys some drugs from her dealer. Oliver approaches the drug dealer and tells him to stay away from his sister, but as he recognises him, Oliver kills him.
While Thea and Oliver are trying to figure a plan to escape the prison, Thea wants him to stop lying to her and open up to her. She can tell when he keeps things from her now since she learnt his secret. They find a way out of the prison as it was meant for small people. Oliver dislocates Thea's shoulder which enables her to reach the cell's release button for them to escape.
Back at Tommy's party, Lance is investigating the death of the drug dealer. Lance is out of control with the death of Sara. Maseo finds Oliver at the party and makes him leave. Oliver wants to leave the mission and get away from Waller. He wants to be with his family.
Oliver and Thea run to the plane drop off point to intercept Slade except Thea runs and trips a booby trap. Oliver gets struck and pulls out the stick. Thea is like "what kind of psyche would put that there" to which Oliver answers "me". Thea keeps bringing up Sara to which Oliver is avoiding the answer. He finally tells her that Merlyn killed her by using someone under the influence of a drug so she wouldn't know what she was doing. Oliver tells Thea that she killed her. Out of nowhere Slade puts a gun to Thea's head. She gets out of the headlock only for Oliver to fight him but because of his injured arm he struggles.
Thea has a gun on Slade and wants to kill him. Oliver doesn't want her to kill him as it will be on her for the rest of her life. He doesn't want Merlyn winning to prove that they are killers just like him. She fires the gun at Slade but it is only a flesh wound. She cannot kill him. Slade is put back in his cell in purgatory. Slade tells Oliver that he has lost his parents and now his sister to the darkness. He also mentions that maybe the girl with the glasses, Felicity he will lose which infuriates him. The door is shut.
Back in the past, Oliver goes back to the family home at the mansion. Oliver finds a tablet and plays the video he downloaded with his father message that he failed his city. He explained the book and the list of the people in it. He wants Oliver to save the city.
China White goes to meet with her buyers to sell the Omega bio weapon. Maseo is caught but Oliver arrives in time to stop the sale.
Oliver wants his freedom now that the mission is complete but Waller says it is not up to her. General Matthew Shrieve (Marc Singer) wants to debrief Oliver back in China and then he can go anywhere he wants in the world. Tommy bumps into Laurel and asks her out for dinner as she leaves CNRI. Obviously, not taking the job in San Francisco. This is the beginning of their relationship. Thea goes and places flowers on her father's and Oliver's gravesite.
Back in the present Lance goes to visit Sara's gravesite. Laurel goes to find him and tells her that Dinah already knows about Sara's death. He is taking it hard. He has figured out that Laurel is the Black Canary. He is upset that Laurel broke their trust to each other by keeping this secret. He is ready to start drinking again when Laurel suggests they both go to an AA meeting.
Oliver and Thea arrive home off the island. Oliver doesn't want Thea to tell anyone that she is the person that killed Sara especially Laurel. Merlyn is unhappy that Oliver told Thea that she killed Sara. Thea trusted Merlyn and let him into her life. She will work with Merlyn to stop Ra's and be his soldier but will never be his daughter. That is a sting to Merlyn.
Twitter: @TheVRO
Facebook: Variety Radio Online
Tumblr: Variety Radio Online