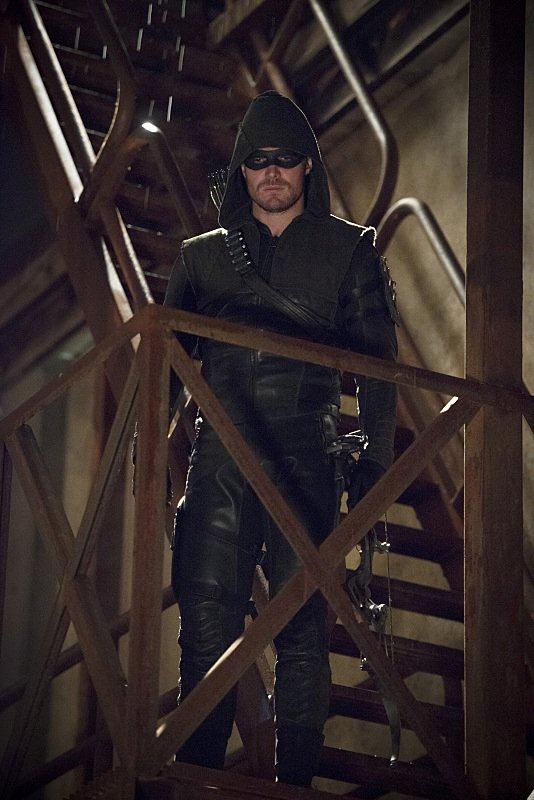 By Anna (@traveller15)
Oliver contemplates Ra's al Ghul's offer and returns home to a new villain terrorizing Starling City. Laurel and Nyssa reflect over their issues with their fathers and Thea has to come to terms with Oliver rescuing Merlyn.
On the island of Nanda Parbat Oliver tells Ra's al Ghul (Matt Nable) to kill him that he will beg for the freedom of Diggle and Merlyn. Ra's al Ghul wants Oliver to be the next head of the League of Assassins. They walk through the training room to show Oliver the men training who are willing to die for Ra's and Oliver asks if this is all to impress him but it is to inform him. Ra's tells Oliver that he fights within himself because of his dual identity of being Oliver and the Arrow, that he is destined to be alone, cannot have the woman he loves and the city will turn on the Arrow as the vigilante.
Ra's al Ghul shows Oliver the Lazarus Pit in which has prevented him death over the thousands of years, but it is now losing its effect on his life. Ra's wants Oliver to take over the world instead of looking after one city and tells him the benefits of taking over his legacy. Oliver wants to know what happens when he says no. He lets Diggle, Merlyn and Oliver leave as a sign of goodwill with all debts forgiven. They go home.
Back at the lair Thea is trying to convince Nyssa (Katrina Law) that she killed Sara under the influence of being drugged. Thea wants Nyssa to kill her but Nyssa says the blood debt will be paid once Merlyn is killed. Laurel and Roy race into the lair to protect Thea from Nyssa. There is a fight and Roy tranquilises Nyssa to lock her up again.
Oliver goes home and takes Merlyn back to the loft. Thea is pleased to have Oliver home but not that Merlyn is still alive.
Oliver heads off to Verdant where he meets Diggle. Diggle wants to know why Ra's al Ghul had a change of heart and let them go. Down in the lair the Arrow Team is pleased to see Diggle and Oliver home. Felicity is not happy as to why Oliver saved Merlyn. Oliver frees Nyssa and tells her to go home. Oliver is not divulging what really happened. He reminds the Arrow Team that someone needs to be watching over the city. So Felicity checks for any crimes and finds a shipment of something worth a lot of money being targeted. The Team suit up.
Our first flashback in Hong Kong has Oliver looking after Akio. He tells Oliver about the botanical gardens that if he ever got separated from his parents he should go there to wait for them.
At a warehouse criminals are after a diamond shipment. Arrow and the Team arrive to prevent some of the shipment being taken. Canary gets caught with a speeding van and Arrow saves her. Arrow tells her that she still needs training. Arrow delivers some of the men to Lance and asks for him to get a name from them. Unfortunately, Lance does not want anything to do with the Arrow as he didn't tell him about his daughter Sara being dead. Lance trusted the Arrow and now he sees him as person who tells lies and keeps secrets and doesn't have to worry about the weight of his decisions. So Lance is done with the Arrow.
Felicity and Ray flirt with each at his office while working on the ATOM suit. They are interrupted by a visit from Oliver who has come to see Felicity. Felicity tells Oliver that she should of told him about Ray and her but Oliver tells her that she doesn't owe him anything. She doesn't believe that as she tells him that he is one of her closet friends. Oliver wants Felicity's help with a new crew of criminals with one of the men has his lips sewn shut. She replies "only I knew I had that option". Her search finds that it is Michael Amar aka Murmur (Adrian Glynn McMorran). Oliver also tells Felicity about the Arrow's meeting with Lance in which he told him to go to hell for not telling him about Sara's death. Felicity tries to console him about Lance and her Ray thing and Oliver walks away.
Thea gets a visit from Laurel at the Loft to check on her. Thea is so messed up because of Merlyn that she was willing to sacrifice herself to Nyssa and she wants to kill him. Laurel tells her not to. After Laurel leaves Merlyn tells Thea that he loves her even though she has a knife wanting to kill him. All Thea wants is for Merlyn to stay out of her life.
Nyssa arrives home on Nanda Parbat where she wants answers as to why Ra's al Ghul let Merlyn live. Merlyn was released as a gift to Oliver Queen in advance for becoming his heir. Nyssa is unhappy with this as she thought she would be the heir. Ra's overlooked his own daughter because of her weakness of having a relationship with Sara.
In the lair Diggle, Roy and Oliver are working on the case as to why Murmur wants diamonds. Diggle would like Felicity to help but Oliver says she is occupied. Roy goes to ask some of his fences about the diamonds. In the meantime, Diggle wants to know what is going on with Oliver. Oliver tells Diggle that Ra's predicted that the city would turn against him, he would die alone, Lance shuts him out and he sees Felicity with Ray. Oliver tells Diggle that Ra's wants him to take his place in the League of Assassins and let them go as a sign of good faith. Diggle hopes that Oliver is not considering this offer. He is considering taking the offer of Ra's al Ghul as he has doubts that he or the Arrow has accomplished anything for the city.
Oliver goes home to still see that Merlyn is alive even though Thea has wished him dead. Thea is trying to reflect on herself before Moira died and Merlyn came into life and she cannot recognise herself. She didn't kill Merlyn because of her mum but she feels there is something broken inside of her. After Thea leaves, Merlyn asks Oliver why Ra's al Ghul let them go without conditions, to which Oliver advises him of the Offer to take his place. Apparently, the prophecy is that the man who does not perish at the sword of Ra's al Ghul will become Ra's al Ghul. Merlyn tells Oliver that he does not have a choice.
Oliver takes Akio to the botanical gardens where he realises that ARGUS men are waiting. They run into the market place where they bump into Shado.
Oliver asks Felicity to meet him at the lair and she tells him that just because Ray and she are something it won't change her commitment to Arrow. She knows about the offer from "evil incorporated" and that Oliver is considering it. Felicity in her usual way tells Oliver that all his sacrifices over the years are not for nothing and that he has accomplished things and he can't keep running away. Felicity tells Oliver that they are not together because it was his choice. I'm sure if he asked her to be with him she would go back, the feelings are still there. She tells him that the Team had to make choices as to why they continued and Oliver has to make a choice. They get interrupted by Diggle and Roy who find out why Murmur wants the diamonds to make diamond tip bullets to go through police armour. They suit up. Felicity calls Lance to warn him but he rejects the call.
Laurel goes to visit her father and he gives her the cold shoulder. Lance cannot forgive Laurel for the lies. The police precinct is attacked by Murmur and his men. As Laurel is about to be taken out, Nyssa arrives to help. Murmur tries to kill Lance but the Arrow puts an arrow in his shoulder and is taken into custody.
Back at the lair Oliver thanks Felicity and tells her that she was right. Oliver is not ready to give up what the Arrow Team is doing for the people of Starling City. Felicity tells Oliver that she knows he always wants her to be happy and as long as he is her life she is. There is still that spark between them. They get interrupted by a phone call from Ray which she takes.
Laurel leaves the police precinct and Nyssa is waiting for her outside. Nyssa wants to talk about their respective fathers and offers to teach Laurel to fight.
Oliver meets Maseo to tell him that he will not be taking up the Offer. Maseo says there will be consequences by not accepting the Offer as Ra's al Ghul as planned out the path and he does not accept no.
An upset Thea goes to visit Roy at his apartment. She kisses him and it looks like they may be rekindling their relationship.
So Ra's al Ghul impersonates the Arrow and kills Murmur's men. He allows one of the criminals to escape so that he can spread the word that the Arrow is back to killing. This plan seems to be a way of making Oliver's destiny come true that the people of Starling City will turn on the Arrow forcing him to be alone and his crusade to death. This is definitely a way to have Oliver change his mind and take over as Ra's al Ghul or can Oliver defeat him?
Twitter: @TheVRO
Facebook: Variety Radio Online
Tumblr: Variety Radio Online