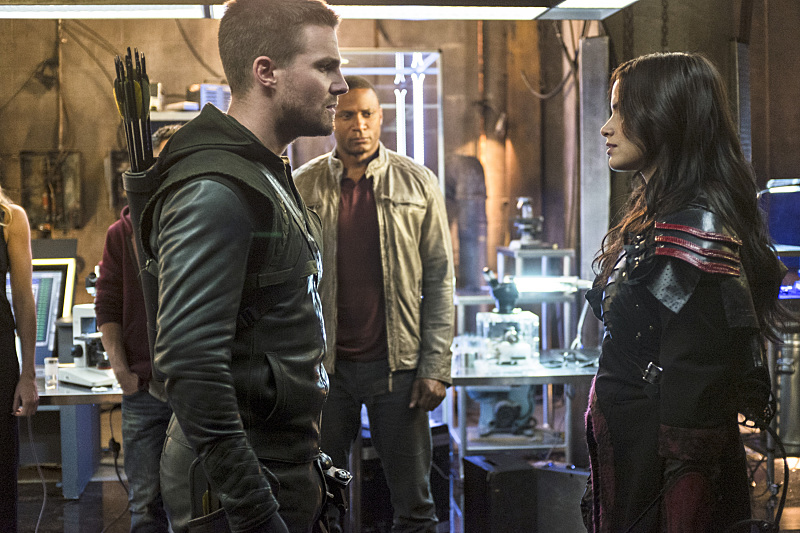 By Anna (@traveller15)
An angry Nyssa al Ghul comes to town seeking answers to Sara death and Oliver learns that Malcolm Merlyn is alive. Oliver and Roy are also trying to repair their relationship with Thea.
We begin this episode where we left off last week with Nyssa (Katrina Law) holding her bow and arrow to Oliver in the Foundry looking for Sara. She realises that Sara is dead and Oliver tells her he is so sorry and tells her where she is buried. Oliver gets Roy to follow her as he believes she knows something.
Oliver goes to meet Thea for dinner. We find out that Thea is not so broke like her brother and she has investors who are going to help her buy back Verdant. Oliver notices that Thea seems changed, stronger and is trying to work out what is so different. She wants him just to be her big brother.
Our first flashback is in Hong Kong. Oliver is following his target who Waller wants Oliver to take out. She certainly is training him to be an assassin!
Nyssa visits Sara's grave where she finds Laurel. Laurel doesn't accept Nyssa's condolescenes. Nyssa notices that Laurel is wearing Sara's jacket which she gave to her as a gift and says she is not fit to wear it.
Roy follows Nyssa to a safe house where he lets Oliver know her whereabouts. Oliver goes to see if she is ready to talk. The safe house was Sara's when she was in Starling City. Sara was in Starling City for the League on whispers that a member of the League was in town. Oliver is learning that Malcolm Merlyn (John Barrowman) is alive.
Nyssa explains to Oliver, Diggle and Roy that Merlyn was a member of the League of Assassins and her father released him on the understanding that he would abide by its code of conduct. When Merlyn was killed in the Undertaking the matter was settled. Sources have since found out that Merlyn is alive. The League is now hunting down Merlyn. Sara had taken photos of Merlyn. She also had a blank piece of paper in her boot which can only be read by putting a flame under it to read. The note is written in ghost ink which reads "Jansen" and "Dad help?" They need to find out if Sara found out anything from Lance.
Laurel goes to see her father at SCCP to get information on Jansen. Of course, Sara did see her father to get information. Nyssa arrives. Nyssa realises that Lance doesn't know about the death of his daughter and that Laurel wants it kept from him. Lance greets the girls and notices that there is friction between them and Nyssa tells him that Sara misses him very much. Nyssa is only in town for justice.
The Arrow team and Nyssa go to Jansen's last known address at a Buddhist temple. Diggle finds Jansen's burial plaque. The person in the temple is none other than Malcolm Merlyn. Nyssa tries to kill Merlyn but he gets away. But before he got away Oliver hit Merlyn with an arrow in the shoulder laced with a particular nano technology to they could trace him.
Back at the Foundry, Laurel is waiting for the Arrow Team. They believe that Merlyn killed Sara. Laurel is unhappy that Oliver didn't kill him. Oliver isn't a killer anymore and will not break his vow. Laurel wants revenge. Roy goes to watch over Thea in case Merlyn contacts her. Diggle assumed Felicity is running the tracer from remote but she told Oliver an idiot could run it. Diggle will try very hard not to take that personally.
In Hong Kong, Oliver locates his target and kills him. He takes his keys which has a USB stick attached to them.
Nyssa promises to Sara and Laurel that she will avenge her death before Oliver gets to Merlyn.
Roy finds Thea at Verdant cleaning up for reopening and offers to help.
Diggle locates Merlyn at an air-conditioning factory so Oliver goes looking for him. The air conditioning factory is empty. Merlyn was on to Oliver's tracer. He wants to meet with Oliver at Nelson Plaza in a public place. So Oliver goes to meet Merlyn. Merlyn knows his city and knows that Oliver is not killing people these days but Oliver is considering making an exception. Merlyn says why would he kill Sara if he has a bounty on his head and wants to get it lifted if he killed the love of his daughter's life which is illogical. It is all a co-incidence that he is in town with Sara. Merlyn came back for Thea. Oliver doesn't believe Merlyn and they have a heated discussion. Merlyn swears on Thea's life that he is not Sara's killer.
Oliver meets Thea for coffee where he wants to keep their relationship free of lies. He tells her that he thinks Moira was trying to tell them that Merlyn was alive. Thea doesn't let on that she knows he is alive. Oliver is still concerned for her and notices she is acting strange. It is now role reversal where Thea is keeping lies.
At the Foundry Oliver tells Nyssa that he believes Merlyn is not the killer as he swore on his sister's life because she is Merlyn's daughter. Diggle wants Merlyn dead as it the world would be a better place and Nyssa can do it.
Back in Hong Kong at Maseo's house, Oliver is not happy that he had to kill a man and doesn't know the reason why. Oliver has a conscious which is a burden to him and Maseo wants him to concentrate on his missions then no-one will get hurt in his family. Oliver brides Maseo's son for the use of his laptop. The USB stick has something on it that has Oliver wanting to meet Waller. Maseo is to set up a meeting telling her "Ferris Air, Flight 637, she will know what it means".
Nyssa tranquilisers Roy and kidnaps Thea outside of Verdant.
Merlyn goes looking for Thea at home where he notices smoke on the distance buildings. Nyssa is sending Merlyn a message.
Laurel finds out that Thea is Merlyn's daughter. She helps Oliver find the whereabouts of Nyssa so Oliver can go find Thea. Nyssa has Thea hanging upside down so Merlyn will come to rescue her. Nyssa says that "her father maybe the demon but Merlyn is the devil". Arrow comes to release Thea. Oliver and Nyssa fight as they totally disagree. Merlyn arrives for a conversation to clear the air. We have Nyssa fighting against Oliver and Merlyn. Nyssa wants Oliver to kill Merlyn even though he has plenty of blood on his hands but none of it Sara. Oliver says to Merlyn he is still a killer even though he didn't kill Sara. Oliver cannot break his vows to kill him.
Back at the Foundry a disgruntle Nyssa socks Oliver in the face. Oliver will honour the memory of Sara by finding the real person who killed her. Oliver tells Nyssa that while Merlyn is in his city the League will not make any move on him and puts him under his protection. Oliver has just made an enemy with one that has a long memory. Felicity arrives back at the Foundry after missing everything returning from her visit from Central City.
Amanda Waller makes a trip to Hong Kong which she hates, to meet after being summoned by Oliver. Oliver wants to know Ferris Air Flight 637 why he prevented that flight from being shot down over Lian Yu. Waller had being watching Oliver via satellite on the island to see if he had the capabilities she needed. He wants to know about Fryer's handler who worked for Waller. Fryers believed he was shooting down the plane to destabilise the Chinese economy but it was to take out one woman. Waller was not happy that Oliver stopped her from being killed and now she is in Hong Kong and Waller needs to know why.
Nyssa goes to say goodbye to Laurel who is working out at the Wildcat gym. She promises to makegood on her promise to revenge Sara's death. Nyssa tells Laurel to turn her hips as that is where the power comes from.
Lance is trying to phone Sara and leaves a message on her cell phone so he can hear her voice. Lance misses her. He will have to find out eventually she is dead.
Oliver finds Thea in Verdant to see if she is ok. Roy checks up on Thea as well. Thea offers Roy a job as assistant manager. Merlyn calls in to see if she is ok. She is grateful that he is taking care of her and tells him that Oliver doesn't know anything.
Nyssa arrives home back on Nanda Parbat to tell her father, Ra's al Ghul, that Merlyn is still alive and Sara is dead. We have our first glimpse of Ra's at Ghul (Matt Nable, another Australian). As Oliver is protecting Merlyn he has now court war with the League.
Twitter: @TheVRO
Facebook: Variety Radio Online
Tumblr: Variety Radio Online