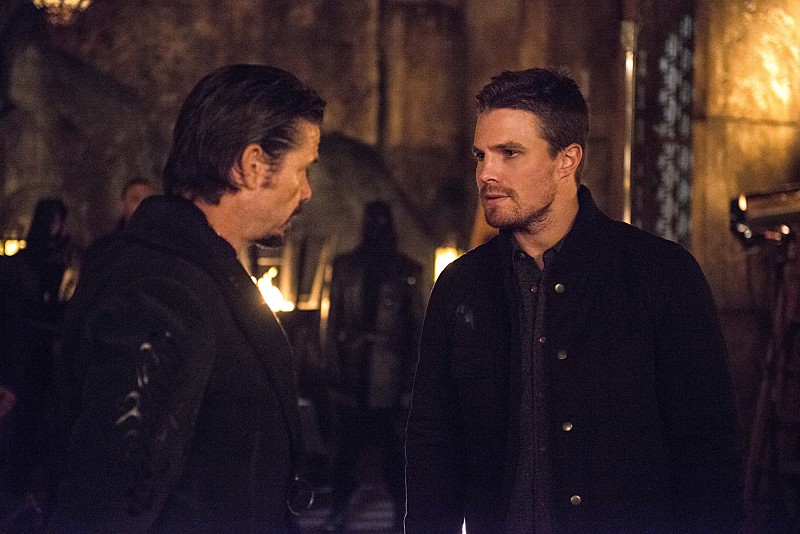 By Anna (@traveller15)
Oliver and the Team make the journey to Nanda Parbat so Oliver can take the offer he can't refuse. This is also the episode we have been waiting for with Oliver and Felicity finally admitting their love for one another.
We left Thea lying on the floor of the Loft in a pool of her blood from the sword of Ra's al Ghul. Oliver arrives home to find barely alive. He calls 911 and she is rushed to emergency at the hospital. A distraught Oliver watches on as the doctors try to save her life. Oliver is given the choice to take her off life support. Merlyn arrives to see his daughter lying dead.
Our first flashback in Hong Kong where Oliver, Tatsu and Maseo are at the location where General Shrieve has the Alpha Omega bio-weapon armed, ready to be released and loaded onto a truck. Oliver steals a car to follow the truck.
Felicity and Diggle arrive at the hospital to find an upset Oliver. Ra's has sent a smoke plume message to Oliver. He has no more plans, Ra's has won and he goes in search to find Maseo on the rooftop to accept the offer.
Oliver packs his bags to leave for Nanda Parbat to save Thea's life. Diggle and Felicity try to talk him out it as they don't believe there is a way to do it. Merlyn confirms that there are waters there for over 100 years which have allowed Ra's to live and will restore the dead to life. Oliver says that the Lazarus Pit is real and he can save her life but at the cost of taking up Ra's Offer. Merlyn says the waters change a person's soul and Thea will not be the same person as we know her.
Felicity says she is going with Oliver has he will need someone to help bring Thea home. They need a ride to Nanda Parbat.
Felicity goes to Ray for a favour. She wants his jet. Ray tells Felicity that when he saw her with Oliver he realised that she does not love him but she is in love with Oliver. Even though they just broke up, Ray lends the jet to her.
The Team head to the jet with Thea. Merlyn does not want Thea to be subjected to the Lazarus Pit and for Oliver to go to S.T.A.R Labs and see if they can bring her back to life. On the jet Felicity and Oliver have a heart to heart talk. Oliver tells her that he was not away from Starling City all of the 5 years and that he had come back to the city during his stay away and found Thea on drugs and killed her dealer. He has always wanted to protect her then and now. He believes he has failed.
In Hong Kong Oliver, Maseo and Tatsu go after the army truck with the bio-weapon. Oliver manages to get on the truck and take out the soldiers. Unfortunately, they have been tricked and the bio-weapon is not in its case.
The Team arrive on Nanda Parbat with Oliver carrying Thea to which they are greeted by the League. Ra's was expecting them. He greets Oliver "welcome home Al Sah-Him". Maseo takes Thea from Oliver's arm to prepare her for the ritual. Maseo shows Diggle to his room and Diggle tells him that the League men are not powerful, he sees them as running for their lives to escape. Maseo tells Diggle of his path life when he son, Akio, died and asks if his son would be proud of him.
The ritual is conducted by a high priestess ( Francoise Yip). Oliver, Merlyn, Diggle and Maseo lower Thea into the waters of the Lazarus Pit. All a sudden Thea jumps out of the water attacking Merlyn. She is sedated. What effects will the water have on her wellbeing? As Ra's has fulfilled his end of the bargain it is up to Oliver to make peace with his now. Thea awakens with no memory of Oliver but knows Merlyn. She stills thinks her mum is alive.
Felicity is taking charge and she does not want Oliver to give up his life and she will do everything she can to prevent it. She storms in and confronts Ra's in the Lazarus Pit chamber to tell him that it is wrong of him to force Oliver to take up the Heir to the Demon. She has guts standing up to him. Felicity tells him that she will not stand by and let him take Oliver. Ra's tells Felicity a story of his family that he was given the choice to leave without saying goodbye or stand and watch them being tortured and killed and so he left without a farewell. Ra's tells Felicity that she needs to say goodbye to Oliver and tell him that she loves him before Oliver will be lost to her forever. So Ra's push urges Felicity to go to Oliver. Once Oliver becomes the Heir his memories will be lost.
Felicity goes to see Oliver in his room. Oliver has been struggling all this time of who he is since the Gambit went down. Being the next Ra's al Ghul is not going to solve his problem of who he is? He believes that everything he has done in his life has lead him to the moment of being on Nanda Parbat and what was it all for. Felicity confesses her love to Oliver and that he has opened up her heart. They start to passionately kiss and Oliver carries her to the bed where they romantically make love. They are finally together.
We then head back to Hong Kong where there is no sign of the bio-weapon. Tatsu gets its whereabouts from one of the soldiers where it has been put in one of the food carts in the marketplace. The three on them go after it.
After spending time together Felicity says "that happened" to which Oliver says "I'm glad it did". Finally they both have admitted their love for one another. Felicity pours some alcohol for the two of them. They toast to us. Felicity drugs Oliver as she can't lose him, she won't and they are going to take him back home. Diggle and Merlyn don't know how they are going to get him out without Ra's finding out. Felicity tells Merlyn that in the movies in the scary fortress there is always a secret exit. Merlyn says the catacombs have an exit. They rush to get out but the League men intercept them. Maseo decides to help them escape. Their luck runs out when they come across another lot of League men who has them surrounded. Oliver awakens from the sedative and tells the men that he is Al Sah-Him, Heir to the Demon for them to obey. Oliver walks Diggle, Merlyn, Thea and Felicity out so they can leave. He says his farewells. Oliver tells Diggle that he is the best man he has ever known and he is his brother. A wonderful bromance. Lastly, Oliver says to Felicity and thanks her for trying to save him that she once told him that life was precious and that she wanted more than he could offer. He will only survive if he knows that she is living her life happy. They don't say goodbye but just kiss. A tender farewell when they only just found each other to be torn apart by Ra's.
Back in Starling City Thea awakens in the Loft with her memories coming back. Merlyn explains to her that Oliver traded his life for her and joined the League. Merlyn wants to take care of her.
Felicity goes to see Laurel in her office and tells her that Oliver joined the League and won't be back.
Ra's is not happy that League blood has been spilled which is punishable by death and Oliver let his friends leave. Ra's would have them killed but as Oliver is staying to honour is agreement no-one close to him is to be harmed. Maseo admits that he betrayed Ra's by striking down his own men. He spares him for Oliver's transformation. The transformation must extinguish Oliver Queen's memory.
In the marketplace Oliver finds the bio-weapon which is about to be released. They cannot stop the men and the vial mashes to the ground releasing it.
Oliver prepares for the ritual and has to forfeit his past life and his identity in the name of something new. He is branded to remove all memories with the mark of the League. Oliver Queen is dead and soon to be reborn as Ra's al Ghul, but for now only the Arrow remains Al Sah-Him.
Twitter: @TheVRO
Facebook: Variety Radio Online
Tumblr: Variety Radio Online