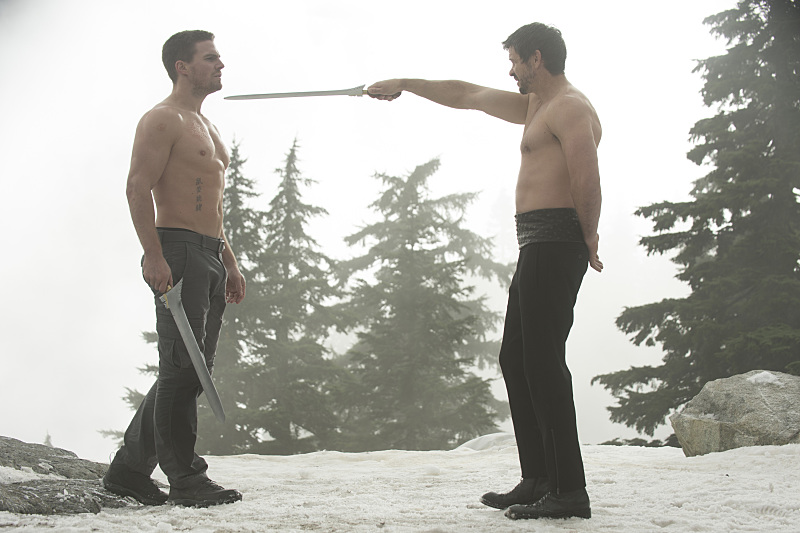 By Anna (@traveller15)
Oliver prepares himself for a dual with Ra's al Ghul to save his city.
We begin with Oliver Queen climbing a snow cap mountain. 48 hours earlier the Arrow leaves Quentin Lance a criminal for a Christmas present. As Arrow leaves he is attacked by men who he believes is Malcolm Merlyn and his archers only to be taken by the League of Assassins and brought to Nyssa. Oliver comes to and Nyssa (Katrina Law) confronts him to say that her father has given him every opportunity to find Sara's killer and his patience has sworn out. Oliver has 48 hours to find the killer or the citizens of Starling City will see what the League of Assassins is capable of. Maseo who trained Oliver in Hong Kong is now part of the League of Assassins.
Laurel visits Sara's grave to wish her a Merry Christmas. She bumps into Thea who is visiting Moira's grave. Laurel confides in Thea that Sara is dead. She asks her to keep it a secret and to not tell Oliver.
At Palmer Technologies Ray (Brandon Routh) visits Felicity in her office which she seems angry with him. Ray asks if it has to do with the kiss. Felicity wants to move on as if it never happened and continue to be professionals.
Our first flashback in Hong Kong is when Oliver arrives back at Maseo's home. He is coming to terms with torturing his first victim to get information on a bio weapon called OMEGA. Maseo and Oliver go to Thkh Bioteck to find OMEGA but it has already been taken.
Oliver tells the Arrow team the threat to Starling City from the League of Assassins if Sara's killer is not found. At this stage Oliver does not have a contingency plan. Caitlin phones Felicity to let her know the results of the DNA samples. Felicity runs it through the criminal data base and it comes up with the identity of who killed Sara – Oliver Queen. Someone is setting up Oliver against the League of Assassins by using his DNA from his time when he was a vigilante. He suspects Malcolm Merlyn.
Dinah Lance (Alex Kingston) is in town for the holidays. Lance thought it would be a nice surprise for the whole family to spend Christmas together. Laurel lies about Sara's whereabouts and that she is backpacking through the Andes.
Felicity finds evidence that Merlyn was involved so Arrow and Arsenal pay a visit to the pilot who flew Merlyn to Starling City. He hands over security footage which shows Merlyn and Thea on the same plane. Diggle suggests that it could be Thea's DNA and that she killed Sara. All evidence leads to Thea.
Through the episode we have flashbacks of Oliver climbing the snowy mountain.
Ray calls Felicity as he wants to talk to her. He pinged her phone to find her location at Verdant. Ray apologies to Felicity and tells her that he felt guilty for kissing her as his fiancée, Anna, was the last person he kissed who was killed by the Mirakuru men when the city was attacked in the Undertaking.
Oliver goes home to see Thea to find out about Merlyn who he knows she has seen. She denies being with Merlyn.
In Hong Kong they kidnap the inside man who stole the vial. Oliver interrogates him for information.
Laurel tries to hide the truth from her mum about Sara. Dinah knows that she is hiding something from her and figures out she is dead. Laurel tells her that she cannot tell anyone not even Quentin.
Ra's as Gul (Matt Nable) trains with his men and slaughters them all. Nyssa returns to her father at Nanda Parbat and is told to go back to Starling City as the killer has not been brought forward to be merciless and teach Oliver Queen that he only asks once.
At the Foundry Diggle tells Oliver that he has a blind spot when it comes to his family and that Thea could have killed Sara. Oliver doesn't want to believe it. Felicity says he shouldn't be the one asking questions. So the Arrow pays Thea a visit to question her. To his surprise Thea defends herself and tells him to stay away from her and her father and jumps from the balcony.
Malcolm Merlyn pays Oliver a visit at Verdant after Thea contacted him about the Arrow's attack on her. Merlyn reveals via Oliver's cell phone a video of Thea killing Sara. He blackmails Oliver for Thea's and his life with the League of Assassins. Merlyn drugged Thea to do his bidding. This way he has given Oliver incentive to say he killed Sara and by right he will be given a trial by combat with Ra's as Ghul and his death will erase any blood debt including Thea and Merlyn. Will Oliver kill again to save his sister?
Oliver blames himself for letting Merlyn make Thea a killer. The Arrow team are there to consol him. Oliver believes he can do this as there was a time he didn't know what he was fighting for but now he does, Thea's life.
The interrogation is getting no information. Maseo realises that he must have been drugged with a mind control substance. China White goes looking for Maseo at his home. Tatsu and China White fight with swords. Maseo arrives home to find that China White has kidnapped her.
Oliver meets with Nyssa and is taken to her father. Oliver confesses to Ra's that he killed Sara. Oliver challenges Ra's to a trial by combat. It apparently has been 67 years since Ra's has been challenged and the challenge has been accepted. Maseo gives Oliver details of where the challenge will take place. He knows that Oliver did not kill Sara. The blood debt is to take place on consecrated ground on a mountain of the League if Oliver survives the climb. He has 12 hours to finalise his personal affairs.
Laurel takes her mother to Sara's grave so she can say her farewells. Laurel tells her mother that she is going to find Sara's killer and make them pay and her mother wants them to suffer.
Oliver goes home to say goodbye to Thea. Thea doesn't want to hear things about Merlyn and won't choose between her father and brother but Oliver says he will do no matter what to protect her and says he loves her.
Felicity goes to Ray to ask him why he bought Queen Consolidated and doesn't believe the answer because it was for sale. She tells him her life is complicated and she keeps secrets like Ray would keep. She wants the truth what he is up to. He won't tell her but shows her. He shows her the ATOM suit so he can protect the people of the city and wants her help. She says "why does this keep happening to me".
Oliver is preparing for his journey and says goodbye to Roy and Diggle. Felicity walks in and realises that Oliver is going. Felicity tells him to go and kill him even if he is the most dangerous man who walks the earth. Oliver believes he can win. Felicity is terrified that he won't kill him because of his humanity that he doesn't kill anymore. To win he has to kill Ra's. Oliver knows two things, that whoever he is, he will do whatever it takes to save his sister, kisses Felicity on the forehead and tells her the second thing is "I love you".
Oliver makes it to the top of the mountain. He is greeted by Ra's al Ghul. The fight will take place between the two of them shirtless. (Got to love those abs Mr Amell!) Oliver chooses two swords as his weapons. Oliver says "you have taken your last life" in which Ra's replies "you have lived your last day". So the dual begins. Ra's fights Oliver unarmed until he takes one of the swords. Oliver is no match against Ra's. Ra's stabs Oliver in the chest with his life flashing by and is then pushed over the mountain cliff to his death. OMG did Oliver die.
Hopefully he is found and placed in the Lazarus Pit to bring him back to life. We won't find out to next year.
Arrow returns on January 21, 2015.
Twitter: @TheVRO
Facebook: Variety Radio Online
Tumblr: Variety Radio Online