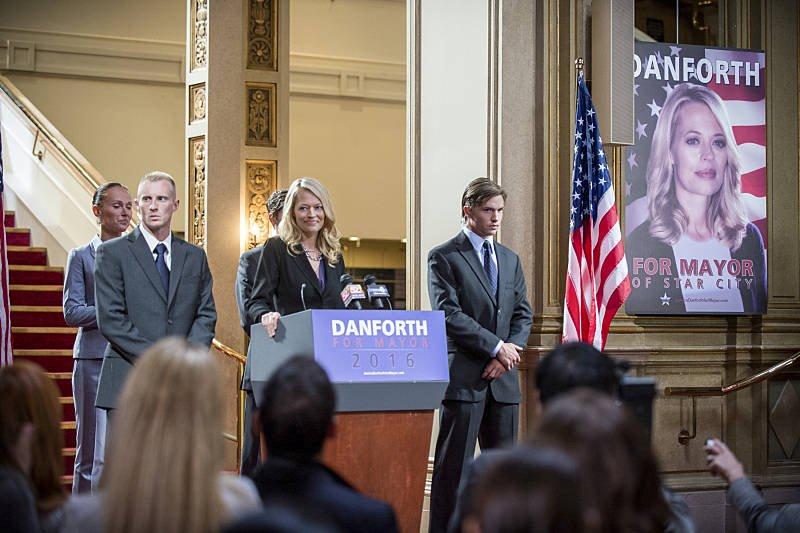 By Anna B (@traveller15)
Darhk continues on his quest to destroy Star City by eliminating the candidacy for mayor. We also learn the effects of the Lazarus Pit on Thea and Felicity new job as CEO at Palmer Tech.
The Arrow Team are out fighting the "Ghosts" and Felicity tells Oliver that she wants a codename as everyone else has one. Oliver just wants her to find the bomb so they can save the city's water supply. The Team reconvene back at the Arrow Cave and Oliver pulls Thea aside to find out why she is so aggressive.
Felicity starts her first day back at Palmer Tech as CEO and is excited to be the boss. Oliver gives her a first day boss fern and a packed her lunch.
Oliver and Thea host a dinner for some old family friends, Jessica Danforth (Jeri Ryan) and her daughter, Madison. She tells them of her plans that if the Green Arrow can take up the mantle she wants to take it up like Moira by running for mayor and help save the city. Oliver and Thea try to persuade her.
Felicity arrives at Palmer Tech to the board meeting where she is given the grim news that for the company to survive its financial difficulties, she must downsize it. Curtis Holt (Echo Kellum) worked an algorithm which came up with the details for the number of people to fire. So Felicity starts the process of firing the employees much to her dislike. She also has to fire Curtis even after he calculated the list.
Oliver and Thea go to Danforth's campaign announcement for mayor. Unfortunately, a man named Lonnie Machin tries to kill her. Machin is working for Darkh. Lance has put her into protective custody. Lance is not forthcoming to Oliver being back in the city to solve the problems.
While Diggle and Laurel stakeout the police precinct where Jessica is being detained for protection, Laurel asks Diggle why he is intense. He tells her about HIVE and that they are connected with Darhk and that they killed his brother.
Thea loses control getting information from a homeless person and breaks his arm. Oliver confronts her about it back at the Arrow Cave and she leashes out on him. Oliver then explains to her what happened to her when she went in the Lazarus Pit that people don't come out the same. Laurel later asks Thea what happened and she tells her that Ra's killed her and brought her back to life in the Lazarus Pit. Unfortunately, the Pit has caused side effects.
Oliver goes to visit Jessica at the police precinct to persuade her to stop running for mayor. She is not convinced as she wants to make a difference to the city. Her daughter, Madison, is meant to be at the library but is kidnapped by Machin. Oliver tries to convince Lance to let him help protect Jessica. Darhk is unhappy about Machin kidnapping as he does not like this strategy but is ok with murder and tells Machin he has only caused anarchy.
Lance goes to see Darhk about Madison's kidnap. Lance wants out working with Darhk, but is threatened him with his own daughter for leverage. Darhk gives Lance the location of where Madison is being held. Lance gives Oliver the location to rescue Madison and tells him if he wants to do things differently for the city this is his way to prove it. The Arrow Team arrives to save the girl from being tortured but Machin escapes using his electrocution stick for a flame thrower at them. Oliver and Thea go after him while Diggle and Laurel take Madison for medical attention. Oliver and Thea locate Machin and the fight between them has Thea setting him of fire with his own electrocution stick. Oliver luckily extinguishes the fire but he is badly burnt and taken to hospital. While on route he kills the paramedics and leaves symbol "anarchy".
Jessica is reunited with her daughter and she has decided to withdraw her candidacy for mayor. She was scared off.
In the flashbacks tonight on Lian Yu, Oliver mission by Waller is to infiltrate the military force which is using people to work as slaves on the island. He over throws a soldier and throws him on a landmine to draw attention. The leader knows who Oliver is and as he cannot leave the island blackmails him to working for them as one of the guards. We next see Oliver with sporting a haircut which is wears in the present day. No more bad wig. At least Oliver being back on the island he has his instincts to survive.
Felicity is upset with having to fire her employees so she re-evaluates looking into Curtis Holt's projects. She convenes a board meeting and tells them that Curtis was looking into something that would revolutionize technology and is going to turn around the company and save it. So to do so she needs to rehire all the employees. Curtis is dumbfounded as to why Felicity says it will astonish the world. She succeeds with convincing the board to proceed with the technology and astonish them in 6 months' time. Little do they know she has no astonishing technology but is relying on Curtis to come up with something?
Laurel decides that it would be a good idea for Thea and her to get out of down to a spa. Oliver and Diggle will look after things as long as they don't kill each other. Oliver says they will be fine, probably. Her plan is to go back to Nanda Parbat to get the League to help her. There is another reason as well.
Oliver goes home to the Loft to find a happy Felicity who has found a solution to her problems. Oliver says he told himself he would do things differently but is not doing enough. He is reminded that Jessica and Lance told him that the city needed something that the Green Arrow cannot offer. Hope, inspiration, someone who can do things in the light who isn't afraid, someone who can protect himself – Oliver is going to run for mayor.
Laurel and Thea go to Sara's gravesite and dig her bones up. Does Laurel plan to put Sara in the Lazarus Pit?
Variety Radio Online – – Bringing you all things Entertainment including News, Reviews and Interviews. Check out our website, like us on Facebook ,follow us on Twitter ,Tumblr and Instagram
//