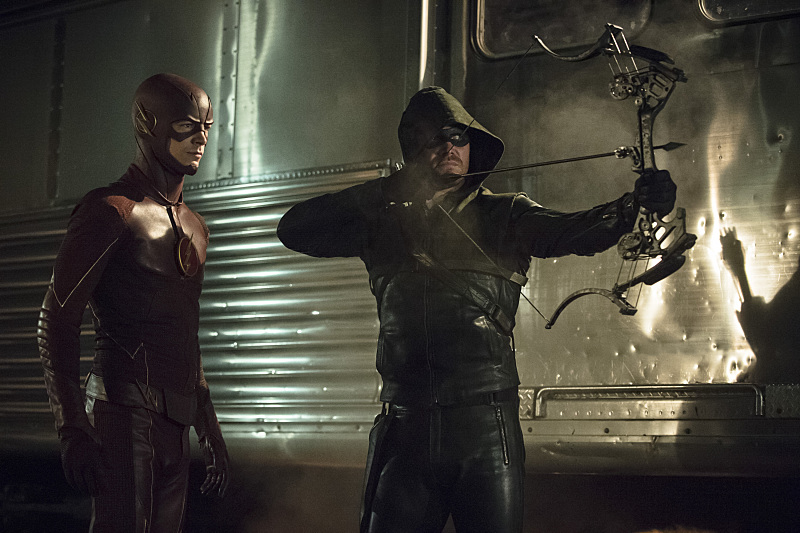 By Anna (@traveller15)
The Arrow Team with the help of the Flash Team track down Digger Harkness to save Starling City.
Diggle, Arsenal and Arrow have found the location of the boomerang killer's house but it is wired to explode. So Arrow and Arsenal shoot arrows into the house to explode the bomb. They are intercepted by an A.R.G.U.S team because the man that the boomerang killed was an A.R.G.U.S agent. They are told to let it go but what do you think "no".
At the Foundry, Felicity finds out details of the A.R.G.U.S man killed. Oliver wants Diggle to get Lyla to find out why A.R.G.U.S is involved. Diggle's responds that Oliver doesn't care about his marriage but, of course, Oliver comments "only if you were still married".
Our first flashback in Hong Kong is with Oliver meeting Amanda Waller who has captured Chang an ammunition specialist. He has planted a bomb in Hong Kong and she needs Oliver to find out the location from him. This is where Oliver will learn about torture.
Felicity is about to leave Palmer Technologies when she has an unexpected surprise visit from Cisco and Caitlin from Central City. They thought they would come and get Sara's DNA sample personally and had vacation time. Actually, Cisco really wanted to see the Arrow Cave and the toys. Cisco is like a little kid when he sees Arrow's equipment. Oliver is not impressed with him touching his things. Roy is like when did we start selling admission to the Arrow Cave. Oliver blames Felicity for the Foundry being given a name. Cisco wants to make improvements to the Arrow's suit. Of course, Caitlin spots the salmon ladder which is Felicity's distraction from work.
Diggle goes to A.R.G.U.S to visit Lyla to get information. She is not forthcoming but he uses his charm by calling her "sweetie" when he wants something. Harkness has infiltrated the A.R.G.U.S building killing several agents with his boomerangs. Diggle calls Oliver so Arrow and Arsenal are on their way. There is a fight scene with Harkness – Arsenal gets knocked down. Just when two boomerangs about to hit the Arrow the Flash arrives to save him. Harkness gets away. Lyla tells the Arrow Team that he is Digger Harkness aka Captain Boomerang (Nick Tarabay) who is a former A.R.G.U.S operative, highly skilled in arts and espionage with a deadly vengeance against his former employers as he was once a member of the Suicide Squad. A mission went sour and Lyla was the one to make the call to terminate the squad.
At the Foundry Felicity and Caitlin are watching Barry use the salmon ladder. Cisco tries the salmon ladder but fails. Caitlin apparently called Barry to help but Oliver won't be happy as he doesn't play well with others. Barry heads off to get sushi.
The Arrow Team bring Lyla down to the Foundry for her safety. Barry flashes back in compromising his identity as he thought Diggle had told Lyla about him to which she is shocked to learn who he is. Oliver pulls Barry aside to tell him he doesn't need his help. Barry tells him that he has been practicing what he taught him about casing environments and not running in blind. Oliver agrees to let him stay. Barry reassembles the boomerang pieces. A Markos made the boomerangs so they need to find him.
Oliver and Barry go to see Lance to track down Markos who was involved in identity theft with the Russian mob.
Arrow, Arsenal and Flash go after Markos with Diggle as backup. Diggle so needs a costume. By the time Arrow gets in the building Flash has tied everyone up. They locate Markos and Arrow puts an arrow in his shoulder and interrogates him about Harkness's whereabouts and he hands over an encrypted phone. Flash drops Markos off at SCPD.
Conflicts are arising between the partnership with Barry and Oliver whereas Barry believes Oliver is torturing for information and Oliver is interrogating. Starling City is not a sunny city like Central City where Barry gets to nickname the criminals. Barry says he shouldn't use his personal tragedies to torture but to Oliver he says "he is not as emotionally healthy as him". Oliver tells Barry if he wants to stay in Starling City he has to work with him on his terms.
Felicity is decrypting the cell phone. There is tension between Oliver and Barry on their difference of opinion. Oliver believes that extreme measures need to be used and Lyla says that sometimes bravery is not enough and that sometimes the world requires people to be bold. Whatever the personal cost. Felicity locates Harkness using A.R.G.U.S's satellite to Lyla's surprise.
Back in Hong Kong Oliver is trying to find out the location of the bomb. He doesn't have it in him to torture. The bomb goes off. Oliver failed.
Once again Felicity is able to decrypt the phone and the team rush off to Harkness's location. Flash manages to tie up Harkness's men except for one which Arrow puts an arrow in him which saves Flash's life. Harkness played Arrow. He arrives at the Foundry after Lyla. Lyla gets hit with a boomerang and needs hospital care. Barry rushes her there.
Felicity, Roy, Caitlin and Cisco goes up to Verdant for some drinks. Cisco and Caitlin realize that because they deal with meta-humans with superpowers it doesn't make what they are doing real whereas Oliver deals with criminals. Oliver blames himself for what happened to Lyla. Oliver opens up to Barry that what he does is ugly and he is trading away small pieces of himself as Oliver Queen. He feels there is nothing left of him but the Arrow. Barry believes it is Oliver's humanity that made him survive and come out at the other end. Oliver is still trying to deal whether he can only be the Arrow and who is Oliver Queen. With everything that he has suffered and gone through he still became a hero and there is a light inside him. We all know that Felicity is Oliver's light.
Felicity has found Harkness at the train station. Flash whisks all the train passengers to safety. Harkness has a contingency in place that he has planted five bombs in the city. It's a race against time for the Flash to reach each bomb before they detonate while the Arrow fights Harkness. The bombs are all linked to each other and need to be defused simultaneously. So Flash grabs Roy, Cisco, Caitlin and Felicity takes them each to a bomb so they can defuse the bombs. Back at the train station Harkness tells Arrow he is weak for not killing him but by not doing so he had his humanity but Arrow couldn't resist to shoot an arrow in his hand.
Lyla pulls through and Diggle asks her to marry him. This episode had such a big issue with Diggle and Lyla not being married. So Lyla says "yes".
Caitlin plans to take the arrow that killed Sara back to her lab to help with the DNA marking.
Harkness has been locked up in purgatory on the island Lian Yu with Slade Wilson. Felicity arranged for a cabinet to be put in at the Foundry for the Flash's suit when he is next in town. If there is a next time Oliver will still be calling the shots. Cisco has a present for Oliver, he made a new Kevlar jacket for him but he couldn't replace the hood because of its value. They all say their farewells but Oliver and Barry have some unfinished business.
Waller is giving Oliver another chance to get information from China White's employee. Redemption to learn to torture in which he has no hesitation.
In an abandoned warehouse the showdown between Oliver and Barry, one has arrows which run out and the other superpowers but Oliver has strategy and tactical awareness. Barry tells Oliver that he can inspire just as much as he can, but not as the Arrow but as Oliver Queen. They are both cocky with each other who would win. We will never know.
Twitter: @TheVRO
Facebook: Variety Radio Online
Tumblr: Variety Radio Online