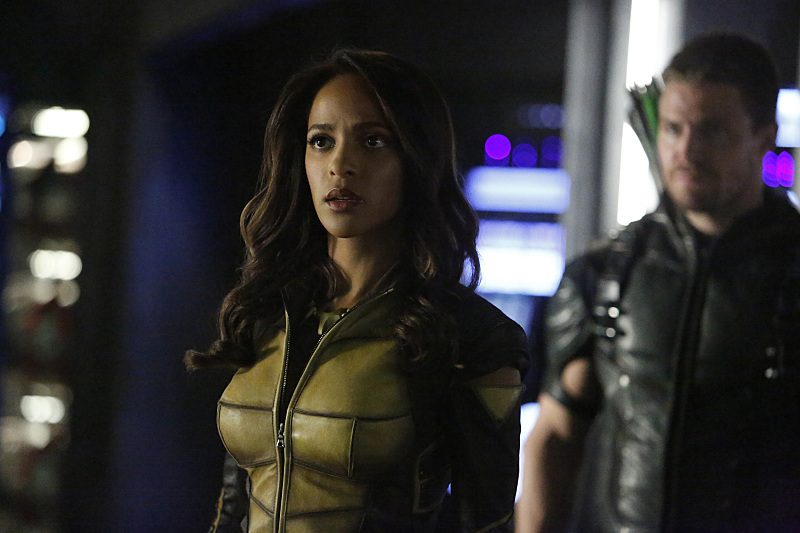 By Anna B (@traveller15)
When Oliver's son is kidnapped by Darhk he calls on an old friend, Vixen to help.
Felicity has had the bio-stimulant implanted into her spine. She is having her first therapy session with the support from Oliver and Curtis' hubby. She stumbles and is not quite ready yet to walk but in time when Felicity heals within herself she will.
Oliver and Felicity are in the parking garage heading home after her therapy session. Felicity is upset that she couldn't walk. All she wants to do is walk down the aisle on their wedding day. They are interrupted by Darhk who comes to inform Oliver that his time is up and to come onboard with him and give up the mayoral campaign. Darkh threatens Oliver and his phone rings which show a video of his son William. Darhk gives Oliver an ultimatum to 6pm on Friday to drop out of the campaign of William dies. Felicity asks who William is, to which Oliver replies "his son".
Back at the lair Felicity is shocked and not happy with Oliver for lying to her again. She doesn't care that Oliver has a child but it's the fact that he couldn't tell her and trust her by telling the truth. The rest of the team is called in to be told about Oliver's son and that Darhk has kidnapped him and will be released if Oliver drops out of the campaign. Felicity is more annoyed when she finds out that Thea, Merlyn and Barry also know.
Samantha Clayton arrives at Campaign Headquarters to see Oliver about her missing son. She doesn't know what Oliver can to do get her son back if CCPD cannot locate him. Oliver in his defense tells her that he is the Green Arrow and takes her down to the lair and introduces her to the Team. They can't go to Constantine are he is literally in hell. Oliver knows someone who might be able to help, Mari McCabe aka Vixen (Megalyn E.K.) who was adopted from Zambesi and inherited a totem where she draws her magical powers from and can take on the spirit of any animal.
Vixen chases some criminals to a warehouse where she kicks their arses like a woman. Green Arrow turns up to ask for her help.
Oliver brings Mara back to Star City to the lair. Oliver says Mari and he met when they had an animated encounter and kept in touch ever since. Samantha gives Mara a toy of the Flash to channel William. Mara sniffs the toy Flash and she tells Oliver "don't you tell Barry anything about this". She gets a location of where William is being held. So the Team suit up and Oliver asks Felicity to sit with Samantha.
Thea goes home to meet with Merlyn who is now missing a hand. Merlyn is not happy that the League has been taken away from him to be given to Nyssa. Thea confronts Merlyn if he told Darhk about William which he denies but said he will always love her as it is what father's do.
As Oliver and Diggle wait on the rooftops of the city for Vixen, Diggle tells Oliver that you keep your children safe by knowing and seeing them every day. Meanwhile, Felicity is trying to track down William. Samantha tells Felicity that she was the one that gave Oliver the ultimatum not tell her about his son and not to blame him. Laurel has her father assist in the police search and tells Lance that he hurts knowing that Oliver has a son. The Team move in on Darhk's men and Green Arrow jumps through a window to find Darkh waiting for him. Darhk still doesn't recognize that Green Arrow is Oliver. Vixen comes in but Darhk uses his magic on both Green Arrow and Vixen. Darhk throws Green Arrow out the window to be caught by Vixen in time. Darhk and William are gone. Darhk moves up the timetable for Oliver to move out of the campaign race.
As Vixen gets her magical powers from her totem and most people she comes up against with magical powers have a totem, Darhk must have something as well. Lance thinks that Darhk has an idle which helps him with his powers.
Oliver holds a press conference to immediately suspend his campaign and throwing his support behind Ruve Adams. Oliver says thank you for Alex for running his campaign but doesn't give him an answer why he gave up.
Vixen investigates in relation to the idle Darhk has in which it is a crucial idle and needs a lay line for it to work. For it to work you need to think Wi-Fi for magic and the idle for internet. Oliver is beating himself up because Darhk has not released William yet. Darhk has a habit of not living up to the end of his bargains just like when he kidnapped Diggle, Felicity and Thea and almost killed them. Vixen tells Oliver when he gets William back to send him away so he doesn't have to know the life Oliver leads for now so he can enjoy his childhood.
So the Team locate Darhk's compound at Sky Woods and are ready to go in and end this. Vixen manages to break in and grab the idle. Darhk still has his magical powers and uses them against Green Arrow, Laurel and Thea. Vixen turns into a gorilla and smashes the idle to disconnect the magic rendering Darhk useless. They save William and the SCPD come in to take him home and arrest Darhk.
William is reunited with Samantha. He doesn't want the Flash toy now as he would rather have a Green Arrow action figure seeming he rescued him. Lance tells Oliver that William said it was a one handed man that kidnapped him.
Our flashbacks on the island have Reiter ready for his crusade to be witnessed to as they enter the tunnel. Conklin has come back to life to guard the tunnel. Reiter leaves Oliver and Tiana in the room to face Conklin but apparently they are both worthy to pass. Oliver's tattoo is glowing. Reiter uses Oliver because of the magical tattoo.
Oliver says goodbye to Vixen and for all her help.
Thea heads home back to confront Merlyn about the kidnapping. Thea lashes out at him saying she wished she never knew she was his daughter. Merlyn tells Thea he would rather have her alive and hate him then her be dead.
At the loft Oliver records a message to William for him to watch after his 18th birthday so he can enjoy his childhood. He tells him that he is his biological father but he is not there for him yet as father's should be with their children every day to love them, to make them feel safe and to rely on him for guidance and reinsurance. Oliver says he hasn't been there for him and the reason is that he is the Green Arrow and his life is too dangerous for him to be in it. So Samantha and William are moving far away so nobody will know where they are going to live including Oliver. This was one of the hardest things Oliver having to say goodbye to his son who he can never be a part of his life growing up.
To make things worse Felicity wants to talk and starts with removing her engagement ring and tells Oliver that she needs space. She tells him that he should have told her that if they were married it is about inclusion and about leaning on their partner when things get complicated. Felicity believes Oliver doesn't know how to do this. As they talk her legs move and she gets up from her wheelchair, stands and walks away out of the loft. Does this mean the end for both of them and their relationship or can they batch things up?
Variety Radio Online – – Bringing you all things Entertainment including News, Reviews and Interviews. Check out our website, like us on Facebook ,follow us on Twitter ,Tumblr and Instagram
//