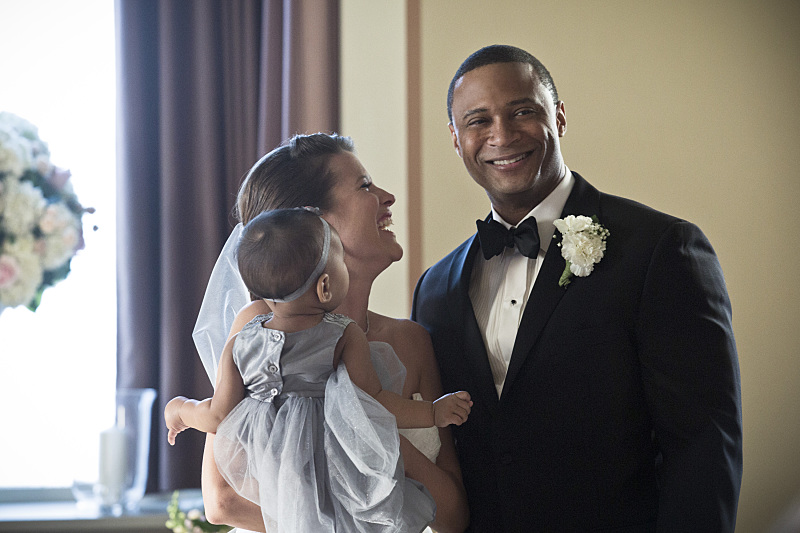 By Anna (@traveller15)
There is a wedding on Arrow as we celebrate the nuptials of Diggle and Lyla but their honeymoon is interrupted by a mission with the Suicide Squad. Meanwhile, Ray finds out who the Arrow is and there is a standoff between Arrow and the ATOM.
The big day has arrived for Diggle and Lyla's wedding. Oliver is late to the wedding missing out on the wedding photos. Felicity arrives with her plus one, Ray Palmer. Diggle tells Ray "if you hurt her they will never find your body". The minister that was to officiate the wedding is called away so to everyone's surprise Ray can officiate the wedding as he is a minister. So the wedding takes place and Diggle and Lyla (Audrey Marie Anderson) are happily married. Laurel comes to the wedding wearing a cast on her wrist from her training with a female friend. Felicity catches the bouquet. You can clearly tell that Oliver is jealous when he sees Felicity with Ray and he still has feelings. Oliver asks Felicity if she is happy with Ray in which she says "very happy". That's all Oliver ever wants for her to be happy, to have a good guy and a normal life. The wedding is interrupted with the Arrow Team's cell phones going off saying the "Arrow returns to killing".
The Arrow Team head back to the lair where they watch Lance give a press conference stating that the Arrow has shot 8 victims. Laurel says the evidence is uncorroborated and that the DA's office will investigate further before laying charges. Ray states at the press conference that he will make available his resources to have the Arrow apprehended. Felicity is shocked and had no idea Ray was going to do this. Oliver tells Diggle and Lyla to go on their honeymoon and enjoy their life. Meanwhile, Felicity and Roy will investigate to find the impersonator as we all know it is Ra's al Ghul behind the attacks as he does not like his offer to Oliver rejected.
As Diggle and Lyla enter their limo they are greeted by Floyd Lawton aka Deadshot (Michael Rowe) who says that the Suicide Squad rides again. At ARGUS, Amanda Waller has a mission for Lyla to extract Senator Joseph Cray who has been taken hostage by Kasnian terrorists with Deadshot and will also include Carrie Cutter aka Cupid (Amy Gumerick). Diggle is going along for the ride to be with Lyla.
At the lair we have a shirtless Oliver (which we haven't seen for a while) training. Roy's intel says there is a drug shipment going down. Oliver wants to handle things on his own without Roy because it is the League.
The Suicide Squad parachute into the Republic of Kasnia. Cupid still has a crush on Oliver but it won't be for long. Diggle wants to get all the hostages out but their mission is to only extract the Senator.
We flashback to a time when Floyd Lawton returns home to his family after the war. His daughter, Zoe, doesn't know his daddy and is scared of him. We actually get to see Lawton with two eyes.
Felicity locates the Evil Arrow (as she calls him) via the satellites on a roof of a warehouse where the drug shipment is going down. Arrow rushes to the location on his bike. Unfortunately, he is too late and the Evil Arrow takes the men down. Oliver arrives only to be greeted by several other men dressed as the Arrow. Maseo arrives who says killing all these men is to persuade Oliver to accept the offer otherwise they will continue. We have the ATOM flying over the warehouse where is does a facial recognition of the Arrow which shows the identity as Oliver.
Felicity goes to Palmer Technologies to see Ray where he tells her he knows who the Arrow is. Oliver Queen is the Arrow! Ray tells her that he knows she is helping Oliver. Felicity tells Ray that he needs to trust her and that Oliver is not a killer. Felicity tells Ray that her feelings for Oliver are over. Really they don't seem to be! Ray cannot trust Felicity as a true partner and rely on her on his mission and be in his life. Ray is going to bring the Arrow to justice.
Back is Kasnia, Deadshot takes out the guards while Diggle, Lyla and Cupid move in.
Lawton is trying to come to terms of being home in a family life. He doesn't relate well with his daughter. He has PTSD and ends up in jail after pulling a gun on his wife.
At the lair Oliver examines the arrows being used which are identical to his. Felicity storms in to the lair and says that Ray knows Oliver's identity. Felicity tells Oliver that Ray has his own mission to protect the city with his super suit and is going to tell the cops about him. Oliver is annoyed with her for not telling him.
At the SCPD Ray is advising Laurel of his evidence against Oliver. Laurel says she cannot use any of his evidence. Ray believes that she is protecting Oliver. Laurel threatens Ray that if he goes to the media with the allegations Oliver could slam a defamation suit against him to leave him bankrupt. Ray plans justice on his own now.
The Suicide Squad rush in to rescue the Senator but he is not willing to go and pulls a gun on them. The Senator staged the hostage situation himself to help with his candidacy for president. As the Senator is about to shoot Cupid, Lawton pushes her out of the way only to get hit in the shoulder. Diggle patches him up. Now Cupid feels she has a crush on Lawton.
Oliver pays Ray a visit at his office to plea his innocence that he is not killing anyone. Ray doesn't believe him. Ray also knows that Laurel is the Black Canary. Oliver tells Ray that he should trust Felicity's judgment but Ray believes that she is too emotionally attached to Oliver to see who he really is. Oliver walks out saying "you have no idea what the city is up against".
The hospital with the hostages has been rigged with explosives and they are surrounded by the mercenaries, outnumbered and outnumbered. Lyla wishes they never accepted the mission fearing for her life and the life of their baby girl that she may never see.
Lawton is locked up in a cell in a flashback of his earlier days where he his offered a job for his skills and will be paid quite well for his talent by HIVE. He accepts the target who we learn is Andrew Diggle.
Oliver goes back to the lair to find an upset Felicity to let her know that Ray is stubborn, untrained and unstable. They have words about their relationship. Felicity feels Oliver doesn't want her to be happy with Ray that it was all talk. She says that Ray wants a true partner, in his work, mission and in his life to be a hero and a human being. Oliver says he hasn't realized yet that he can't have all that. Oliver once again tells Felicity that he can't be with her and also save the city and Ray can't either. Felicity's computer pings that the next target is at the power plant.
At the power plant Arrow and Arsenal go to investigate but it is a trap by ATOM. ATOM takes things into his own hands to take down the Arrow. He knocks Arsenal out and knocks Arrow to the ground. Arrow disarms the ATOM suit and tells Ray to back off. Oliver tells Ray that Felicity chose him and to trust her. Oliver walks away without killing him. Oliver just gave his girl to Ray. As an Olicity fan I so do want them together one day.
At the hospital a fire fight occurs to save the hostages. They save the hostages. Lawton plans to stay behind to cover everyone to freedom so Diggle and Lyla can get back to their baby girl. The bomb goes off with Lawton still on the roof.
Felicity goes to see Ray at his office where he says his ego is bruised. He apologies to her that he now knows that Oliver is innocent and that he trusts her. They kiss and their relationship is back on track.
Diggle and Lyla are back home with Sara. Lawton died to save their lives. Diggle plans to leave Team Arrow so he can be with his family. Lyla resigns from ARGUS.
Felicity heads out from the lair to meet Ray at the Mayor's office regarding the Arrow. Felicity thanks Oliver for proving her right. Diggle is curious to know what he missed. Oliver and Diggle toast to Floyd Lawton.
At the Mayor's office Ray tells Lance and the Mayor that the Arrow is being set up with an impersonator. Laurel tells her father that she thinks he is letting his personal feelings get in the way of his judgment. All of a sudden an arrow comes through the window hitting the Mayor. Maseo is dressed as the Arrow and his next target is Felicity. Did he shoot her or not?
Twitter: @TheVRO
Facebook: Variety Radio Online
Tumblr: Variety Radio Online