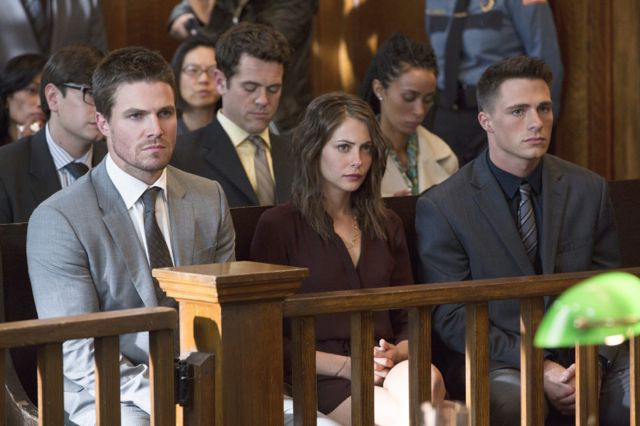 You can listen to Mike 'the movie guy' Pierce and DJ Wicked are back in 2 GUYS AND 1 TV podcast by going here.
By: Anna
This week we focus on the trial of Moira Queen for her part in the Undertaking and the destruction of the Glades. We also have the return of Count Vertigo (Seth Gabel) to liven up the episode.
We begin with a flashback of Moira Queen's press conference when she confessed to her part in the destruction of the Glades to the media.
The Count recovered from his OD on Vertigo and was moved to Iron Heights Prison. During the earthquake his cell door is opened and he escapes grabbing a guard's keys. On his way out he passes the keys to the Doll Maker and leaves the prison through a hole in the wall.
Back in present day, Oliver and Thea are arriving at the Courthouse being swamped by press for their mother's trial. Laurel and DA Adam Donner are discussing the trial to which Donner has a trump card. Even Laurel doesn't know about this.
Of course, there is no episode without a flashback on the island. Dr Ivo, Sara and the crew have taken Oliver back to the island and to the wrecked plane to find Slade and Shado so that they can kill them. Oliver tries to warn them before they shoot up the plane and set a bomb. Then Oliver leads them to where the Japanese were buried in the cave. Slade and Shado come out of their hiding place and Shado deactivates the bomb. The both of them then go after Oliver.
Back at the Courthouse, Diggle is leading Oliver and Thea to the courtroom. Diggle is not well and looks like he has the flu. He says "he shouldn't have as it was a waste of his time getting vaccinated". Oliver tells him to go home to rest. Moira enters the courtroom to find her family, defence attorney, Jean Loring, and Donner and Laurel to prosecute.
Diggle goes to Queen Consolidated where Felicity tells him that he looks disgusting and he collapses.
While the Count was in prison he had a scientist create a new batch of Vertigo. Once handed over to The Count he injects him with the drug instantly killing him.
Now how did Felicity get Diggle back to the Lair in the state of illness he was in? She wouldn't be strong enough to carry him there in the state he was in?
Felicity calls Oliver much to Diggle's annoyance. She obtains a chemical analysis of Diggle's blood and discovers that he is infected with Vertigo. Oliver feels it was the right choice not to have put an Arrow in the Count at his last meeting with him, no more killing, but now it is time to put him out of business.
I think he should have put an arrow in him when he had the chance back in season 1 and we wouldn't be having a Vertigo problem again.
Oliver has an antidote which will be given to Diggle. Oliver needs to get back to Court.
Back at the trial, Donner is questioning Thea why she didn't go visit her mother in prison. He isn't looking so good and collapses. He is taken by ambulance which is hijacked by The Count.
Flashback at the cave Ivo cannot find what he is looking for amongst the bones of the Japanese. Apparently it is the arrowhead which Oliver had when he came home from the island called "The Hozen". As Oliver is about to be killed, Slade and Shado rescue him and Oliver takes Sara with him.
Back at Court, Moira's attorney wants her to take the stand and testify but she doesn't want to. Oliver says that secrets and lies is what got her in this situation and now it is time to give the truth. What secret is she still holding?
At the lair, Diggle has the shakes after coming off Vertigo. The antidote is not working. The Count comes on a live TV feed showing the kidnapped Adam Donner. He threatens him to say he wants Vertigo on TV. He injects him. The only way to get rid of the shakes is to keep having Vertigo which will take away the pain. The Arrow/Oliver is going to find him and shut him down.
Laurel is made lead Counsel and has found Donner's trump card. Laurel visits Moira in prison to discuss a family matter. Laurel doesn't want Moira to testify and shows her what Donner found on her who will destroy Oliver and Thea. I find Laurel being on this case in the first place would be a conflict of interest seeming she knows the family so well.
Thea is feeling pretty upset and angry on how the trial is going. Roy brings in his boxing gloves and puts them on her for her to take her anger out on him. Roy becomes a boxing bag. Poor Roy! Why couldn't he have brought the boxing bag in as well so she could punch it instead of himself?
Felicity eventually finds where The Count hideout is, Starling Municipal Records Department an abandoned building. Arrow pays The Count a visit where he is manufacturing Vertigo. The Count knows that he has an advantage over the Arrow as he will not kill. Arrow puts an arrow in a propane tank to cause an explosion allowing Donner and him to escape. The Count is still free to wreak havoc.
A new day in Court and Moira tells Oliver and Thea that she won't testify as Laurel has something on her. Oliver wants to know and tells him that she had a moment of weakness with Malcolm Merlyn. Oliver convinces her to go on the stand and testify. Laurel is pretty shaken up after questioning Moira about her affair with Malcolm Merlyn.
Felicity is trying to find how people are getting expose to Vertigo. She figures out that a free flu vaccination truck has been exposing Vertigo to the people. Diggle wants to go check things out but is still not well enough, so Felicity goes to investigate as she doesn't want to bother Oliver being busy with the trial when the Count grabs her.
The jury is going to make a quick verdict and Loring says that Oliver and Thea should prepare themselves for the worse. Oliver gets a call from who he thinks is Felicity from her phone only to hear the Count's voice.
The Count has figured out who Oliver is "Arrow". Oliver leaves the Courthouse abruptly to go save Felicity.
At Queen Consolidated Oliver, dressed as Arrow with his hood down, finds Felicity tired up in a chair. The Count tells Oliver that he wants world peace and personal satisfaction not necessarily in that order. He wants revenge for having him locked up in a padded cell. He tells him that there is someone else who hates Oliver as well and he will be surprised when he finds out who it is, a man of means who set the Count up with his new operation to draw the Arrow out to kill him. The Count fires at Oliver but misses. Bad shot. The Count goes to
Plan B to inject Felicity with Vertigo. Felicity doesn't want Oliver to kill the Count for her. So he drops his arrow and lowers his bow but the Count goes to inject her in any case. Oliver's quick reflexes put 3 arrows into his chest and the Count flies out of the window landing on a cab. Surely he could have killed him with one arrow instead of three, being very dramatic. We see a much shaken Felicity and Oliver goes to her saying she is safe now. She notices that he was shot and he says it is nothing. There was a touching moment and being an Olicity fan there should have been a hug. We are kept with the tension.
Oliver makes it back to the Courthouse in time for the Court ruling. Oliver finds Thea waiting for him and tells her that something happened at Queen Consolidated which will be on the news. Jean Loring comes to find them to say the jury has their finding. Oliver seems obviously upset and torn between leaving Thea waiting on her own for the verdict and to rescue Felicity and having to kill.
The jury finds Moira Queen "not guilty" on all charges. Oliver and everyone in the courtroom are shocked at the verdict. Laurel leaves the Courthouse without commenting on the matter.
Back at the lair Oliver believes that his mother should have been convicted. The verdict doesn't make sense. He came back to check on Diggle and Felicity. Felicity tells Oliver that Queen Consolidated was able to formulate a non-addictive treatment to Vertigo. Before Oliver goes home to be with his family, Felicity thanks Oliver for saving her and to say sorry for getting herself into trouble again and for Oliver having to kill the Count. She is sorry for putting him in that position and for him to make that choice. Oliver holds Felicity's hand and says "he had you and was going to hurt you, there was no choice to make". Obviously he will kill if it is someone close to him. You can see the feelings are growing between them. Hopefully more to come. The writers are going to make the tension between them grow and continue throughout the season. I do think they shouldn't get together too soon as it is the tension between them that makes the show.
Back on the island Slade, Shado, Oliver and Sara have escaped. We learn that Shado is wearing the Hozen. It has a Buddhist inscription carved on it with coordinates which we believe to be where the Japanese submarine is located containing the serum. Shado says that what is on the sub will save the human race. Oliver wants to find it as it will help Slade from his burns. This serum will save Slade who eventually as we know will become Deadshot.
We learn, that no doubt, Sebastian Blood is the person seeking Arrow. He is not happy that the Count didn't kill Arrow. He has one super soldier left who can start his army of super soldiers. I don't think Blood has figured out yet that Oliver is Arrow.
Moira is escorted out of the Courthouse to a car and taken to a parking lot. The driver is killed by a dark arrow. It is Malcolm Merlyn. Merlyn is alive. Malcolm says that "there are parts of the world where death is an illusion, I've been to one. I've become very convincing". He returned because Moira needed his help with the trial and persuaded the jury for a not guilty outcome. He also said he has spies in the DA office and had a DNA test to find out that Thea is his daughter. What a shocker. What is that going to hold for the family now? Will Moira have to pay a debt to him for having her life freed. It was great to see John Barrowman and I hope he comes back in future episodes.