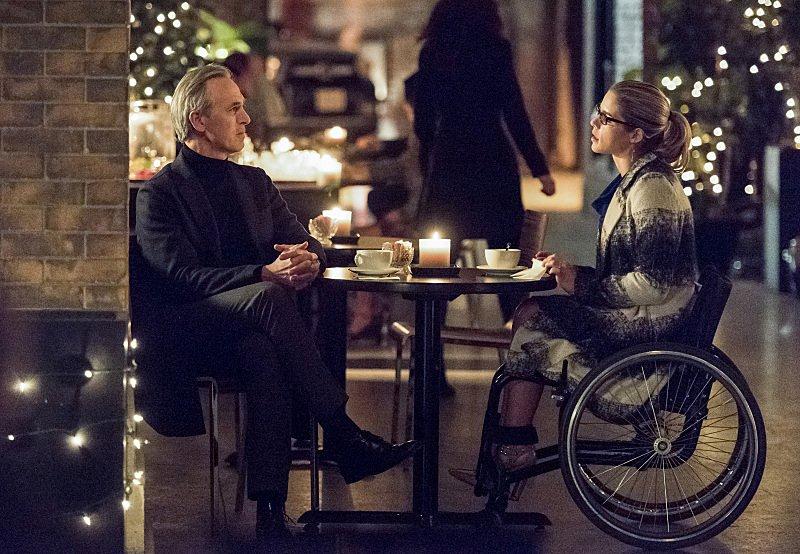 By Anna B (@traveller15)
Will Oliver take up the offer Nyssa presents to him to save Thea by killing Merlyn so she can take control of the League? Meanwhile, Merlyn continues to try help Thea deal with her bloodlust.
We begin where we left off last episode with Thea been taken to hospital and Nyssa offering an elixir to save her life if Oliver kills Merlyn. Oliver doesn't want Nyssa to involve him or Thea in her revenge with Merlyn but Nyssa needs Oliver if she is to defeat him.
Felicity has coffee with her dad, Noah. Noah says he stayed out of Felicity and her mum's life to protect them. The police were after him at the time. He is willing to answer any question Felicity has which is "why now". Noah was in town to do a job but was nearly beat. On investigating further who his adversary is he says "Overwatch". Now Felicity knows that Noah is the Calculator. He gives her a flash drive to prove to her that he has changed and be back in her life as her father. Can Noah be trusted?
Diggle and Laurel are all for Oliver killing Merlyn to save Thea. Oliver is reluctant to kill Merlyn as he is Thea's father and she should have the right to know him no matter how evil he has done in the past. Oliver wants diplomacy. Oliver wants Laurel to convince Nyssa to go along that if Merlyn gives her the ring to control the League of Assassins and Nyssa gives Oliver the cure then no one has to die.
On the island of Lian Yu, Tiana wants to know why Oliver killed her brother and he saved her life. Oliver tells her that he was only defending himself from him as he wanted to kill him. Oliver shows Tiana the stone which Reiter wants. She then takes it to show Reiter but he takes it from her. She wanted it as a bargaining tool to get off the island except if she doesn't care for Oliver and make sure he doesn't die, she will join his fate. Tiana tells Oliver that he is lost and needs to save them both from Reiter.
Oliver meets Merlyn on a rooftop to try and convince Merlyn to give Nyssa the demon's ring. Merlyn tells Oliver "I've been wanting to tell you for years that you're very handsome but you're not especially bright". Merlyn doesn't believe that Nyssa can be trusted and there is such an elixir.
Laurel goes to try and convince Nyssa to stop holding Thea's life hostage for the sake of her birthright. She tells Nyssa of Oliver's plan to get Merlyn to give up the power and in return she gives them the cure. Nyssa will accept those terms but Merlyn won't be convinced. Nyssa makes threats that if Merlyn does not give up the power the streets of Star City will run red with blood.
Felicity tells Oliver, Laurel and Dig that her dad is back and that he is the hacker called the Calculator. She tells them that now that he knows what Felicity does they are both "vigilantes" and they have that in common. Felicity wishes she had a test of who he is and this gives Oliver an idea for the bargaining table.
Nyssa trains with her assassins. Oliver goes to her and wants proof of the elixir as Merlyn will not give the demon head ring up. Nyssa hands over a sample of the Lotus to Oliver.
Oliver has Thea released from hospital and she is taken to the lair. In the presence of Merlyn, they inject the elixir into her body which proves it does work. Merlyn ponders whether to give the ring to Nyssa but agrees to meet with her tonight.
Felicity is at the Loft and Donna comes over and she tells her that Noah is back. Felicity asks her mum whether her dad could be good now but Donna says he will suck you in and he would never change.
Nyssa meets Merlyn with Oliver, Diggle and Laurel watching over. Merlyn does a double take and brings his men for a fight with Nyssa and her men. Nyssa retreats and Oliver, Diggle and Laurel stand in Merlyn's way of going after her. Being Ra's al Ghul seems to be more important to him with the power than saving Thea.
A war by the two Leagues of Assassins on the people of Star City has been waged. Diggle tells Oliver that he needs to kill Merlyn as he is the only one to do it.
Felicity gives Noah a tour of Palmer Technology and to give him a second chance.
Laurel locates Nyssa but before she can bring her in, Merlyn's assassins attack and there is a war endangering the people on the streets of the city. Oliver and Diggle arrive to intervene. Oliver tranquilizes Nyssa and takes her back to the lair and locks her up in a cell. Laurel talks to Nyssa to convince her to hand over the Lotus and stop the bloodshed as she is not like her father.
Felicity finds Oliver at the lair and says that she found a data receiver in the R&D Department of Palmer Tech after she gave Noah a tour. Felicity set her dad up to see if he could be trusted and he failed. Felicity was so hoping that her father had changed and he could be back in her life after all these years. Oliver is hoping that Merlyn will change so that Thea can have a father and daughter relationship and if he is killed this want happen.
The elixir is wearing off Thea and Merlyn stands by her bed reminiscing times of when she was a baby. Oliver begs Merlyn to give up the darn ring. He refuses to give Nyssa the power as the League of Assassins have been manipulating global events for hundreds of years and he won't give Nyssa that kind of power. Merlyn does a reversal and asks Oliver whether he would lay down his bow for Darhk to continue his plan for the city even if it meant saving William's life. Merlyn knows everything about Oliver and his son. Oliver comes up with a third option a trial by combat between Merlyn and Nyssa.
On top of a rooftop Merlyn and Nyssa meet for trial of combat. They forgo the tradition of removing their shirts. Oliver stands up and in the eyes of the League he is Nyssa's husband and fights on her behalf against Merlyn. So Oliver and Merlyn fight to the death. Oliver defeats Merlyn but rather than killing him he cuts of his hand and takes the ring off it and gives it to Nyssa. In return Nyssa hands Oliver the Lotus and she becomes Ra's al Ghul.
So the Lotus elixir is given to Thea and she comes out of her coma and is cured from the bloodlust.
Noah visits Felicity at Palmer Technology and says she is saying goodbye to him and all she ever wanted to know was what was wrong with her that he abandoned her as a child. He left because the FBI and police were after him and a life on the run was not the life for Donna and her. Felicity doesn't know if she can believe him. Felicity does know one thing Noah is still wanted by the police and she has Lance come in and arrest him. Felicity had her father back in her life after all these years only to have it taken away from her because he could never change his ways.
Nyssa asks to see Oliver and Laurel and tells them that she still remains her father's prisoner and that she doesn't have to be like him. Nyssa also summoned Merlyn and in the presence of all of them she takes of the Demon Head ring and places it in the fire to melt. She disbanded the League of Assassins and released it forces so no-one is a prisoner of her father. Merlyn tells Oliver that he always thought Oliver a son but now instead of killing him he owes him a debt for taking off his hand.
Oliver goes home to Felicity to find her upset after having Noah arrested. Oliver asks Felicity to marry him and she replies "I already answered that question" showing him the engagement ring on her finger. Oliver doesn't want to wait anymore to marry her.
Merlyn meets with Darhk and gives him some information on who Oliver Queen cares for more in the whole world and it isn't Felicity Smoak but William. Merlyn has got Darhk's attention. So will Darhk now go after William and could he be the one in the grave and why Felicity breaks up with Oliver?
Variety Radio Online – – Bringing you all things Entertainment including News, Reviews and Interviews. Check out our website, like us on Facebook ,follow us on Twitter ,Tumblr and Instagram
//