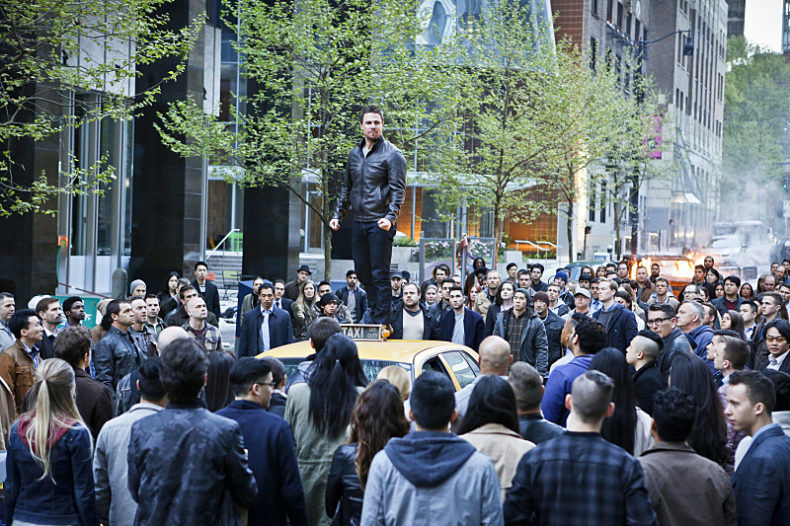 This is the season finale for season 4. Can Oliver stop Damien Darhk and save the people of Star City? Oliver struggles as to how he can fight in the shadows as well as step into the light and get the people of Star City to rally behind him to defeat Darhk when Darhk has so much power behind him.
We begin with Darhk at the Loft wanting Felicity to help him and she tells him "to go to hell". As Curtis tries to stop Darhk he flings him across the room knocking him out and Darhk then attempts to strangle and suck Donna's life force from her. Green Arrow comes smashing through the window of the Loft. Unfortunately, Darhk has the deaths of tens of thousands of souls and his power is even much stronger than Green Arrow and with the help of Diggle cannot defeat him. The Ghosts arrive as a distraction but Thea brings Darhk's daughter threatening to kill her if he doesn't release Green Arrow. As Darhk leaves the Loft he manages to take the laptop which has the anti-Rubicon program which can launch the nuclear missiles.
The Team rushes Curtis back to the lair for medical assistance. Meanwhile, Felicity places searches on the missing laptop. Felicity asks Oliver that she thought her hope was enough to counteract Darhk's magic but now he is too powerful for Oliver to stop. Darhk has lost all hope and doesn't care even his daughter dies. Diggle also thinks Oliver has lost all hope. Felicity tracks the GPS on the laptop to an abandoned office. The Team head out and find the GPS but no laptop. On their arrival 15,000 nuclear weapons are launched and there is only 2 hours or less to stop them.
Lyla is coordinating with ARGUS from the lair. She plans to send ARGUS men to City Hall to take down Darkh which is suicide mission. One of the missiles is headed to Star City. Felicity contacts Lance and tells him to take Donna out of town for safety. Diggle is fresh out of hope. Lyla believes it is because of the death of Andy but she still thinks it was self defense. Diggle needs to tell her the truth that he killed him.
Darhk's daughter is scared and misses her mother but he tells her that they will see her soon. ARGUS men arrive at City Hall and are all slaughtered by Darhk.
Just as Felicity hacks Cooper to shut down his firewalls, the Ghosts attack the lair rampaging it. An unexpected ally shows up, Merlyn, to help. Felicity wonders what Laurel would have thought about all the damage in which Oliver says "she would probably say find a solution no matter what." Oliver is losing all hope. He wonders if he didn't come back to Star City to be Green Arrow and be a better person would Laurel still be alive today. Curtis is up and tells Oliver "a sane person wouldn't live in Star City with all the terrorist attacks, but then the Green Arrow reminded him that the city is worth saving and his home was worth fighting for and this gave him inspiration and hope and should be able to give it to others now".
The people of the city are rioting. Oliver goes out to speak to the people by standing on top of a taxi cab to give a speech to them on the how they have survived all the other devastations of the city before. Oliver repeats what Curtis told him to the people and they need to fight for survival.
One of the missiles has arrived in Star City and the only way now to stop it is to use an infrared signal to convince the missile it has already detonated and redirect it out of the city by using the IR receive. They stop one missile and now need to stop the others. Felicity gives the codes to Lyla so ARGUS can stop the remaining missiles. Felicity then gets a trace on Cooper's location at a warehouse.
The Team split up with Merlyn and Thea backing up Felicity and Curtis while they deal with Cooper, Diggle stays back at the lair with Lyla while Oliver goes after Darhk. Lyla wants Diggle to be honest with her and confesses that he killed Andy. She doesn't blame him.
Oliver finds Darhk at City Hall with his daughter. Darhk throws Oliver out of City Hall on to the street. He continues to throw him around like a rag doll when the people of the city rally in support against Darhk. The force of the people and with Oliver's eye glowing manages to weaken Darhk to lose his power.
Meanwhile, Felicity and Curtis find Cooper who has been shot. If Cooper stops hacking Rubicon the bullet inside him will kill him. Felicity tells him to stop and do the right thing and save the world. So Cooper stops and dies.
While the fight continues between Oliver and Darhk, Diggle and Lyla arrive as backup but then so do the Ghosts. There is an all-out fight between the Ghosts and the people of the city. Lance also returns to help save the city. Darhk shoots Oliver in the leg with one of his arrows. Oliver then gets up and knocks Darhk to the ground and picks up one of his arrow. Darhk torments Oliver that he can't kill him but Oliver says it is his choice to kill and then puts his arrow in Darhk's chest just like he did Laurel. Felicity with Curtis' help redirects the missiles into outer space to explode. The fight is over and they have defeat Darhk.
Our island flashbacks have Taiana come up against Reiter. A plane flies overhead with the prisoners escaping, but Reiter flashes his hand with the power and the plane explodes killing everyone onboard. Thus, giving him and Taiana drawing from the deaths more power. Taiana fights Reiter but his power is strong sucking the life force from her. Oliver manages to throw a knife in his back killing him in which then Taiana draws all the power from his death. Taiana wants Oliver to kill her to stop the power within her. Oliver kills her and promises to go to Russia. Oliver calls Amanda Waller to get him off the island. Waller would like him to stay working with ARGUS instead of going back to playing vigilante. Oliver wants neither but to go fulfill his promise in Russia.
Back at the lair the Team says their goodbyes. Lance is fired from the police force and is leaving the city with Donna. Thea plans to leave as well so she can re-evaluate herself and apologies to Oliver for leaving. Oliver tells her that she never has to apologize to him. Then Diggle says he needs to leave to figure out his life.
Oliver visits Laurel gravesite and says "you were always a better person and wouldn't me to kill, that's what I loved about you". Felicity finds him at the gravesite and tells him that he isn't feeling darkness but a schism (the feeling of two sides of himself). Oliver then gets a call from a council man to be the Mayor due to his speech to the people of Star City giving them hope.
Oliver heads back to the lair and looks at the cabinets of suit. Felicity joins him and she says "you thought I would be leaving too, not a chance".
So the Team disbands but what will bring them back together in Season 5? It looks like our flashbacks will be in Russia.
Variety Radio Online – – Bringing you all things Entertainment including News, Reviews and Interviews. Check out our website, like us on Facebook ,follow us on Twitter ,Tumblr and Instagram
//