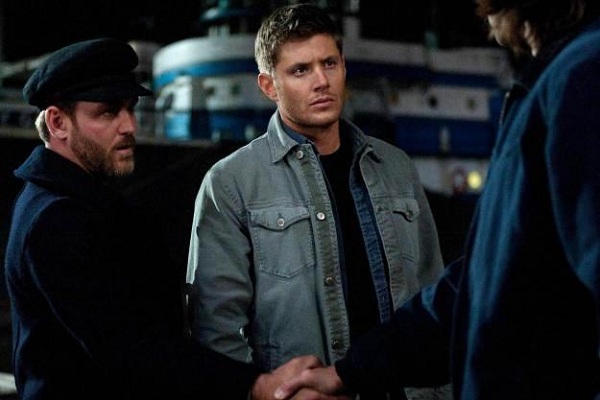 I've just enjoyed the latest episode of Supernatural, 'Blood Brother'.
This episode sees the boys separate for the first time since they've been back together. Whilst tracking down Kevin, Dean receives a call from Benny, sating that he took on 3 vampires and is in bad shape (though the other 3 are all dead). Dean laves Sam to go and help, and when he finds Benny, he's told that he's on a mission to stop the former nest that he was in, as it was them who killed him in the first place. Dean goes along, and Benny is captured when he realizes that his girlfriend, who he disobeyed the nest for all those years ago, has been turned and is now second-in-command. She gives him a key to his cuffs and a knife, and leaves him to the leader of the nest.
Meanwhile Sam is checking up on his girlfriend Amelia, and we get flashbacks to how his life was when Dean wa sin Purgatory. He got a job, was friendly with some locals, and slowly got to know Amelia. Dean starts beheading vampires in the nest 1 by 1, and has constant flashbacks to Purgatory, where he, benny and Cas were travelling together, despite Cas and Benny arguing, and both saying it attracts too many monsters. Dean calls Sam to come and meet him, before Benny kills the leader of the nest (showing off some great skills in the process), before realizing his girlfriend is just as bad. Dean beheads her, and he and Benny leave. Benny asks why he actually brought him back, and Dean doesn't reply, but has a flashback to when the 3 were in Purgatory and were attacked by Leviathans. Benny saved Cas, and this seems to be 1 reason why Dean brought him back. Sam meets them at the pier, and shakes Benny's hand, thus realising what he is. He goes to kill him, but Dean stops him with a shake of his head. Benny leaves, and Sam glares at Dean.
It was a strong episode, and made good use of slow revelations through flashbacks to fill us in on what went on with the characters during the year out. It was very enjoyable, and I can't wait to learn more in coming episodes.