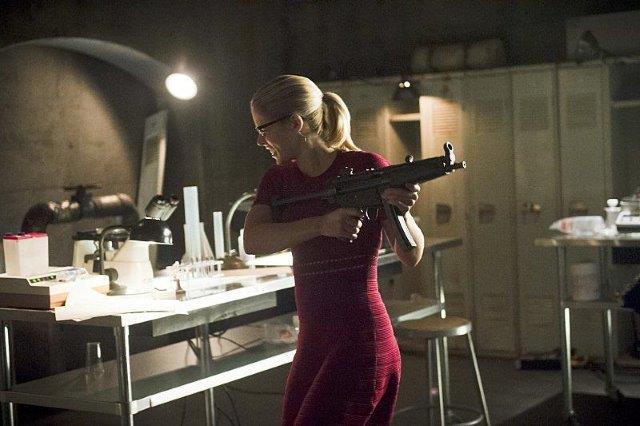 By Anna B (@traveller15)
Restoration is about repairing the damage to Oliver and Diggles' relationship and Laurel's journey to bring her sister, Sara, back to life.
Diggle and Oliver are chasing some Ghosts in a lumberyard. Diggle manages to catch one of them and wants answers on HIVE. Before he can bite down on his cyanide tooth Diggle pulls his tooth out but the Ghost gets away. Felicity is enjoying the old team being back "OTA". Diggle gives Felicity the tooth to be analysed. In earlier days Felicity was going to be a dental hygienist. She suggests that the three of them go for marguerites like old times. Diggle still doesn't come around to Oliver and their relationship is diminishing.
We head to Nanda Parbat with Nyssa and Malcolm sparring with each other. Laurel and Thea make the journey back in hope of Sara being brought back to life in the Lazarus Pit. Malcolm will not agree to this request as it has only been done in legend to bring a person back to life and whose knows what effects it would have on Sara if she was that person again.
Diggle heads home to find a stranger in his home. He is an ARGUS agent that Lyla has asked a favour for into who instructed Floyd Lawton the hit on Andy. Mina Fayad who happens to be in Star City and works for Damien Darhk. She has brought a tattoo card meta-human named Double Down (JR Bourne) to Darhk to take down the Green Arrow. He uses cards to kill his victims.
Laurel wants the help of Nyssa to bring Sara back to life in the Lazarus Pit. Laurel is not thinking straight even though we know the consequences of the Pit can make you a monster. As much as Nyssa misses Sara she has come to terms with her death.
The tooth has been analysed and they are no better off with answers. Oliver plans to go out on his own to a robbery without backup from Diggle. Oliver turns up at the robbery which was a ruse for Double Down to try and kill him. Double Down uses tattoo ink cards as weapons which hits Oliver in the arm. Meanwhile, Diggle goes off on his own to investigate Fayad. He is caught unawares by a shooter.
Malcolm notices the effects of the Pit on Thea, the blood lust due to her having traces of all the souls of the men and women who have bathed in the waters. Thea would just like her father to help her. Malcolm knows a man in the high mountains which might be able to help her.
Felicity has finally had enough and takes matters into her own hands after Diggle and Oliver nearly get themselves killed from a meta-human from Central City for not watching each other backs. She tells them "I haven't said anything up till now, because I was hoping the two of you would remove your heads from your own asses without assistance, but it turns out I was wrong". She doesn't want to hear any excuses from the both of them and for them to work their differences out.
So Diggle and Oliver work out their differences. Once Oliver mentions Fayad, Diggle says he needs to trust him again. Diggle takes Oliver back to his home to show him the evidence on HIVE is has collected.
Felicity takes the tattoo card to Palmer Tech to find answers on how it can be a lethal weapon. The tech guy is Curtis Holt.
Darhk is not happy with Fayad and wants a demonstration from Demon Double if he can kill him. He can't kill him so Darhk kills Fayad. There goes Diggle lead.
At Nanda Parbat Malcolm lied to Thea about the sage on the mountain. He instead has some of his League men attack her so she can feed on the blood lust to kill them until the hunger leaves her system. Malcolm agrees to restore Thea's conscience by restoring Sara's life.
The OAT are looking into Fayad. Diggle and Oliver find her at a warehouse but they are too late she is dead. Diggle will not be getting any answers about his brother. He has been looking into HIVE for more than 2 years on his own and now it's time to accept Oliver's help.
Felicity goes to Palmer Tech and Curtis has analyses the tattoo card which is composed of biological material and tattoo ink in it which they should be able to get a location of its owner. Unfortunately, Demon Double has found them first. He wants to know where Green Arrow is. Felicity says run to Curtis and they run into a secret elevator not before Felicity kicks Demon Double in the leg to which Curtis asks "when were you such a bad ass" and Felicity replies "since always". Felicity spills that she works with the Green Arrow and that Demon Double is trying to kill her. The elevator takes them down to the new Arrow Cave in the basement. Demon Double follows them and Felicity uses a machine gun to protect her and Curtis. Curtis gets knocked out by a falling lamp.
The ritual to bring Sara back to life begins as she is lowered into the Lazarus Pit. Nyssa is totally against this. Sara comes back to life with no memory and is quite violent so she is chained up. Sara is back to life and now we will see her in the new show Legends of Tomorrow.
Our Flashback on Lian Yu, Oliver is on patrol watching over the workers. One of the workers stole drugs which they are harvesting for the military. To get answers one of the guards uses brutality or even shoots the workers. Oliver suggests another way, pain which he learnt while on Lian Yu. The thief is a woman who Oliver agrees to kill her in the jungle and hide the body. Instead, Oliver has other plans to save her life.
Oliver and Diggle are a team again and go after the meta-human Demon Double. As he throws the cards at Diggle, Oliver jumps in front of him taking one for him but he has kevlar on to protect him. So the team had a win and the meta-human is locked up back at Iron Heights. Oliver is winning Diggle's trust back. The OTA have drinks and discuss that maybe Double Down told Darhk about lair 2.0. To Diggle and Felicity's surprise Oliver has been working on lair 3.0.
At Palmer Tech, Curtis is cleaning up the mess. Felicity's cell phone has been playing up all day. What is wrong?
In retaliation for brining Sara back to life, Nyssa destroys the Pit. One day Nyssa plans to kill Malcolm and there will be no coming back for him.
Variety Radio Online – – Bringing you all things Entertainment including News, Reviews and Interviews. Check out our website, like us on Facebook ,follow us on Twitter ,Tumblr and Instagram
//