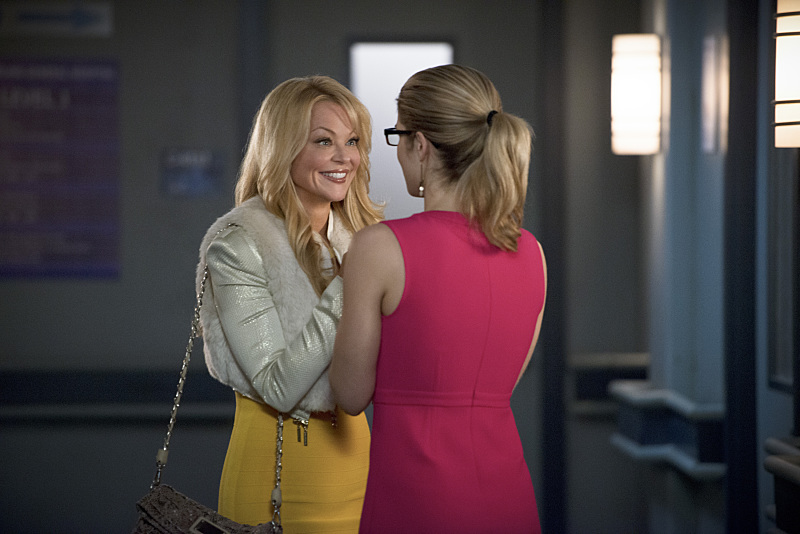 By Anna (@traveller15)
Oliver and the Arrow Team are trying to stay ahead of the police as they are on a manhunt for the vigilante.
We begin where we left off last episode with Maseo pointing an Arrow at Felicity in the Mayor's office who is already dead. Just as the arrow is shot at Felicity, Ray pushes her out of the way only to get hit with the arrow himself in the chest. Lance calls for backup as Maseo gets away.
At the lair Diggle and Oliver are listening to breaking news of the attack at the Mayor's office. Lance has requested a murder warrant on the Arrow and the vigilante task force has been reassembled with orders to shoot to kill. Oliver knows that it is Maseo causing all the killings.
Our first flashback in Hong Kong is where Oliver and Akio are running away from Waller's men where they bump into Shado in the marketplace. It isn't Shado but her twin sister and asks for her help.
At SCPD Laurel tries to talk to her father that the Arrow is being framed. Laurel would like Lance to trust her but he doesn't any more since Sara's death.
Roy and Thea have rekindled their relationship. Thea would like to run away again with Roy but says things are too complicated with Oliver to go. They watch a breaking news flash on the warrant for the Arrow plus for each of his accomplices. Felicity also watches on while at the hospital with Ray. The doctor delivers bad news to Ray that he has developed a blood clot after they removed the arrow from his chest. If it is left untreated the clot could cause a stroke but Ray is too weak from his injuries to treat it which could do more harm than good by leaving him with brain damage. Ray says he has invented some nano-tech which can enter his blood stream and shrink the blood clot. The doctor says the hospital will not consent to any experimental procedures. Surprise as Felicity's mother, Donna Smoak (Charlotte Ross) walks into the hospital room. Donna came to support her daughter and says to Felicity "at least you now have a boyfriend".
Oliver goes to Nyssa for help to stop Maseo. She won't help him as she will not betray her father even though she is betrayed by him for not making her his heir. Oliver tells Nyssa that Sara would want her to help. Nyssa finds out Maseo's location so the Arrow Team suit up but she will not take up arms to help them.
The Arrow Team search the warehouse and find movement on the rooftop. Diggle is on point. Arrow, Arsenal and Black Canary confront Maseo and his men. Arrow manages to bring down Maseo but Ra's al Ghul (Matt Nable) appears. He says he chose well with Oliver taking over as his heir and Oliver killing him will only give the mantle to him which Oliver wants to reject. Ra's ultimatum to Oliver is for him to ascend to his calling as Ra's al Ghul or spend the rest of his days in a cage. The SCPD arrive by helicopter asking the Arrow Team to put their weapons down. The police have them surrounded as they try to escape. Arrow covers Arsenal and Black Canary so they can escape but the police are in hot pursuit. Lance has a gun on Black Canary and wants to arrest her even though it is his daughter. Nyssa comes to the aid of Laurel. Arsenal is trying to get away. Diggle arrives in the van to save Arrow but the police are chasing them but luckily get away. The Arrow Team make it back to the lair but next time they may not be so lucky. Oliver calls Lance to try and convince him to stop this vendetta. Oliver says that he is sorry for underestimating Ra's and that they are all paying the price.
Mae takes Oliver and Akio back to her place for safety. Oliver lies and says he knew Shado from medical school. He reflects back to the last time he saw Shado being killed by Arvo. May would like some closure to know if she is dead so she can move on. Oliver goes to take a shower and May notices he has the same tattoo on his shoulder as her sister.
At the hospital, Felicity watches a press conference by Lance that he will find the Arrow who is a criminal and make him accountable. Donna wants Felicity to inject the nano-tech into Ray. She tells her that if her father was here, if he was would be arrested, you have to take a chance.
Lance is kidnapped by Maseo and taken to Ra's al Ghul. Lance blames him for Sara's death but Ra's tells Lance that if she never met Nyssa she would have starved to death on Lian Yuan. Ra's is prepared to give Lance the name of the Arrow and that he has been under his nose the entire time. Oliver Queen is the Arrow.
Laurel pays a visit to Lance at the SCPD to tell him that he is upset because the Arrow never told him about Sara's death. Lance says it is all because Sara was mixed up with Oliver who is the same guy as the Arrow. His identity is out. Lance says that all these masks started with Oliver. He always thought he knew it was Oliver when he was doing good for the city but now he wants him arrested.
While the doctor examines Ray, Donna all of a sudden has back spasm to distract the doctor away. This gives Felicity the opportunity to inject the nano-tech into Ray to save his life. The nano-tech worked.
At Verdant Thea and Roy watch the news breaks. Roy is upset that he has shot at police and wants to go to jail so he can forgive himself from the time he killed the police officers when he was under the influence of the Mirakura. The police break into Verdant and Oliver makes a run for it. He ends up at Diggle's place.
Mae confronts Oliver about where he got the tattoo. She is upset that he will not tell her about the whereabouts of her family and has called the police. Waller's men have found them and have them pinned down. Oliver uses his fighting skills to stop them but gets some help from Maseo and Katana.
Donna is so proud of Felicity for injecting the nano-tech and says her father would be proud even though he is not a good role model. The doctor has done a further MRI on Ray's brain and the blood clot has gone and he will make a full recovery.
The Arrow Team turn up at Diggle's place to see what plan they can come up with to save Oliver. Felicity wants him to run to get out of the city but the city is in lockdown and Oliver's assets have been frozen. Lance gives another press conference giving the identity of the Arrow and putting a warrant out on Oliver.
Felicity goes back to the hospital to see Ray. Ray confesses to her that he loves her. Felicity freaks out and walks out of the room. Donna wants to know what is wrong, she thinks they had hospital sex. She tells her mother that Ray loves her but that she didn't say it back. The only problem is that Felicity loves Oliver. Donna says that she has two men after her and will have to make a choice.
Oliver walks into the SCPD and gives himself in. Laurel manages to get some time for the Diggle, Felicity and Roy to speak to Oliver. Oliver gave himself in so that the others would be given immunity. They don't agree with what he has done even though he wants to tell the truth and for the team to believe in his choice.
Maseo cleans up the mess after Waller's attack on Mae's apartment. Oliver tells her that he knew her family and that they are gone. She has only wanted to know the truth about them to give her closure.
Oliver is being moved in a secured police van to prison with Lance. Lance wants Oliver to tell him about Sara and Lian Yuan. Oliver says to Lance he came back to save the people of the city but Lance says it is not his speciality as all his loved ones are dead. Lance tells Oliver that he is not a hero, he is a villain. Suddenly an arrow stops the police motorcade and Roy dressed as the Arrow sacrifices himself to save Oliver. Roy says he is the Arrow not Oliver Queen and is arrested.
Twitter: @TheVRO
Facebook: Variety Radio Online
Tumblr: Variety Radio Online