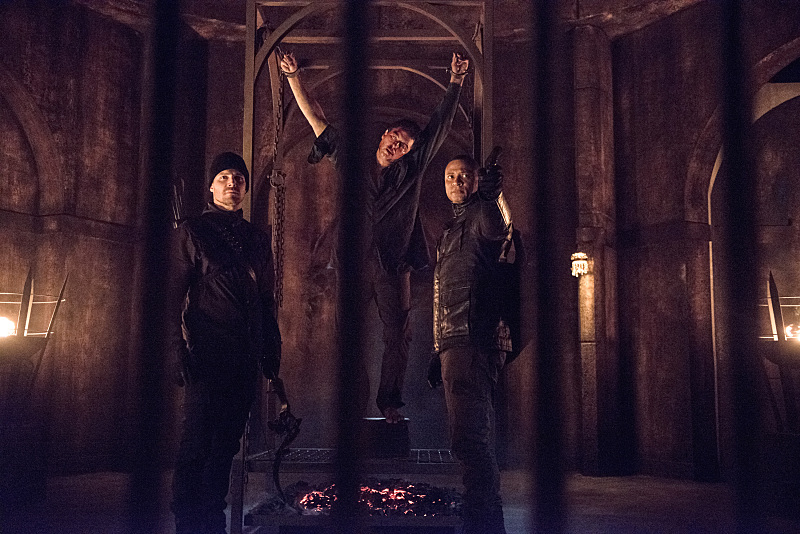 By Anna (@traveller15)
With Merlyn captured by Ra's al Ghul and taken to Nanda Parbat, Oliver and Diggle plan a rescue mission only to save Thea's soul from the guilt if he is dead and Ray pursues his dream to finish the ATOM suit.
On Nanda Parbat Ra's al Ghul (Matt Nable) is visited by Nyssa (Katrina Law) who tells him that Oliver Queen is still alive to which he already knows that he is in Starling City. He also knows that Oliver did not kill Sara.
Back in Starling City in the lair, Oliver, Thea and Merlyn are training with swords. Merlyn in unhappy with their training as they need to work together and Oliver is not coming to this fight with a bow and arrow but swords. Diggle has secured Verdant's security with some help from ARGUS against the League. Merlyn would like Oliver and Thea to stay in the lair but Thea wants to stay at the Loft. Laurel arrives and is surprised how well trained Thea is by Merlyn in such a short time.
Our first flashback in Hong Kong and Oliver is being debriefed about the Omega bio weapon. General Matthew Shrieve (Marc Singer) has taken over from Amanda Waller and advises Oliver that he is free to go as well as Maseo,Tatsu and their son. He can head to Japan with the Yamashiro family and then home.
Thea is finding it difficult to come to terms with killing Sara. She confides in Roy that she killed her under the influence of Merlyn and he in turn says he killed someone a police officer under the influence of a drug.
Felicity goes to visit Ray at his apartment as he has gone missing for a week and the company's stock is feeling his absence. To her surprise Ray (Brandon Routh) has been working on his ATOM suit. Ray is pushing himself to get the suit built. She is concerned that he is going down the same path as Oliver.
Laurel tries to contact her father but he is avoiding her after finding out the truth about Sara's death. Thea also goes to Laurel and tells her that she was under a drug by Merlyn and that she killed Sara. Laurel doesn't blame her but she tells her she has to make her on decisions.
So Laurel goes to see Oliver at the lair about Sara. Oliver says he will find her killer one day but Laurels knows he is lying. She wants to know why he is defending Merlyn but it is only because Oliver needs him to survive himself from the League. Laurel says to him "You know it's actually hard to imagine at time when I was actually in love with you." Obviously, Laurel has definitely gotten over Oliver! At the Loft Oliver is unhappy that Thea told Laurel. Thea with her hate for Merlyn hands him over to Ra's al Ghul. Oliver is annoyed with her for doing this as Merlyn is the only person who can save them from Ra's threat.
So Laurel as the Black Canary goes after Merlyn for revenge but she is no match against him and before she can shoot him, Nyssa and some men from the League come for him. Merlyn is no match for Nyssa and is taken back to Nanda Parbat. Oliver wants to go and rescue Merlyn as he doesn't want Thea to live with the guilt of sending him to his death. He wants to try and save Thea's soul.
Oliver goes to say goodbye to the Yamashiro family at the docks. They are intercepted by some men who want to kill them.
Oliver speeds off on his motorcycle to the airport to rescue Merlyn. Merlyn is put on a helicopter while Nyssa fights Oliver. Oliver imprisons Nyssa at the lair. Oliver asks everyone to clear out while he interrogates Nyssa. He knows Nyssa will tell him where Nanda Parbat is as she knows if Oliver goes there she hopes he will be killed in justice. Roy thinks the security in the Club is like "mission impossible". Laurel is surprised that Oliver is now taking prisoners and Felicity says he has a prison on the island to which she realises she shouldn't of told her. Felicity has a lot of anger towards Oliver for going to save Merlyn because he thinks it will help Thea with her guilt of killing Sara. But last time he went up against Ra's al Ghul he said he didn't plan of dying and what happen? Diggle is unusually quiet and Oliver wants to know what is on his mind. Diggle believes there is more than just saving Thea's soul.
Felicity locked Ray out of the Palmer Technologies server. She goes back to his apartment to say a friend of her "has his head so far up his colon, he is going to get himself killed". So for Ray to get access to the server and crack the new password he has two options – one in which he will continue to try to get access to the server which would take him over six hours or two – go and have a sleep, shower and eat then she will give him the password to unlock the server. Option two is taken.
Diggle goes home to see Lyla and his baby Sara. Diggle wants to go with Oliver and stand by him and Lyla agrees for him to go and be with him. Thea doesn't want Oliver to go to save Merlyn. She believes she can live with his death. Oliver doesn't believe that as he knows when their parents were killed, he had to live with that guilt because of him and doesn't want her to go through that. So Oliver and Diggle go off to Nanda Parbat.
Merlyn is shackled and brought before Ra's al Ghul. Merlyn begs Ra's for him to be his horseman and hunt for him once more and be reborn with loyalty. Ra's has him taken away to face his crimes in agony and blood.
While Felicity looks at the paintings on Ray's wall, he walks out in just a towel. She accidently rambles and said "you're very attractive" but corrects herself quickly to say the paintings are very attractive. Ray says he trusts Felicity's judgement to which she responds "you're about the only one". Ray seems to be flirting with Felicity as when he is with her he doesn't think of work. Felicity responds by kissing him but then Ray takes control and they both deeply kiss. She is obviously getting over Oliver, but I do hope as an Olicity fan they do get back together.
Oliver and Diggle arrive on Nanda Parbat hoping to have the surprise advantage. Unfortunately, they don't have that and come up against some men. They eventually get inside and find the location of Merlyn who has been tortured. Ra's welcomes and captures them both and are shackled together. They have a bro moment where Diggle tells Oliver he is not doing all this to save Merlyn just for Thea but also because someone beat him and had him almost killed. Diggle wanted a favour before all this happened and asks Oliver to stand by him as his best man when he remarries Lyla. Maseo then enters and brings Oliver to Ra's.
As Amanda Waller was not happy with being stood down after the Omega mission she has her men attack Oliver, Maseo and Tatsu. They run to a truck to get away. Maseo and Tatsu are pinned down and Oliver carries their son off to safety. What will become of Maseo and Tatsu?
Laurel talks to Nyssa while she is a prisoner. She now knows if Merlyn is killed it will now be another part of Sara taken away from her.
Roy takes Thea and parks outside the house of the family of the police officer that he killed. Roy watches over them and helps pays for groceries to the family to help ease his guilt.
We find Felicity and Ray in bed obviously after a night of passion. Ray wakes up and has a brainwave to get the ATOM suit working. He puts the suit on. This is the first time we will see the suit in action. He takes off and flies over Starling City while Felicity is asleep the whole time.
Thea goes to visit Nyssa and tells her that it was her that killed Sara not Merlyn. She opens her prison door for her to take vengeance on her by giving Nyssa her sword.
Oliver is kneeled before Ra's as Ghul with a sword to his throat. Oliver wants him to kill him and begs for Diggle's life and for him to be let go. In a twist Ra's doesn't want to kill Oliver, he wants him to take his place as head of the League of Assassins.
So what will Oliver decide, after being firstly killed by Ra's and surviving, Ra's now wants him to take over from him? Will Nyssa take revenge on Thea? Will Felicity and Ray's relationship go forward?
Twitter: @TheVRO
Facebook: Variety Radio Online
Tumblr: Variety Radio Online