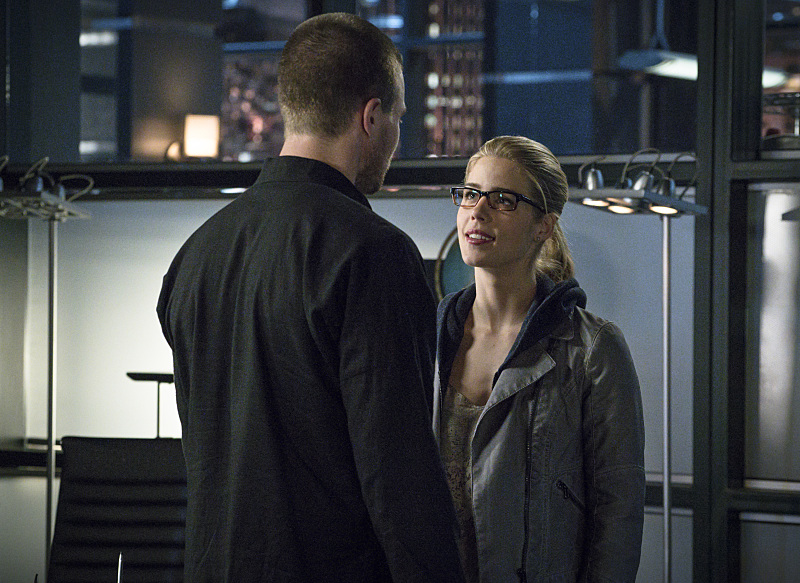 By Anna (@traveller15)
This is the season finale for season 3 of Arrow where Oliver has been questioning his identity and who he would become. Will Oliver take the final steps in becoming the next Ra's al Ghul and can he save his city from annihilation?
Ra's and Al Sah-Him fly to Starling City. Al Sah-Him is awoken from his dream by Ra's who wonders what he is dreaming of. Ra's tells him that there are three types of dreams truth, desire and temptation but Al Sah-Him dreams of rebirth becoming Ra's Al Ghul. Al Sah-Him says it is necessary to annihilate his home in order to complete his ascension. The plane hits turbulence.
The team are left on Nanda Parbat supposedly dead from the virus but they awaken from their sleep. To continue with Oliver's plan and have Ra's trust he had to demonstrate that he was willing to kill his friends. Oliver was vaccinated again the alpha/omega virus on Hong Kong and an associate was able to draw a vaccine from his blood. Merlyn was able to vaccinate each of the Team members to save their lives. Merlyn would like a "thank" and "you". Merlyn says help is on its way to get them out of their prison and wait for the thunder. The Flash arrives to the rescue. Barry tells the Team that Oliver needs their help even if he doesn't think so. Diggle can never get use to Barry taking off in a flash. The Team quickly moves to the plane to make their way home to Starling City. Katana will return to life of solitude.
We flash back to Hong Kong Maseo and Tatsu are grieving over the loss of their son. Shrieve's men come after them but Oliver manages to take them out. Oliver then goes after Shrieve.
The plane carrying Ra's, Oliver and Nyssa has been sabotaged and Ra's blames Nyssa. Ra's reminds Oliver that he was delivered by the prophecy, wed his daughter and his name is Al Sah-Him and will be Ra's al Ghul. In reply Oliver draws his sword and says "my name is Oliver Queen". Oliver throws a sword to Nyssa to fight the League while Oliver fights Ra's. The cargo door of the plane is opened and Ra's takes the canisters of the virus and jumps off the plane while threatening Oliver that his city will perish. Oliver takes control of the plane for an emergency landing.
Back in Hong Kong Akio's ashes are placed in 3 urns and one is given to Oliver. Oliver heads back to the shop where Shrieve is tied up. Oliver says that Amanda Waller from ARGUS taught him special things and he releases an arrow at Shrieve. This is the beginning of the vigilante doing justice against evil people.
The Team arrives back in Starling City and head to Palmer Technologies. If Oliver doesn't survive they are the backup plan. Merlyn takes control and starts giving out orders which they don't seem to happy. Suddenly unexpected visitors arrive in Oliver and Nyssa. Diggle is not too happy to see Oliver slugging him. Diggle wants answers and why he couldn't trust him and Felicity, the two most people closest to him. Why work with Merlyn? Oliver worked with Merlyn as he had the Intel, knew Ra's and the League. The only way to defeat the League was from the inside. Oliver wanted to keep Diggle and Felicity safe. Felicity asks how Oliver was expected to repair the damage when he returned. He wasn't planning to survive as the plan was for the plane to be sabotaged and crash killing Ra's and destroying the virus. The big plan was for Oliver to sacrifice himself to take out Ra's. Now that Oliver is alive he wants to make amends to both Diggle and Felicity but Diggle is not accepting his apology this time. The bigger problem right now is to put aside hurt feelings and broken trust and to deal with the virus.
Back in Hong Kong Oliver tortured Shrieve. Those immortal words "you have failed this city" has been born and justice has been served. Maseo shoots Shrieve and puts him out of his misery.
The Team strategize to find Ra's. They learn that Ra's plan was not all about Oliver's ascension and to release the virus on the city but to take out his nemesis Damien Darhk. The new plan is get Damien and trade him for the virus. Merlyn totally approves even if it is ruthless and cold blooded.
So Diggle, Nyssa, Merlyn and Oliver go after Damien. Unfortunately, he has already fled the city. A call comes in and Ra's has set in motion and released the virus on Starling City with four vessels. Ra's swears the city will perish.
Lance gets a visit from Laurel at the SCPD. Lance is drinking on duty. Laurel tells Lance that he has a choice to stop drinking and make his daughter's proud of him and help save the city from the virus.
Felicity is working on finding the location of the virus.
Maseo blames himself for not saving his son. He believes he is a monster without a soul. He leaves Tatsu as he believes he is not worthy of her love.
At Palmer Lab, Felicity walks in with a cup of coffee for Oliver even though she said once she would never bring him coffee but facing a bio-weapon is a valid exception. Felicity wants to talk about the situation. Oliver tells her about his recurring dream that she pleads with him not to face Ra's and he listens to her and they run away but sometimes it ends badly with a sword in his chest. Oliver has given up that he can't defeat Ra's al Ghul. Felicity gives Oliver a pep talk and tells him that both he and the Arrow can't and they both failed. Oliver is neither of them but has become someone else so he needs to become something else. His heart is different because he has allowed himself to feel and will be his key to defeating Ra's. Don't fight to die but fight to live.
Felicity gets a notification on the four locations of the virus.
Lance is coming to the party and swinging into action with the SCPD to help find the virus. The Team is at the locations to stop the viruses.
Oliver is given a message to meet with Ra's.
Diggle tracks down one of the League couriers with the virus but is knocked down. Just has the courier is about to shoot him, three arrows are put in him. Its Thea dressed in the red suit. The case supposedly carrying the virus is empty. Ra's is using his own men who are the carriers of the virus in their blood so if they are killed and bleed the virus will spread once affected to open air. The virus outbreak is spreading at Nelson Plaza.
Oliver meets Ra's at the Starling City Dam. Ra's gives Oliver an ultimatum to ascend or die. So Oliver and Ra's fight to the death.
Merlyn takes out one of the League men. Ray is trying to replicate the inoculant which he can but to spread it over three blocks is the hard part. Ray is trying to get his Nano bytes to be airborne. Laurel takes out a third courier.
Lance arrives up near the dam and is told that the Chief of Police has ordered to take out Oliver and Ra's who they believe are responsible for the outbreak. Lance calls Felicity despite what he thinks of Oliver, he doesn't want him killed as he thinks he is trying to save the city. He needs her to perform a miracle. Felicity wants Ray to suit up and fly to the dam to save Oliver. He won't as he is still working on the Nano bytes to save the city and it is one man's life against the whole city.
Oliver defeats Ra's and puts a sword through him. Ra's tells Oliver that he chose well and hands over his ring believing he will be the next Ra's al Ghul. All of a sudden shots are fired from the police hitting Oliver and he is flung over the wall of the dam. Atlas, the ATOM flies in and scoops Oliver up before landing at the bottom of the dam. It's Felicity in the ATOM suit to the rescue. Oliver is saved by wearing League armor.
Back at Palmer Lab, Nyssa is disappointed that Oliver killed her father as she wanted to be the one. Oliver admits although he wanted to go it alone to destroy Ra's, the truth is he won because he wasn't. The city has its heroes and that is why Oliver doesn't need to be one. Ra's took the Arrow identity away from him and he doesn't want to be it anymore. Oliver tells Felicity "I told you that I couldn't be the Arrow and be with you. I want to be with you. You told me that I've become someone else, and I want to discover more about that person. If you'll come with me." They will go some place far away from Starling City. The city still has heroes to watch over it. Diggle walks out. Oliver goes to talk to Diggle to make amends. He has been Oliver's rock over the three years and could count on him and is a hero. Diggle says he is not a superhero. Diggle doesn't know if he can get over what has happened between them but he think on it and they shake hands. Oliver tells Diggle if he keeps protecting the city he needs to conceal his identity by wearing a mask in which he will think on it as well.
Oliver says goodbye to Tatsu in Hong Kong as he boards a ship. Oliver wants to be alone and not go back to Starling City.
Merlyn goes to the Loft to say his farewells to Oliver and Thea. Merlyn says he will always be Thea's father, love her and be there for her. Oliver says goodbye to Thea and tells her to be safe out there. She wants to be called the Red Arrow but Oliver says speedy. Now to Merlyn, Oliver will never forgive him for killing Sara and for what he did to Thea. Oliver hands Merlyn Ra's ring. Will the two of them become enemies or not? Oliver says it depends on what you do with your end of the bargain.
Ray is working on the ATOM suit at Palmer Technologies and something goes wrong causing an explosion on the upper floors of the building.
On Nanda Parbat, Merlyn becomes the next Ra's al Ghul. Nyssa still wants justice for Sara's death and is made to kneel before Merlyn.
We end with Oliver saying "My name if Oliver Queen after five years of hell I returned home with only one goal to save my city and I did, I became a hero who helped people but it is time for me to be someone else to be something else." All evidence of the Arrow in the lair is packed up.
As Oliver and Felicity drove along a coastal road in a convertible, Oliver says to Felicity "Can I say something strange – I'm happy". So Felicity and Oliver drive off into the sunset to a new beginning.
The main theme for this season was identity for Oliver Queen. We said goodbye to the Arrow and he was almost the new Ra's al Ghul. But in the end Oliver didn't need to be the hero and the Arrow even if he wanted to. He got the girl as well.
So season 4 will have a new villain no doubt Damien Darhk who has connections to HIVE.
Will Diggle protect the city and start wearing a mask to conceal his identity?
Thea will wear the red suit as the Red Arrow even though Oliver prefers Speedy.
So with Malcolm Merlyn as the head of the League of Assassins with his new power be good or bad?
Twitter: @TheVRO
Facebook: Variety Radio Online
Tumblr: Variety Radio Online