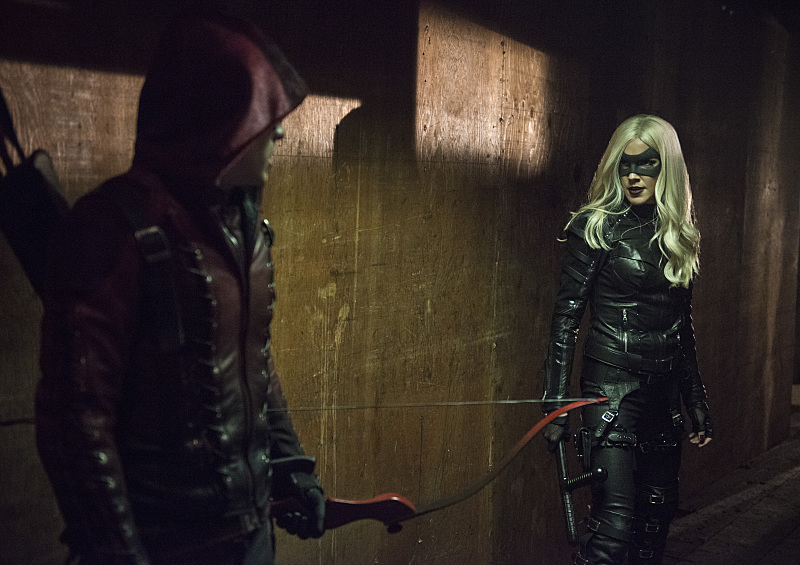 By Anna (@traveller15)
We continue this week with Brick causing havoc in the Glades and the Team try to find a solution to bring him down.
We begin with Oliver having a dream and Felicity convinces him not to go and fight Ra's al Ghul and he agrees to stay. He confesses his love to her, they kiss and then blood pours out of his mouth. Oliver has been stabbed in the stomach. Tatsu gives Oliver penicillin to help with the infection. It's not just Tatsu that has saved Oliver's life but the snow, cold and his will to live. Oliver is grateful for Maseo but is worried for his life if Ra's al Ghul finds out him helped saved his life. Maseo is more concerned for Oliver and what has become of his home in his absence.
Back in the Glades, one of Brick's men is attacking a woman when the Black Canary comes to her rescue, but she is no match against him and gets her arm slashed. Arsenal saves the day. Back at the Foundry, Roy stitches Laurel's arm and berates her for being out on the street as she does not have enough training.
At Palmer Technologies Ray arrives to pick Felicity up for their meeting at the Mayor's Office to discuss how he can help with the Brick problem. Felicity is not happy that he will use his suit to fire lasers. Ray still would like Felicity to help resolve the problem with his nano chip.
Thea bumps into Chase, the DJ, at Verdant. Malcolm Merlyn comes looking for Thea and is most concerned that she is not backing to leave Starling City as it is too dangerous to stay. She won't leave until he tells her the truth but he responds that she is not ready for the truth. So with that she won't leave Starling City. Roy is lurking about and notices the meeting.
Lance and Laurel are at a meeting with the Mayor. Lance is enquiring about Sara to Laurel as the SCPD have had reports of the Canary but in town. The Mayor discusses the problem with Brick and his men as they do not have the resources and money. Ray and Felicity arrives as Palmer Technologies has made a substantial contribution to the SCPD to assist. They are all interrupted by Brick and his men. He kidnaps the three Aldermen and says to kill the rest. Laurel puts up a good fight as well as Ray. Ray says to Felicity "this is why I need a techno suit".
On the mountain Oliver is recovering drinking lots of penicillin tea. He doesn't want Maseo to go back to Nanda Parbat. Maseo and Tatsu do not speak to each other as he blames himself as to what happened to her back in Hong Kong.
We now flashback to Hong Kong with Oliver and Maseo in a Triad club looking for Tatsu. Maseo made a deal with China White for the alpha in exchange for Tatsu.
At SCPD Lance asks Felicity where the Arrow is as he didn't show up to save the day. Felicity tells him he is gone. Lance tells her that Sara is back taking on Brick's men. Felicity is puzzled when she realises it is Laurel. Laurel interrogates one of Brick's men for his location. He breaks and tells her.
Roy is at Thea's apartment when Malcolm turns up and tells him to stay away from her as she will find out the truth. Malcolm tells Roy to stay out of it as he is not family.
Back at Palmer Technologies, Felicity patches Ray up. Ray confides to Felicity that when he started the ATOM project it was all about avenging Anna' death but now it's about protecting the people he cares about – Felicity. The chemistry between Ray and Felicity is slowly growing.
At the Foundry, Laurel is suiting up as the Black Canary and is going out with Roy to get Brick. Diggle is not happy she is going along. She doesn't have the skills of her sister. Arsenal and Black Canary go after Brick's men to rescue the hostages but they are no match against them. Arsenal puts an arrow in Brick's arm and in retaliation he kills one of the hostages. Diggle watches on from the Foundry.
Laurel meets Lance where he talks about Sara trying to rescue the hostages. He is clueless that it is not Sara but Laurel. Laurel is going to eventually have to tell her father that Sara is dead. Brick phones the Mayor to give her an ultimatum to meet him.
Malcolm goes to see Thea to apologise but lets her know that sharing the truth is difficult for him. Malcolm tells her that he is running from Ra's al Ghul.
Back at Laurel's office, Felicity pays her a visit to try and talk some sense into her about being the Canary. When Laurel saw the Alderman get killed she realised she cannot be Sara and says she will not put the mask back on. Felicity believes that they are continuing what they are doing as they care about the people who are still alive and for the dead.
The Mayor goes with Lance and Ray to meet Brick. Brick's deal is that all police are to get out of the Glades or the remaining hostages will be killed. He wants total control of the Glades. Lance calls Felicity desperate for help from the Arrow. Instead, Felicity says he is definitely gone but she can get help from the Black Canary.
Maseo prepares to leave to go back to Nanda Parbat. Tatsu tells him that she still loves him. Maseo senses men outside the cabin; Ra's men have found Oliver. They want Oliver's remains. Maseo kills them.
Back in Hong Kong Maseo hands over the Alpha to China White, but it is a fake. They fight China White's men and escape. Oliver is quite handy with a gun.
Roy is blaming himself for the Alderman's death. So the best thing is for Dig to bring out the vodka and they make a toast to Oliver. Roy realises they cannot continue without Oliver but Felicity walks into the Foundry and says "I was wrong when I said Oliver's mission is over but it is not just Oliver's mission anymore, but the Team's mission because it is their home under attack." They are back as a Team to protect their home and the Glades.
Laurel calls her father and impersonates Sara with the help of a voice program to say she is going to help. This is hard on Laurel. They learn that one of the Alderman has a pacemaker which they can track using GPS. Roy and Laurel gear up.
Felicity interrupts Ray in a meeting at Palmer Technologies as she wants the keys to his helicopter. How is she going to fly it, but she has that covered. It is on the roof and Dig is flying. Dig flies Arsenal and Canary to Brick's warehouse. With Felicity's help guiding them, Arsenal and Canary manage to free the hostages. Canary comes up against Brick. She escapes jumping out of a window on to a rope dangling from the helicopter and Dig flies off. Pretty amazing stuff.
Oliver wants to go home even though he is not fully recovered. To put Ra's off Maseo's betrayal is slices his neck to say that Oliver did it and escaped. Oliver would like Maseo to go back with him. Maseo leaves to go back to Ra's al Ghul and the League.
Maseo family is back at home. Oliver is not pleased he was not consulted about the fake Alpha. Maseo says Amanda Waller must have known that he would have attempted the rescue and swapped the vials. Maseo would risk thousands of people's lives to save his family. Tatsu is grateful to Oliver for saving her life.
The Black Canary goes to see Lance. Lance doesn't understand why Sara is avoiding him. Laurel is going to have to tell him eventually the truth.
Malcolm still wants Thea to leave the city. She doesn't want to leave. Thea wants to know why they should run but stay and fight. She talks him into staying as he taught her to stand their ground and not be afraid.
Felicity goes to return the keys to the helicopter to Ray which is safe and back on the ground. She also gives him the nano chip with a quantum processor. She decides to help him with his mission as this way he may not end up dead.
At Verdant Thea meets Chase who heard that she is not leaving Starling City. He phones Maseo who is back with Ra's al Ghul and informs him that Merlyn is not leaving. So Chase is a spy for Ra's al Ghul.
Twitter: @TheVRO
Facebook: Variety Radio Online
Tumblr: Variety Radio Online