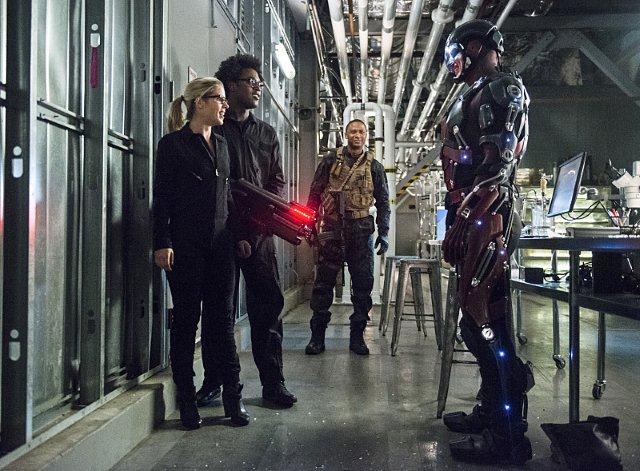 By Anna B (@traveller15)
Lost souls deals with Oliver and Felicity's relationship as they drift apart due to the guilt Felicity feels for not searching for Ray sooner but eventually finding their way back together.
We see Ray Palmer experimenting miniaturization on his ATOM suit just before the explosion at Palmer Technologies.
At campaign headquarters Oliver is going over his campaign with Alex and Thea. Alex asks Thea out on a date to which she declines him.
Curtis arrives at his lab and finds Felicity tirelessly trying to pinpoint the origin of Ray. He wants her to take a much needed break or she is no good to anyone. In the meantime, Oliver walks in and Curtis starts deducing whether Oliver's jawline is the Green Arrow which suddenly shocks Felicity and Oliver. Oliver asks Felicity what is going on with her and she tells him that Ray has sent a message and she is trying to find him.
The flashback scenes on Lian Yu have Oliver leading Reiter and Conklin to the cave where Constantine found the orb. With the orb Reiter finds a hieroglyphic message. He sends Conklin and Oliver to the other side of the island for the workers. Clearly Reiter has more of a motive than drugs. Oliver heads to the cave where he has hidden Taiana to see if she knows anything more about Reiter. Meanwhile, Conklin thinks Oliver is lying why he is on the island so arranges for one of the workers to kill him, but Oliver has an advantage managing to kill the worker.
The Lance family reconnects now that Sara is back from the dead and is getting her memories back.
Oliver takes Felicity home so she can shower and nap. She is very sarcastic towards Oliver and is consumed by finding Ray. An alert goes off on her cell phone and another message from Ray says he is being held captive in a cube as he and his suit have shrunk. All Oliver wants to do is try and help Felicity but she pushes him away. She heads back to Palmer Tech to work on the schematics for a device which can save him. Unfortunately the manifold MacGuffin they need for the device are held at Kord Industries. With all this going on Felicity has a visitor, her mother, Donna Smoak (Charlotte Ross) in which Oliver invited her.
Felicity is furious at Oliver for inviting her mother to visit. While on a mission at Kord Industries to get the manifold to restore Ray's size, Felicity argues with Oliver while the rest of the Team listen in on their comm links. Felicity has a new code name for Oliver "Chatty Cathy". Oliver is not impressed. Sara loses control and nearly beats a guard to death. Ray sends another message to Felicity but a familiar appearance appears – Damien Darhk who is Ray's captor. So Darhk now knows about Felicity and no doubt will be on his radar. Felicity calls Ray "tater to. Cheetoh".
Oliver arrives home late to cook dinner for Donna and Felicity. Donna senses the friction between the both of them and leaves them to talk. Felicity blames herself for what is happening to Ray that she was travelling the world with Oliver and being happy with him instead of looking into his death. She tells him "I lost myself in you, but I was never that girl, that girl who just loses herself in a guy. That is not who I am." Oliver says "It's not about Ray, it's about us". Felicity says "no, yes, I don't know". Oliver leaves to give her space so she can figure her life out.
Oliver goes to the lair to hide. He misses the old lair with his old trunk which had his bottle of vodka in it. Diggle says vodka is for wimps and brings out the Tennessee Whiskey. Oliver is having doubts about his relationship with Felicity. As usual Diggle is the voice of reason that their relationship will work out. So the bromance seems to have improved between the two of them.
Lance meets with Darhk to try and get some information on Ray's location. When Darhk drives away Diggle tails him to find Ray's location.
Donna has a heart to heart with Felicity and tells her that she and Oliver have both lost themselves in each other and they will find themselves in each other, that there love is strong and, of course, Oliver is hot and can cook.
The Arrow Team plans their strategy for their rescue mission but they need Curtis to assemble the resizing device. Sara wants to help and needs to control her bloodlust. So we find Oliver on the rooftop of Darhk's building when he is knocked unconscious. When he awakens he is chained up by Darhk. It is a rouse to be captured by Darhk to keep him occupied while the rest of the Team rescues Ray. Darhk has is suspicions who the Green Arrow is and just as he is about to lift his hood Oliver frees himself. Darhk uses his mystical powers to wrap the chains around Oliver's neck to strangle him. As the Team has a guest, Curtis, helping them out tonight Diggle has a codename "Spartan". Sara attacks a guard and snaps his neck. Curtis and Felicity parasail into the building and Curtis uses his machine to resize Ray back to normal size. Ray has decided not to come back from the dead yet and so Felicity still has control of Palmer Tech.
Sara is struggling with the bloodlust. So she decides to leave Star City to figure out her life.
Felicity arrives home to find Oliver reading on the bed and they clear the air with their differences and make up.
Lance and Donna happen to be at the same bar and meet each other so have a drink with each other. Is this the beginning of a romance for them?
Thea is at campaign headquarters when she asks Alex to have a drink with her.
Darhk has a map of the city in which he plans to test power using the technology they saved from Ray's suit.
Variety Radio Online – – Bringing you all things Entertainment including News, Reviews and Interviews. Check out our website, like us on Facebook ,follow us on Twitter ,Tumblr and Instagram
//