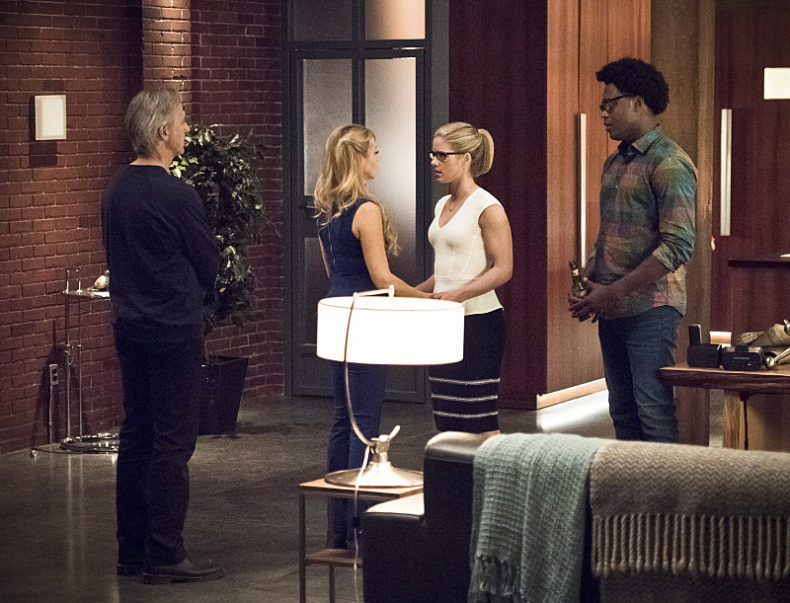 Felicity joins forces with her father, Noah, and Curtis to stop Darhk while Oliver and Diggle go and find Thea.
After last week's episode with Felicity reuniting with her father Noah Cutter working together to override Darhk's nuclear missile strikes on the world all by stopping one attack, they need to continue their fight against him.
Oliver and Diggle go up against Darhk in his cave but Darhk's powers have grown and they cannot take him down. Darkh doesn't want to kill them as he wants them to feel their skin melt off when he destroys the world.
Felicity is grieving after she couldn't stop the nuclear devastation of Havenrock. Curtis arrives at the Loft to help Noah and Felicity stop HIVE. Felicity rushes off to the lair leaving Curtis with Noah. Felicity tracks Thea down when she gets a signal from a cell phone from Thea where she is being held by HIVE. Oliver and Diggle go off to get her back.
Darhk breaks Seldon Cooper out of prison to help him hack Rubicon.
Our first flashback on the island has Oliver being shot. Tiana is also shot but since she has been holding the idol her eyes glow and she has taken over its powers. Tiana wants to use her powers to save her homeland but in the meantime she needs more so she can kill Reiter.
Machin has killed Alex. Merlyn has a heart to heart talk with Thea that she needs to comply with HIVE. As she resists Merlyn drugs her with the yellow pills so she will be under his control. Ruve visits the ark and tells Merlyn that he needs to deal with Oliver and Diggle who have found their location as also to deal with Machin.
Felicity heads back to the lair to find Donna fighting with Noah. Donna has been worried about Felicity. Donna thinks Felicity is pregnant when Felicity decides to tell her that she is working with Noah to save the world from a nuclear disaster. She also tells her that she has been working with the Green Arrow for the last 3 years. Curtis is excited to see the two world best hackers working together, its history.
Oliver locates Thea but she has been brainwashed. Thea pulls a gun on Oliver and calls Merlyn. Diggle arrives taking out HIVE men with Thea and Merlyn escaping. The disturbance brings the HIVE men chasing after Oliver and Diggle in a gun fight and the chase is on for the two on them to get away.
Back at Darhk's headquarters Seldon is continuing his hacking to get Rubicon back.
Ruve makes an announcement to the people that there are intruders who want to destroy Genesis and if they are found to kill them.
Felicity and Noah realize they are coming up against another hacker after Rubicon. Curtis is now helping them. Donna is making snide remarks to Noah about their ex-relationship. An announcement comes over the computers that they have been taken over by Seldon and he will have Rubicon. Not good news. Curtis comes up with the idea to send an electrical surge through to Darkh's computer and knock Rubicon out for good. Donna is not happy that Felicity and Noah are getting on so well. Felicity learns that it was Donna that walked out on Noah and it wasn't her father that abandoned her. Noah had always kept tabs on his daughter the whole time she grew up.
The HIVE men locate Oliver and Diggle. Thea and Oliver fight each other. Oliver has to get through to her that she won't give up and come back to her senses. Diggle is under gunfire. Merlyn is about to take out Diggle when Thea stops him. While this has been happening Machin has taken hostage Ruve and Darkh's daughter. Machin is going to destroy the ark. Oliver tells Merlyn to evacuate the ark back to the surface who has hope that the world will not be destroyed. The team goes after Machin. Machin kills Ruve. An arrow hits one of the gas tanks and the ark begins exploding. They save Darkh's daughter.
The city is safe for now and the people need hope.
Merlyn goes to Darhk and tells him the bad news that Ruve is dead and the ark is dead. Darhk stills wants the world to burn.
Donna requests that Noah leave and not come back into Felicity's life. Felicity is happy that her father didn't abandon her but would have gone back to his old habits as a criminal. Curtis tells Felicity that he has heard this before "the criminal she thinks can't change, the breakup". Donna tells Felicity that Noah has gone away. There is an unexpected visitor, Darhk barges into the Loft and wants a favor. Felicity tells him "to go to hell" and Darkh is going to bring it to them.
So the season finale is next week, can Oliver save the people of Star City from Darhk?
Variety Radio Online – – Bringing you all things Entertainment including News, Reviews and Interviews. Check out our website, like us on Facebook ,follow us on Twitter ,Tumblr and Instagram
//