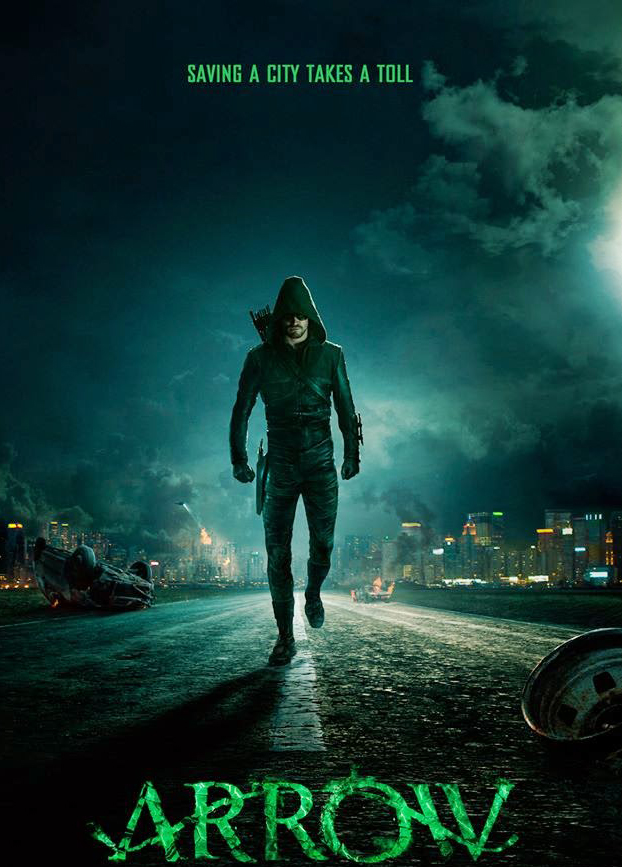 Arrow – Looking Back on Season 2 and Spoilers for Season 3 – Blog Review
By: Anna @traveller15
The Arrow team is relaxed in Starling City where things have been quiet over the last 5 months after taking down Slade Wilson and his Mirakura men. Oliver is feeling pretty good about himself and this season will see him dealing with whether he can have a life beyond the hood.
So questions to answer for next season will be how Oliver knows Amanda Waller, will Malcolm Merlyn train Thea, does Lance survive and Diggle and Lyla having a baby.
At the end of Season 2 we left Slade Wilson locked up in purgatory, but is this really the last we will see of him. He has still sworn vengeance on Oliver? Oliver loses control of Queen Consolidated. We saw Moria Queen sadly being killed by Slade. Sebastian Blood and Isabel Rochev were killed off. Thea learns the truth that her father is, Malcolm Merlyn and goes off with him for a fresh start as she believes she can no longer trust anyone because of their lies. Will Quentin Lance survive after collapsing at the dock? Diggle and Lyla preparing to have a baby.
Lastly our flashbacks are in Hong Kong and we will learn how Oliver knows Amanda Waller.
We will see the introduction of new DC Comic characters in season 3.
We will see the return of Malcolm Merlyn (John Barrowman) as a season regular. He will take Thea under his wing and no doubt train her. Oliver doesn't know he is alive but I'm sure he will soon find out. Will he be an enemy or an ally by the end of the season?
We begin the season with episode 3.1 – The Calm. This will be Oliver evolving where in Season 1 he was the vigilante, season 2 the hero and season 3 he will be "who is Oliver Queen".
The Arrow team is relaxed in Starling City where things have been quiet. Oliver is feeling pretty good about himself and this season will see him dealing with whether he can have a life beyond the hood. We will see Oliver smiling more this season. We see where Oliver takes Felicity out on a date and whether he can lead a normal life. Yeah. But unfortunately there are consequences.
Stephen Amell said this year Oliver will be a one woman person and it is Felicity. We did see from the trailer there is a kiss. Yeah! In what capacity and relationship we will see this we will have to wait and see as we have the introduction of Ray Palmer/Atom (Brandon Routh) who may be a love interest for Felicity. More like jealously for Oliver and he will also be the new owner of Queen Consolidated. In the DC universe Atom can alter the size of his body as well as objects. Will he be an enemy or ally to Oliver?
We will deal with Dibble becoming a father. There seems to be conflict between Oliver and Diggle with him becoming a father and staying on the Team.
It looks like Quentin Lance survived from s2 and is now Captain Lance.
Laurel has a new job as DA and is helping Oliver/Arrow bring criminals to justice.
Caity Lotz will come back as Sara in a recurring role.
Of course, we have Roy who will become Arsenal and gets a new red suit.
Our flashbacks this season will not be on the island but in Hong Kong where we meet Amanda Waller (Cynthia Adai-Robinson) from A.R.G.U.S.
Maseo Yamashiro (Karl Yune) which will be a major recurring role and be Oliver's handler in Hong Kong. He will be playing in the flashback episodes. We will also see Tatsu Yamashiro otherwise known as Katana (Rila Fukushima who was in The Wolverine). She is a Japanese martial arts expert who will be Oliver's mentor which will help him on the road to becoming the Arrow.
There is a new Count Vertigo playing Werner Zytle (Peter Stormare).
In episode 3.2 – Sara – Tommy (Colin Donnell) will be back in a flashback scene. We also see Ted Grant/Wildcat (JR Ramirex). He could become a love interest for Laurel. He will run a gym for underprivileged youth. He will also train Laurel in how to fight.
In episode 3.3 – Corto Maltese – will see Mark Shaw aka Manhunter (David Cubitt who was in Procedural). Apparently is will be an ARGUS operative who crosses paths with Diggle. Apparently, in the comics he has a connection to the Suicide Squad.
In episode 3.4 – The Magician – We have the introduction of the big bad villain for this season which is Ra's al Ghul who is the leader of the League of Assassins cast by Matt Nable, who is an Aussie actor. This episode will also mark the 50th episode.
In episode 3.4 – The Secret Origin of Felicity Smoak – will be a flashback episode for Felicity where we will see her in her MIT days. We will meet her mother Donna Smoak played by Charlotte Ross. We will also meet Cooper Seldon (Nolan Funk from Glee) who is her hacker boyfriend from MIT.
Around episode 3.7 there is going to be a cupid with the introduction of Carrie Cutter aka Cupid (Amy Gumenick) who is a villainess with a dangerously obsessive crush on the Arrow. Might not be a good thing if Felicity gets in her way?
Episode 3.8 is a cross over with The Flash.
Lastly they are bringing back Arrow saying "You have failed this city".
I'm looking forward to seeing how this season progresses and the amazing action and stunts which seem to get better with each episode.
Twitter: @TheVRO
Facebook: Variety Radio Online
Tumblr: Variety Radio Online