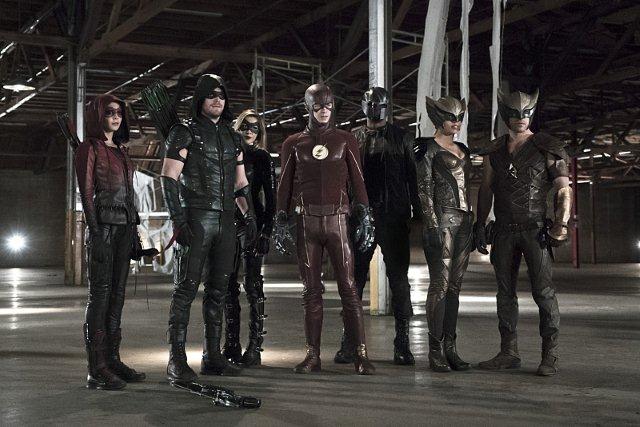 By Anna B (@traveller15)
The continuation of the crossover episode has the Teams hide Kendra at a farmhouse while they work on a plan to defeat Savage and Oliver learns he is a father.
We begin the second part of the crossover episode in Ancient Egypt, the Middle Kingdom where Prince Khufu and Priestess Chay-Ara share their love for one another.
Back in present, Kendra is remembering her memories of her past life with Carter. They hide Kendra at a farmhouse as this seems a safer place then the lair and S.T.A.R Labs. Thea comments "a bunch of superheroes in a farmhouse, I feel like I've seen that in a movie before". They need to neutralise Savage from using the Staff of Horus which is protected by an energy field. Felicity, Cisco and Caitlin start working on theories to bring down Savage. Oliver comments "the geek squad works".
So while the Team work strategies on Savage, Oliver goes to visit Samantha and the boy. Felicity questions Oliver that he is not acting himself and he avoids telling her what he is doing and will tell her later. Oliver tracks Samantha down at her house when he asks about her son, William. He wonders whether William could be his son as he is the right age when they were together. She denies that he is his son. She drops Williams' cap and Oliver takes a strand of his hair.
Kendra wants to talk to Cisco. The relationship is being hindered by Carter and the reincarnation of Kendra and Carter. Carter produces a trunk with the Hawkgirl outfit to help remember that she is a warrior priestess.
Merlyn has arranged a meeting with Randall Savage as he believes that negotiation is the only way to stop him from laying waste to Central City. As Barry is running to the meeting he ghosts. So Green Arrow, the Flash and Merlyn meet Savage. Savage wants them to hand over Kendra and Carter. He gives them an ultimatum of 24 hours and if not he will kill everyone they love. Barry says "did you rehearse this speech in a mirror this morning or is this just off the scuff". Oliver is not going to give up Kendra and Carter. Merlyn threatens Oliver that if Thea is hurt he will come after him.
Barry tells Cisco about him ghosting and now there is the worry that he could time travel again.
Kendra is curious whether she and Carter ever killed themselves so Savage couldn't get to them. She says everyone inside the farmhouse is willing to die to save them and she thinks that is insane. Carter says that makes them all heroes. Carter makes Kendra rage so she can bring the warrior out in her. Meanwhile, Diggle and Laurel have a Beta tape from Lyla at ARGUS from 1975 on Randall Savage. We learn that the Staff is the way to kill Savage
Oliver has not got his head in the game as he has Barry doing a DNA on the hair strand of William. Oliver doesn't want Barry to tell anyone. Felicity tracks Barry down at CCPD and wants to know what he is hiding from her and he shows her. Felicity starts to doubt Oliver and her trust in him. Oliver visits Samantha at home and tells her that he knows William is his son. She tells him that Moira offered her a million dollars to tell him that she miscarriage. Oliver knows her mother was a complicated person and wouldn't do that but Samantha shows him the cheque that was never cashed. Oliver wants to have the opportunity of meeting his son. Samantha says if Oliver wants a relationship with his son he cannot tell anyone even if he has someone in his life. This causes friction in the relationship with Felicity as she has found out about the paternity test. Felicity doesn't care that Oliver has a child but she does not like the lying and says she cannot be with someone who doesn't trust her. Barry walks out on the both of them fighting in which Oliver tells him they are fine.
Oliver has made a decision that Barry, Carter, Kendra and he are going up against Savage to get the Staff of Horus. Cisco has designed magnetized gloves to hold the Staff. Oliver won't risk the lives of Thea, Laurel and Diggle. So the four of them go to the warehouse to meet Savage. Savage gets the upper hand and stabs both Carter and Kendra. Barry gets the Staff but the force field is too much for him to handle. He drops it and Savage manages to release the energy. Oliver tells Barry to run to save himself as the Arrow and Flash Teams and the city of Central City are killed. As Barry runs he time travels back in time to the meeting with Savage.
As Barry is now back in time, he tells Oliver that he is back in time and their plans to take down Savage did not work. Barry explains to him that his head is not in the game when they come up against Savage because he has found out that he is a father and Felicity and he had a big fight over it and broke up. Barry doesn't want to mess with time. So with this new information and another timeline Oliver wants to take a chance to defeat Savage with a new plan. Cisco talks to Kendra to help her get her powers by focusing on the priestess, the nurturer and good hearted person. Cisco gets her to remember back in Egypt when Savage killed her and Khufu. Her flashback remembers how they both had their first death and the falling meteors. So this time all the Team goes after Savage. Barry is concerned that they are changing the future to defeat Savage.
So they go up against Savage again and this time he is defeated with the energies from the Staff and crumples to a pile of dust.
Kendra says her farewells to Cisco and she plans to go off with Carter to begin a new life. Cisco gives her a necklace made from the meteor with a GPS chip in it, if she ever needs him.
Meanwhile, Barry is concerned whether Oliver is going to tell Felicity about his son. So we see Oliver again at Samantha's home telling him that he cannot tell anyone about William if he wants a relationship with him. Oliver agrees not to tell Felicity. So Oliver meets William who is a Flash fan. Oliver tells him about the Flash and they start to bond with each other.
Oliver and Felicity arrive back at the Loft with the mess still there from Savage's attack. She wants him to tell her what is going on with him but he says it is over now they are home. Felicity has her suspicions if Oliver is telling the truth. Eventually, she is bound to find out.
We see Merlyn collecting Savage's ashes and placing them in an urn while reciting the words Savage said when he became immortal. What does he have planned for them? Merlyn says "you owe me buddy".
So the crossover episodes set things in place for Hawkgirl and Hawkman in Legends of Tomorrow.
Variety Radio Online – – Bringing you all things Entertainment including News, Reviews and Interviews. Check out our website, like us on Facebook ,follow us on Twitter ,Tumblr and Instagram
//