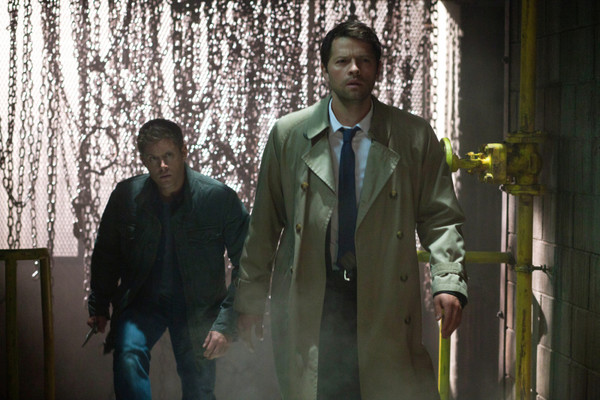 This week we see every potential prophet rounded up by Crowley and his demons, and taken to a warehouse to try to read the tablet. None of them can, resulting in the death of one. Sam and Dean are investigating the missing people, but Dean keeps seeing things. By things, I mean Castiel. Castiel eventually reappears properly, and cleans himself up after the stint in Purgatory. Meanwhile, Kevin and his mother have hired a witch to collect ingredients for a demon bomb, but she betrays them to Crowley, who takes Kevin and leaves his mom to die. She's too much for the demon, however, and calls the boys for help. All 3 of them come to her aid, and they torture the location of the prophets from the demon before killing him.
They split up, and Sam manages to distract the demons and kill them using the one bomb they could create, as well as setting the other potential prophets free, whilst Dean and Cas go after Kevin and Crowley. The door is locked, so Cas appears inside. There's a stand-off between him and Crowley, with Crowley taunting him for looking like hell and not having the power to face him. Cas starts to glow, and he fully reveals his wings, challenging Crowley. He breaks the tablet in 2, and Crowley leaves with half whilst Cas and Kevin keep the other. The episode ends with Cas correcting Dean's vision of them all escaping Purgatory so that he realizes Cas didn't want to be saved and it wasn't his fault, Cas being snuck away by an angel named Naomi (who got him out of Purgatory, losing many other angels in the process) to give information on the Winchesters, and then agreeing to help Sam and Dean in any way he could.
It was a brilliant episode, which finally revealed exactly how Dean escaped Purgatory, and managed to bring Cas back in a convincing way. Crowley was his usual sinister self, and the introduction of Amanda Tapping as Naomi is definitely an interesting development. It was also great to have a mention of Chuck, with Cas saying there can only be one prophet at a time, and saying Chuck must be dead. That doesn't quite ring true with the ending of season 5 thought – so maybe he wasn't a prophet at all (yes, I'm buying into the fandom idea that he is indeed god). What is Naomi after? What happened to the angel Crowley was torturing at the start? What will the boys do now? Hopefully we'll get more answers soon.
Twitter: @TheVRO
Facebook: Variety Radio Online
Tumblr: Variety Radio Online